After it was revealed that she would not be performing "Manta Ray," her Oscar-nominated song from the film Racing Extinction, at this year's Academy Awards, Antony and the Johnsons singer ANOHNI penned a passionate letter explaining why she would be boycotting the ceremony. "As a transgendered artist, I have always occupied a place outside of the mainstream," she wrote. Still, "I know that I wasn't excluded from the performance directly because I am transgendered. I was not invited to perform because I am relatively unknown in the US, singing a song about ecocide, and that might not sell advertising space."
ANOHNI went on to note that the earnings she's made as a performer have been taxed by the US government, who spent that money "on Guantanamo Bay, drone bombs, surveillance, capital punishment, prisons for whistleblowers, corporate subsidies and bank bailouts."
Such impersonal terror is at the heart of "Drone Bomb Me," ANOHNI's new single, which was released today. The song "is a love song written from the perspective of a young girl in Afghanistan whose family has been executed by unmanned US drones," she writes in a statement. "She dreams of being annihilated."
The dramatic video, which you can see below, stars Naomi Campbell, who shifts between radiant beauty and despairing resignation as readily as ANOHNI herself does in the song's vocal track. "Drone bomb me," she sings as electronics trigger around her. "Blow me from the mountains and into the sea." It's as disarming and affecting as protest music gets.
"Drone Bomb Me" will appear on HOPELESSNESS, ANOHNI's new collaborative record with Hudson Mohawke and Oneohtrix Point Never, which is out on May 6 via Secretly Canadian/Rough Trade. The record also includes the previously released "4 Degrees," which was released last December to coincide with the Paris climate talks. You can see the album's artwork and track list below.
HOPELESSNESS track list
"Drone Bomb Me"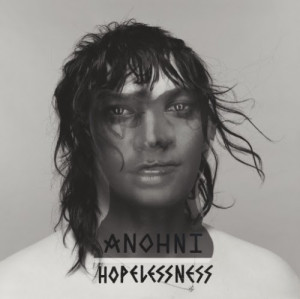 "4 Degrees"
"Watch Me"
"Execution"
"I Don't Love You Anymore"
"Obama"
"Violent Men"
"Why Did You Separate Me From The Earth?"
"Crisis"
"Hopelessness"
"Marrow"
HOPELESSNESS is out May 6 on Secretly Canadian/Rough Trade.