Savannah Stopover Music Festival
March 10-12
Savannah Historic District
Savannah, GA
Savannah, Georgia, is a city full of history. Its downtown area, where the annual Savannah Stopover Music Festival is hosted, boasts twenty-two parklike squares—most of which pay tribute to eighteenth-century figures of colonial importance and religious establishment—as well as a beautiful array of maintained architecture, and enough ghost tours to cause some significant pedestrian traffic. In addition to surviving as a city full of history, it's also a city full of partying. The open-container policy allows Southern frat types, the numerous homeless, the bridal parties, and festival-goers to strut from bar to bar, beer or liquor in hand. It's an interesting dynamic, the drunken shouts atop the three-hundred-plus years of Atlantic port history and original cobblestone.
The Stopover Fest, like SXSW, is spread throughout bars, venues, and nightlife spots in Savannah. Also like SXSW, Stopover serves as a breaking point for many artists. Grimes, Mac DeMarco, Wye Oak, Future Islands, The War On Drugs—these are some of the bands that played one of the five prior years of Stopover as up and comers. This year's lineup hosted an enviable selection of the same breed of exciting new artists like Mothers, Mass Gothic, Porches, Alex G, Prince Rama, and about ninety more, along with a handful of more established acts like Futurebirds, Yuck, and Ra Ra Riot. In Austin, no longer are the underground bands the highlight of the week, so Savannah has stepped in to offer a raised platform in an intimate, casual, not-yet-infiltrated setting.
Here is the best of what we saw.
---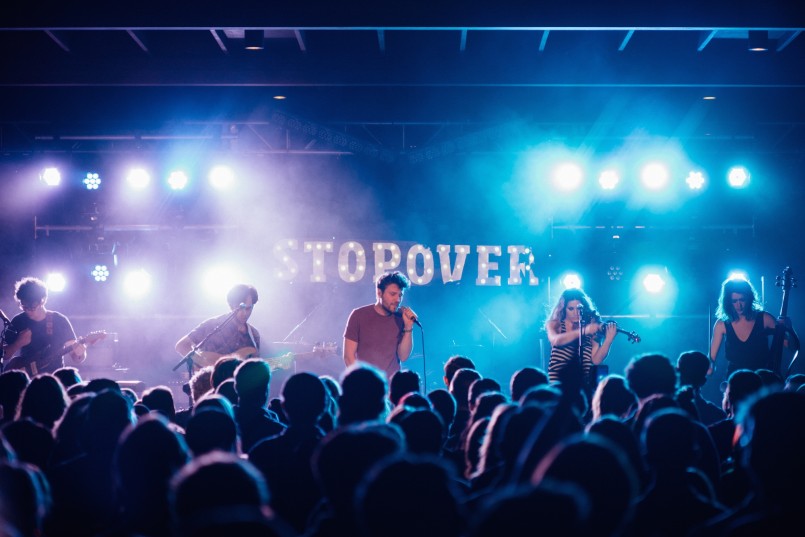 Ra Ra Riot
One of the most unique and well-organized aspects of Stopover was its schedule. Unlike the majority of more-traditional festivals, the headliners rarely, if ever, play the final slot of any of the evenings. This schedule pattern highlights Stopover's emphasis on skilled bands that haven't yet quite made it, which kept up the festival's momentum.
Ra Ra Riot performed third out of the entire lineup, during Thursday's kickoff party at the largest outdoor venue—a large, tented courtyard called Ships of the Sea. I've had the fortune of seeing Ra Ra Riot a few times in the past, each viewing at a different stage of the band's own musical trajectory. The songs off their latest album lost some steam at Stopover, but when they played classics off of The Rhumb Line and The Orchard—like "Ghost Under Rocks" and "Boy,"—oh boy did that nostalgic energy and sound return.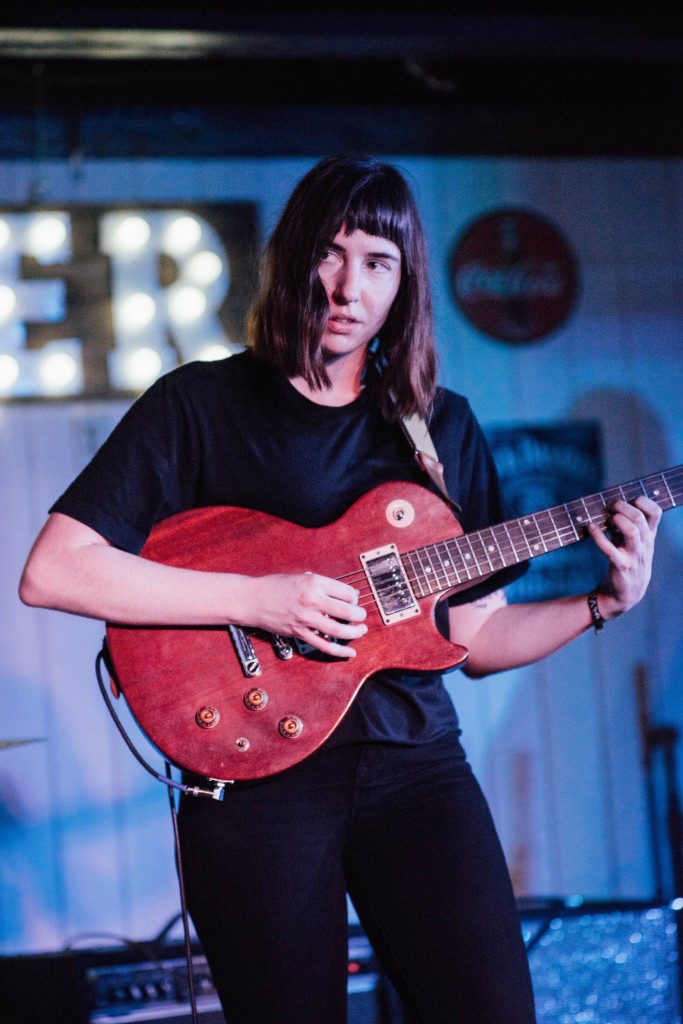 Mothers
One of the most highly anticipated shows of the weekend came early with Mothers. Out of Athens and on the rise in a way that likely drives the envy and respect of many similarly veined contemporaries, Mothers is a four-piece, fast-to-slow-hitting rock outfit led by the understated Kristine Leschper.
The recent release of their fantastic debut album, When You Walk a Long Distance You Are Tired, has garnered quite a bit of attention. On stage, the band plays with a bitterness that flows through individual attitudes and into the performance, with hard fast hits giving way to periods of slow, drawn-out ambiance led by Leschper's self-loathing lyrics. With complex and varied percussion lines and staccato high-fret guitar reminiscent of Viet Cong, the instruments glimmered and pulsed around the sometimes crooned, often shouted words. The juxtaposition was clear—this message of sadness is past; the raucous spirit of the music is intended to and successfully uplifts through a decisive sort of instrumental self-empowerment.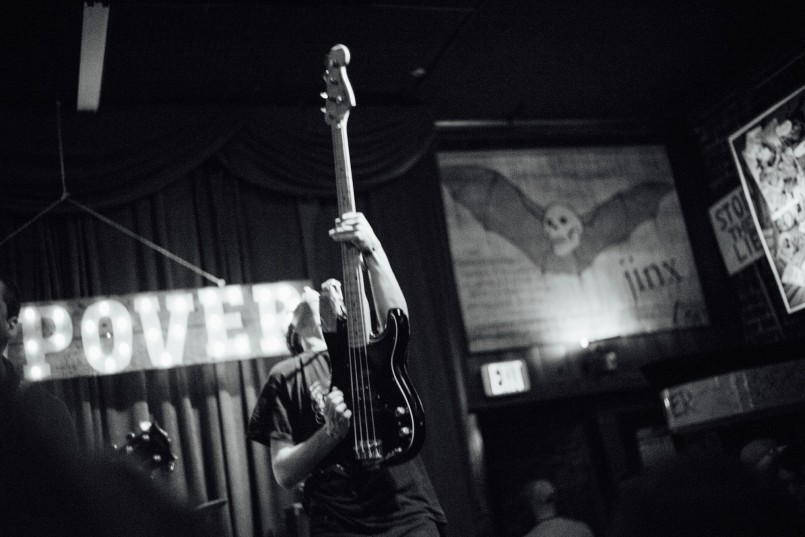 White Reaper
White Reaper was the first band I saw at a venue called The Jinx. The Jinx, appropriately, showcased a plethora of horror and superstition-related decorations along its walls. It's also both the premier and loudest rock venue in downtown Savannah. The latter aspect was proven immediately true by White Reaper's initial soundcheck. I started up front when the garage punk band out of Louisville first plugged in; by the end of the first song I was still facing the stage but about just as far back as I could be without interfering with the bouncer's ID checks. The guitar sounded like a constant array of audio clips on a wavelength, peaking and crunchy. The bass, keyboards, and drums were on the same level, building into an intimidating, head-banging wall of sound.
The energy of the band shook the place. The keyboardist banged his head to the beat before the songs even started, the buzzcut guitarist stood straight and tall, screaming melodically into the microphone, while the bassist, when not playing, wiggled his fingers to enthuse the crowd. With the vibe of '70s/'80s power-punk, White Reaper evoked a more classic punk sound than similarly billed contemporaries FIDLAR, The Orwells, and Ty Segall.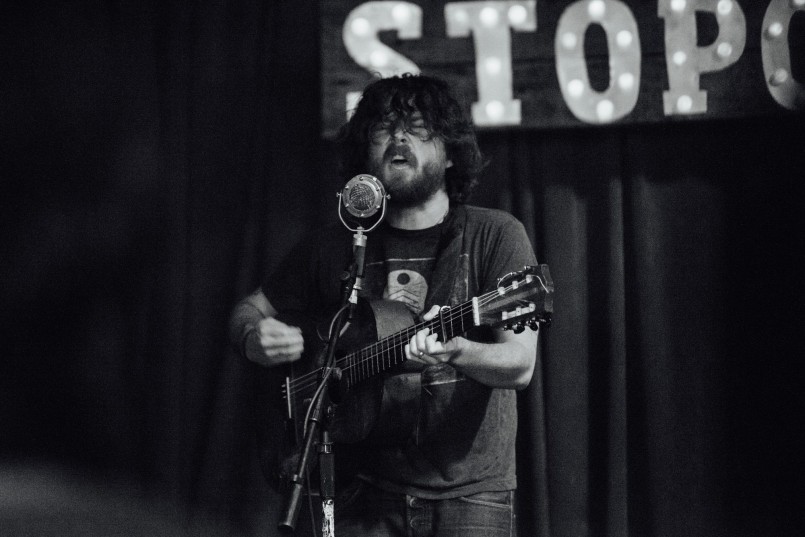 Christopher Paul Stelling
On Saturday afternoon, singer-songwriter Christopher Paul Stelling took the stage at The Jinx at a loud (but certainly more appropriate) volume for his hard-strumming and impassioned acoustic performance. More fluid and organic than his recordings, his intimacy encouraged the rapture of the audience. It wasn't a rowdy show, but Stelling kept the energy high with a mysterious floor-sourced percussion (either mic'd foot tapping or a well-hidden pedal and drum of some sort), and with his sincerity it felt like he made emotional eye contact with each member of the gathered crowd.
At one point, Stelling moved from the microphone as his fast fingers flew through delicate picking patterns. He shouted his song, his voice echoing upward towards the venue's high ceilings. The vocals crunched with the volume and power—a singer with true, unaffected talent.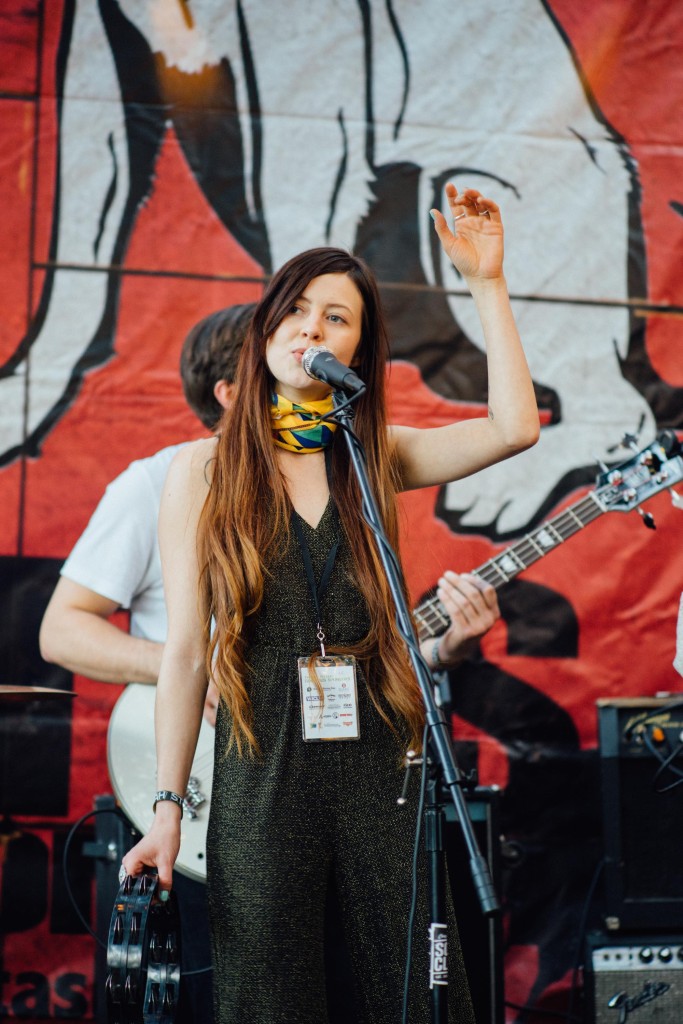 Sydney Eloise & The Palms

Sydney Eloise fronts The Palms, as the group standing beside and behind the tall, beautiful frontwoman testified. But on stage, it didn't feel like the band had a frontperson to lead the pack. The six-member group's sound felt perfectly, totally unified. They filled the small-ish stage in the front courtyard of the Congress Street Social Club with no superfluous sound added to the mix of guitar, keys, drums, and vox; it was if each had its own individual pocket.
The group played songs off their 2015 debut Faces—a jangly, '60s pop–infused record. The album is lush and overall positive with the tales of love and comfort that other recent notable bands have worked off of as a template (Fitz & the Tantrums come especially to mind). On stage The Palms' spirit overwhelmed.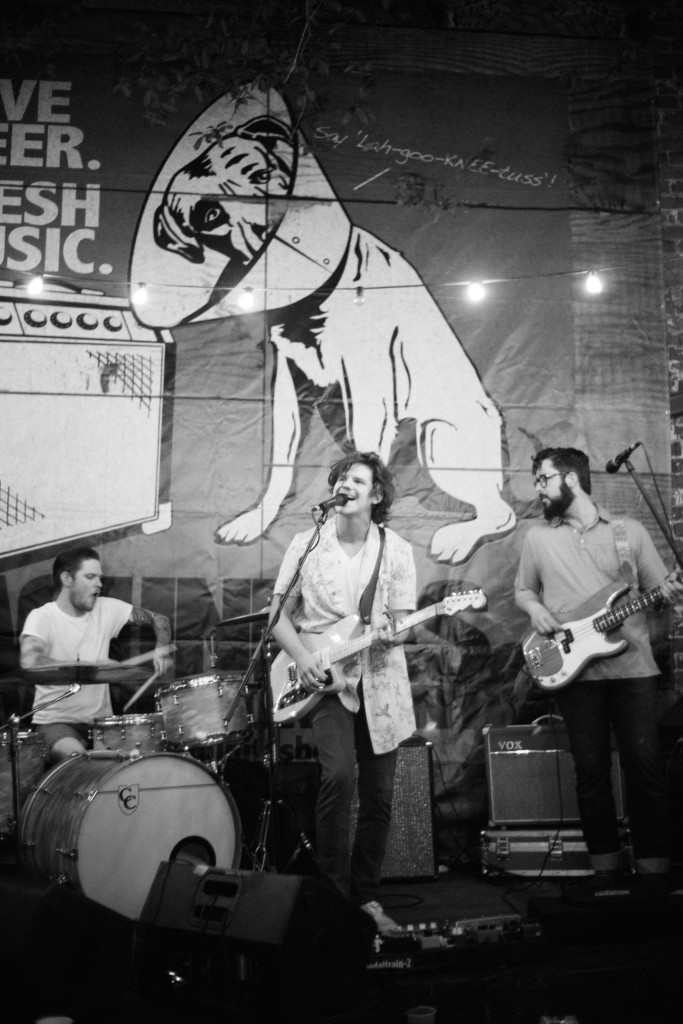 Tedo Stone
Like a solid percentage of the artists at Stopover, Tedo Stone is based out of the Atlanta/Athens area. The blend of grit and gentrification in those two cities must be conducive to the independent pop and punk scene.
Stone's latest LP, Marshes, was recorded straight to tape with Athens producer Drew Vandenberg, known best for his work with Deerhunter and of Montreal. There's a reason he got to work with a contemporary of such high proclaim. On stage, the band brought a rock sound to the casual lyrics that have been embedded within his songs since he started playing music at bars at the almost unbelievably young age of twelve.
For his Stopover show, he stepped up to the stage in a short-sleeve Hawaiian button-down. With help from his long-haired, ever-smiling lead guitarist (whose smile was often hidden behind the hair matted over his face), his fast, tight, and concise drummer, and his steady bassist, the show quickly and easily became my favorite unanticipated show of the weekend. Stone performed with a cocky cool demeanor, his summery vibe only accelerated by the blowing wind and the talent on stage alongside he and his scratchy, winking vocals.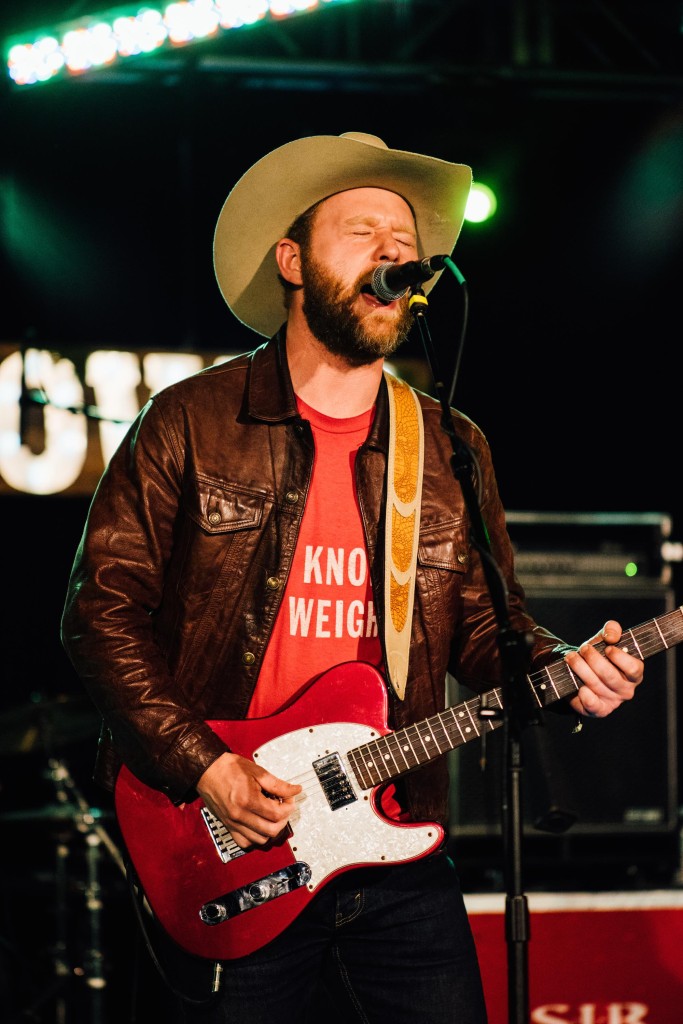 Great Peacock
Great Peacock is a band out of Nashville. Even if I hadn't done my research to find that out, I probably could have guessed. They looked and sounded like a straight-out-of-Music-City Americana band with the lead singer sporting a big cowboy hat and the second guitarist draped in a giant wool poncho. With heavy distortion on lead guitar and palm muted power chords on the rhythm, they got loud with it, and their party personality certainly reminded me more of the rock than the country scene, especially when the lead singer said to the good-sized crowd, "Thank you to Savannah Stopover for inviting these rag-tag degenerates to perform for you." The crowd didn't really respond to that, but the band kept playing, never straying too far from their Americana roots.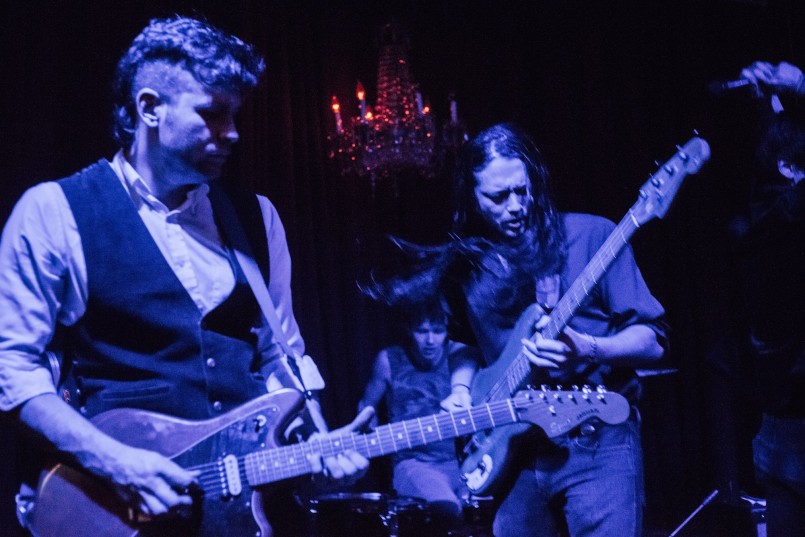 Muuy Biien
Holy shit. I hate to curse, but these guys deserve the praise. Will you forgive me if I say that this set was muuy buueno?
Another band out of Atlanta/Athens, Muuy Biien had the most impressive stage presence of the weekend. The young lead singer, Josh Evans, danced around the stage, microphone in hand, back bent forward as he shout-sang his way through the awesomely paced and extensive setlist. Without an instrument, he was free to pose in power-stance, staring at and above the audience as his traditionally outfitted band played their trance-rock. Muuy Biien has interesting song structures—the bass repeats quickly and holds the ground of the majority of their songs. Above the bass rides the intermittent, riffing guitar. Evans's statuesque facial profile and straight slick hair evoked the power and not-so-subtle derision of someone like Morrissey—it was hard to not stare at and become completely enveloped in him.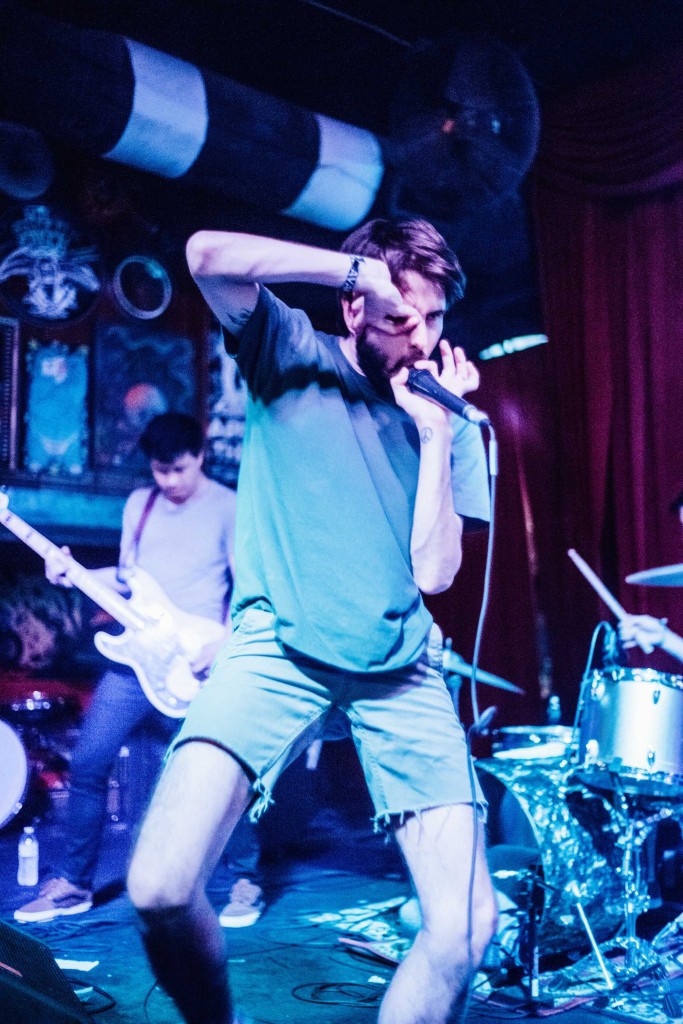 Big Ups
Another fully unexpected holy shit. Going into this show I had seen one live video of Big Ups and dug it, but live I was enthralled. The Brooklyn quartet played The Jinx and, unsurprisingly, played it loud. The band had an interesting look and dynamic. Totally unfashionable, they dressed like college kids that couldn't care less, which is way cool in its own way. My favorite thing was Joe Galarraga's ankle and calf tattoo of the Morton Salt umbrella lady. It was fitting.
On stage, they sounded a lot like—just a group of nice punk kids that don't even fit into the crowd of misfits they themselves, at least musically, are a part of. The music transitioned from soft-spoken, monotone verses laid over jungle beats and harmonic frequencies to screaming choruses of self-awareness and more-than-outspoken anger. The structure often remained the same, with verses of tonal repetition feeding into a hyped up prechorus/chorus until Galarraga's emittance of scream and guitar's full-throttle strum.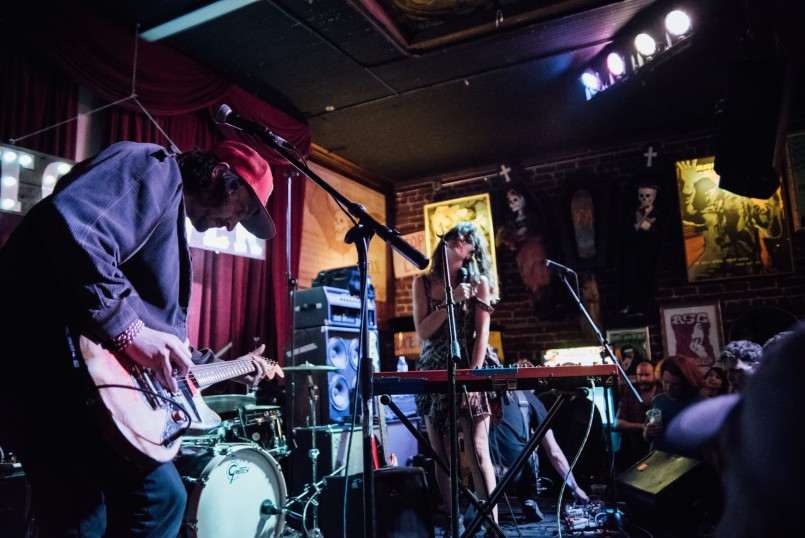 Mass Gothic
For ten long years Noel Heroux focused his energy on a band called Hooray for Earth—a rock band in New York that required "cutting corners" and little creativity to sustain. So Noel sold stock and reinvested in a new venture called Mass Gothic, which has already more than paid off.
On stage, Noel humbly stood stage left while his wife, Jessica Zambri, took center with keys and backup vocals. Mass Gothic played through its debut and novel album, also titled Mass Gothic. Heroux's music is, indeed, slightly gothic, but with a strong and confusing pop infusion; dancing becomes necessary, but it's restrained. Live, it flourished in the acoustics of The Jinx. Each song had its own little crescendo from start to finish, especially the anthem, jingle-like track "Every Night You've Got to Save Me," which finds those words being repeated until essentially a four-minute upbeat scream distorts to desperation about Noel needing the comfort of an ambiguous "you" at the end of each long day.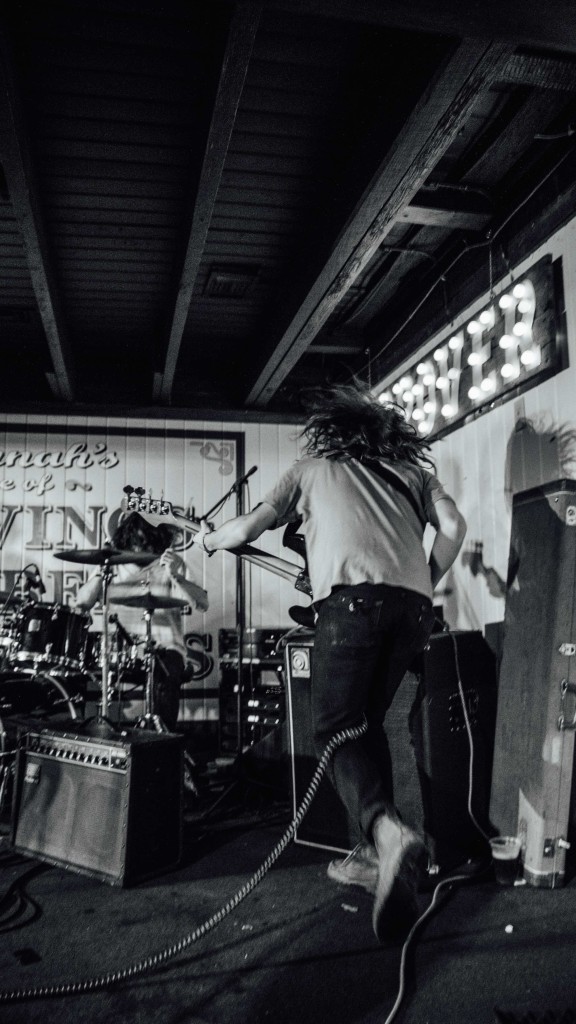 New Madrid
One last Georgia band in the mix. New Madrid is a young band with a wall-to-wall psych rock vibe. They do not stray too far outside the edges of traditional structures, but they definitely toe the line. Nothing too complex, nothing too simple, nothing too eager. Just right. On stage at Wild Wing Cafe, the group of four dudes played steady with their slow builds and intricate guitar pickings building up a sonic loop of ambient vocal delays before dropping into flowing, reverb-heavy lyrical riffs. New Madrid is essentially a slow-strutting jam band, educated at the school of Explosions in the Sky. The songs built from start to finish, drearing into a bright and powerful blend of the once-intermittent instruments flowing effect-filled all at once, ultimately bursting and deflating down in a shimmering end.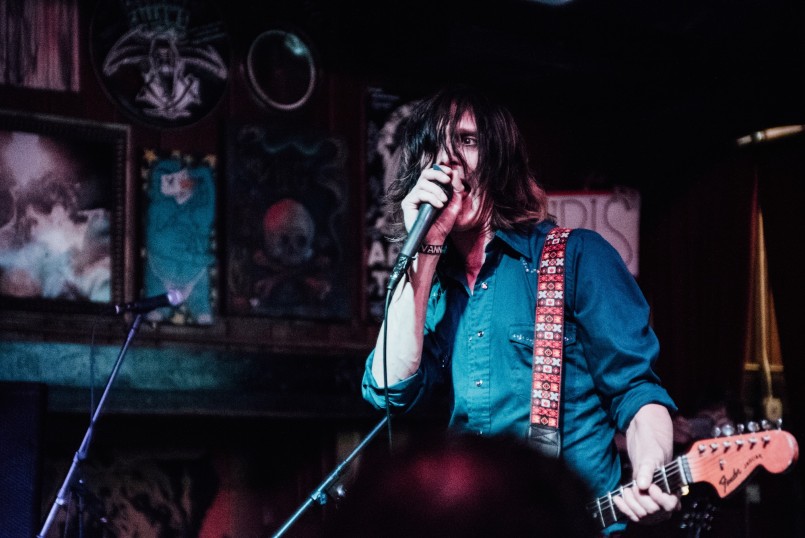 Capsula
The Argentinian arena-rock band finished off the final night of the festival with a flurry of attitude. They appeared atop The Jinx's stage, as the well-taught rock bands do, twenty minutes late. Now, this stage felt like a good size for the majority of Stopover's bands. It suited Big Ups's minimalistic hard rock style, as well as the straight-edge punk energy of White Reaper, but Capsula's energy overwhelmed the tight space. Regardless, they put on an incredible show, giving an arena performance in this divey bar. The lead singer and guitarist flowed through the entire venue, at once off stage to interact with the crowd, standing on the bar and arching his back, crouching on the floor for an intimate ballad-duet with a pretty audience member. The bassist, held her four-string like a flamethrower, and the drummer evoked the spirit of Spinal Tap with his glancing, eager eyes, positioned high over his drum kit and nodding as he played all the while. Capsula put on a show. Not much of the crowd knew the songs, but everyone felt the glam and the energy. FL