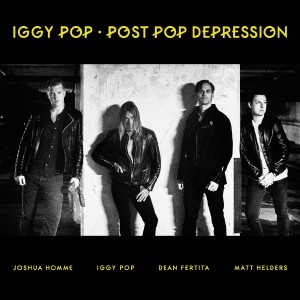 Iggy Pop
Post Pop Depression
LOMA VISTA
8/10
Iggy Pop and Josh Homme entered into the creation of Post Pop Depression—Pop's seventeenth solo album—with one caveat on the table: if the resulting recordings weren't great, Homme was obligated to bury them in the Joshua Tree desert.
The Queens of the Stone Age leader is clearly reverential of Iggy's reputation, and at age sixty-eight, perhaps Pop is, too. "I've nothing but my name," he intones deeply on "American Valhalla," repeating it as the winding riffs fade away. Legacy and mortality loom heavy over the record, referencing Pop's work with the late David Bowie lyrically on "German Days" and sonically on the Lust for Life–recalling "Sunday." Though Homme's love of The Stooges' oozing proto-punk is clear, he brings a level of sophistication to the proceedings that feels as elegant as Pop's recent solo turns (Préliminaires and Après), driving and heavy but lithe and funky, too.
Pop can't help but indulge in a few lyrical duds, but he's utterly commanding, and when his voice breaks from its low coil at the thrilling conclusion of "Paraguay," he sounds as violent as the in-the-red mix of Raw Power. "I wanna be your basic clod who made good and went away while he could," Pop snarls before addressing the "turd" with a laptop, ruining him with an expletive laced rant. If Iggy's going anywhere, it won't be quietly.