Grace Mitchell is on a different tip this morning. She's in the midst of baking a batch of Valentine's Day cookies while simultaneously delving into the culture of Andy Warhol's Factory and the proto-punk scene of 1970s Manhattan. Think Patti Smith, Lou Reed, Robert Mapplethorpe. Upon listening to Raceday, Mitchell's latest EP, this might not strike one as the most obvious set of influences. But while that record is barely off the cooling rack, Grace is already looking ahead to the next recipe.
"I'm trying to immerse myself in what that era must have been like, because it's so fucking fascinating," she says over the phone from her home in Los Angeles. Mitchell's tone rings out as one of a firebrand, equal parts youthful vigor and a comfort in her own skin that is well beyond her eighteen years. "I'm really interested in finding where sounds that I'm influenced by come from."
A self-propelled musician from an early age, Mitchell cut her teeth by sketching out songs on an acoustic guitar, but she really shifted into gear after a family friend showed her how to use GarageBand. From that point on, every day after school she would make beats or a cappella arrangements in an ongoing effort to "bring the music of her imagination to fruition." Mitchell's natural talent and work ethic paid off in droves, as before long the Oregon native was signed to Republic Records. Shortly thereafter, the opportunity to contribute a cover of Hall & Oates' "Maneater" to The Secret Life of Walter Mitty's soundtrack would formally launch her music career.
"I'm a huge Hall & Oates fan," Mitchell says. "It was a good opportunity and I feel really proud of it, because it was something that I was passionate about." Undaunted by the notion of releasing a cover song as her first bit of professional output, Mitchell took hold of the opportunity and delivered a downtempo synth-ballad version that does the '80s classic justice, all without sacrificing her bold personality. Following her debut Design EP in 2014, Mitchell's next project found her in the studio with Mark Foster of Foster the People. Despite the discovery that she and Foster brought disparate influences to the drawing board, Mitchell's newfound collaboration ultimately turned out to be a harmonious one.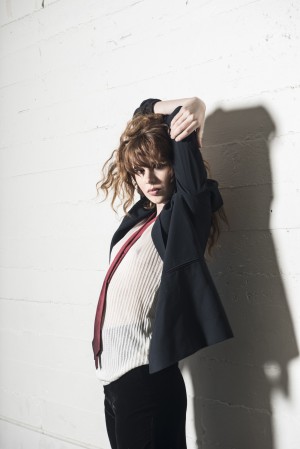 "The way I sing naturally is drawn from '90s pop music, and even reggae," Mitchell says about her touchstones from the sessions. "When I work with Mark, I can see that his influences on what he produces organically sound folkier, almost like bluegrass." This strange brew of inspiration makes better sense when fed through speakers, as Raceday marries the production flare of Mitchell's modern pop pillars with an emphasis on songwriting that Foster's stated background would suggest. It's easy enough to dash off a grocery list of influences in the elusive effort to describe music in words, but the real magic happens when an end result proves greater than the sum of its parts. Raceday manages to achieve this effect over its five tracks, which are undeniably catchy and possessed of the same preternatural confidence that, like her scarlet locks, is inherent to Mitchell.
The young chanteuse admires these pop qualities in her music but hopes that her audience will also engage with some of its more deeply embedded aspects. "A lot of the things I sing about are characters and stories that maybe [have or] haven't happened," Mitchell explains. "For example, a character that I sing about a lot is this crazy, punky, reckless, almost dominatrix type person, which is not entirely unlike me. But then, a lot of the songs were influenced by actual experiences."
One such experience continued to develop long after the songwriting process. Raceday's final track, "Bae," was written with Mitchell's boyfriend at the time, a popular Vine personality named Nick Colletti. "It's like bro comedy," Mitchell explains of Colletti's online presence. "But he makes really cool beats, so we made that track." By the time "Bae" was in the production stages, Mitchell and Colletti had called it quits, so the latter's featured verse was passed on to the French emcee S.Pri Noir.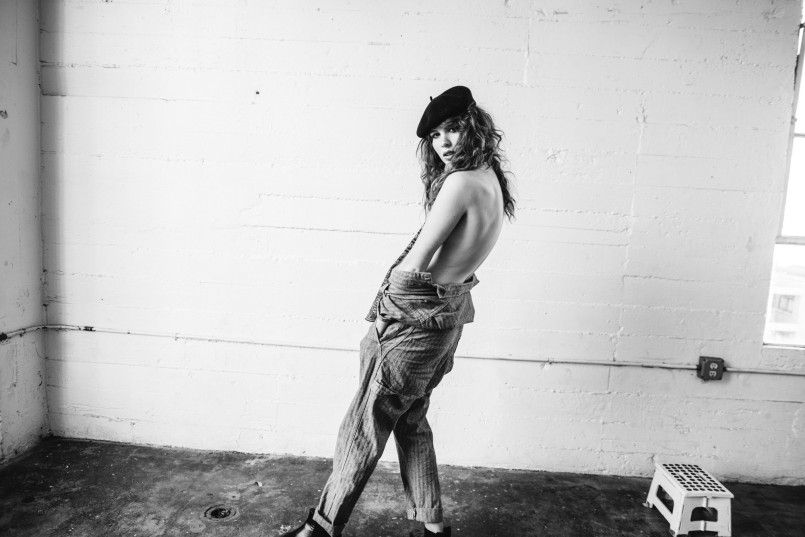 Today, Mitchell bakes her heart-shaped cookies for someone new, or perhaps as a treat to enjoy on her own. "Don't worry 'bout me, it's all better now / You can worry 'bout you, I'm all better now," she sings on the chorus of "NoLo," another Raceday cut. We haven't seen the last of Mitchell's edgy avatar, however, as the anarchic CBGB scene-makers of her present obsession begin to bubble toward the surface of her music. Already at work on her first full-length effort—once again in collaboration with Foster—Mitchell reveals that this next album will be aimed more in the musical direction of her heroes.
"With my fascination with punk and rock music, recently I've been writing a lot of heavier songs," she says. "You can expect the sounds to be more instrumentally driven. I'm playing a lot of guitar, which feels really cool because it's where I started." No matter what's next out of the oven for Mitchell—nor how firmly set its ingredients are—we can rest assured that at the gooey core will be the rich flavor of her own design. FL

Style Credits (top to bottom in article; left to right in gallery)

– Look One: Tank Top: Urban Outfitters; Pants: Just Female; Shoes: Converse; Scarf: Vintage
– Look Two: Blazer: AllSaints; Pants: M Essentials; Tank Top: Vintage; Tie: Vintage; Boots: Acne
– Look Three: Jumpsuit: Vintage at Virgo Downtown; Scarf and Hat: Vintage; Boots: Acne
– Look Four: Shirt: Vintage
– Look Five: Hat: Brixton; Shirt: Theory
– Look Six: Jacket: Sandro; Body Suit: Zara; Jeans: Levi's; Boots: Church's
This article appears in FLOOD 3. You can purchase the magazine here.