Parquet Courts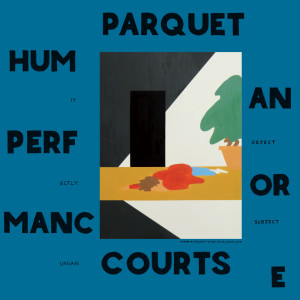 Human Performance
ROUGH TRADE
8/10
Parquet Courts possess a unique skill: making each of their albums sound as if it was their first. Unlike artists who try too hard to sound different each time around, this is a band that approaches songwriting with fresh eyes. With Human Performance, the New York quartet continues their streak.
The first track (and first single), "Dust," opens with the promising sound of birds chirping. The band incorporates a post-punk hook reminiscent for The Ex for much of the song, setting the table for a poppy album in the vein of 2014's Sunbathing Animal. With about a minute to go, the song melts into droney shambles and ends with the urban ambiance of car horns—a wake-up call for any listener lulled into complacency. They then collect themselves for the title track. With bright guitars and a hard-nosed hook, it finds the band at its most fully engaged; if this song doesn't stick, your ears have gone to rot.
Each subsequent song on Human Performance finds Parquet Courts reinventing themselves. Sitting in the three and four slots are two short tracks, "Outside" and "I Was Just Here," the former a friendly jingle and the latter an atonal snarl. In terms of sheer length, the couplet calls back 2012's Light Up Gold, which was filled with choppy numbers reminiscent of Wire's Pink Flag. But where that album cohered around a certain energy, "Outside" and "I Was Just Here" are distinct from themselves and the rest of the album. (Not to mention that "I Was Just Here" has the priceless rhyme "You look so nice / Chinese fried rice.")
"Captive of the Sun" and the Velvet Underground–invoking "Steady on My Mind" are two of the chattier songs on the record. The urban-alienation theme that sometimes surfaces on the album returns again with "One Man, No City," which would've paired nicely last year on a split 7" with Sleater-Kinney's "No Cities to Love." Like "Dust," it too descends into a droney digression, hammering home the album's expect-the-unexpected theme.
"Berlin Got Blurry," despite its unique Southwestern flavor, is quintessential Parquet Courts: bouncy bass and lightly distorted lead lines driven by acoustic guitars. It also contains one of the album's best lyrics: "Feels so effortless to be a stranger but feeling foreign is such a lonely habit."
The band falters a bit on the next track, "Keep It Even," a semi-engaging song that should've been the digital-only bonus instead of the more qualified "Already Dead." After that brief stumble, Parquet Courts return with a pair of strong tunes, "Two Dead Cops" and "Pathos Prairie." The album closes on an introverted note with the hushed "It's Gonna Happen." It is encompassed by essentially one lyric: "It's gonna happen every single time / So rehearse with me in mind." In all, Human Performance comes off like Pavement's Wowee Zowee: a playful, unstructured, and loose gem by a confident band eager to take risks.