After a summer trip to the cinema with Stuart Murdoch, today Belle and Sebastian take us down to the discotheque with the irresistibly dancey new single "The Party Line." Following a delightful teaser, it's our first real taste of the forthcoming Girls in Peacetime Want to Dance, the ninth studio album from the Scottish indie-pop outfit. The record (out January 20 via Matador) was produced by Ben H. Allen III (Animal Collective, Deerhunter) and is the band's first since 2010's Write About Love. In a recent statement about the new material, Murdoch offered the following:
"The people's republic of Belle and Sebastian is on the move again, taking its message of responsible pop music in a revolutionary age to lands far and near. A little bit older, but no wiser, maturing like a fine wine ought to, our love for music, and the chance to lay it on your tender ear, is not diminished. We will pop you."
Listen to "The Party Line" now, and check out more details about Belle and Sebastian's upcoming LP below.
Girls in Peacetime Want to Dance track listing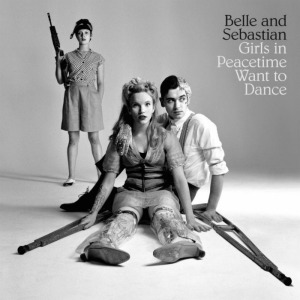 1. Nobody's Empire
2. Allie
3. The Party Line
4. The Power of Three
5. The Cat with the Cream
6. Enter Sylvia Plath
7. The Everlasting Muse
8. Perfect Couples
9. Ever Had a Little Faith?
10.Play for Today
11.The Book of You
12.Today (This Army's for Peace)