Beatmaker Basmala isn't exactly new to the scene. He released a string of records in the mid-aughts under the name Autolect, and when he raps on a track, he does so under the name Hasan Atiq. And while he does acquit himself as a rapper, his voice is just another element in the sparsely decorated cosmos of his self-titled debut LP, which we're premiering in full today.
The Basmala identity was created in the fallout of the Autolect project, when the producer was turned on to visionary art—a form that attempts to transcend the physical world in search of higher astral planes. "I sat with a visionary artist who explained the process, and outlook, to me," Basmala says. "I related to a lot of what was explained, and it became obvious that this was a direction that I wanted to take my music in." 
That direction is spacey—though not necessarily in the way you might expect. Basmala at times takes his cues from the hard bop of Charles Mingus, bouncing even his slowest beats at an acute angle. "RNR" finds him folding sampled bleats into a pleated rhythm while a spectral piano haunts the air above. Later, "Just Us," which features rapper Mumblz Medina, finds him working on Dâm-Funk's game. And while there's certainly more than a little of RJD2 and DJ Shadow's DNA coursing through the tracks, there's a slight minimalist pulse at Basmala's heart, too, and a dedication to following the drift of a song's élan that it shares with the spiritual jazz of the late '60s.
The album drops Friday via Basmala's own label, Preservation Electronic Recordings, but you can hear the whole thing below.
Basmala track list
"Elastic" (featuring Atiq)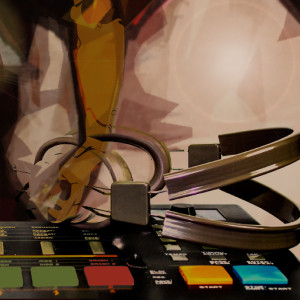 "Plots" (featuring Atiq)
"RNR"
"Chopa Sidi"
"The Mount"
"Day One"
"Accurate" (featuring Mikial)
"Warp Speed"
"Just Us" (featuring Mumblz Medina)
"Hijaz Part One"
"Hijaz Part Two"
"Hijaz Part Three"
"The Griot" (featuring Mikial)
"Off the Dribble" (featuring Atiq)
"Method"
Basmala is out April 29 via Preservation Electronic Recordings.