BACKSTORY: A psychology major who shifted focus and found her way into every bourbon lover's dream job—Master Taster for Woodford Reserve
FROM: Louisville, Kentucky, about an hour's drive from the Woodford County distillery
YOU MIGHT KNOW HER FROM: The balanced notes of each pour of the brand's bourbon
NOW: Working alongside Chris Morris, Woodford Reserve's Master Distiller, to push the boundaries of Kentucky's greatest export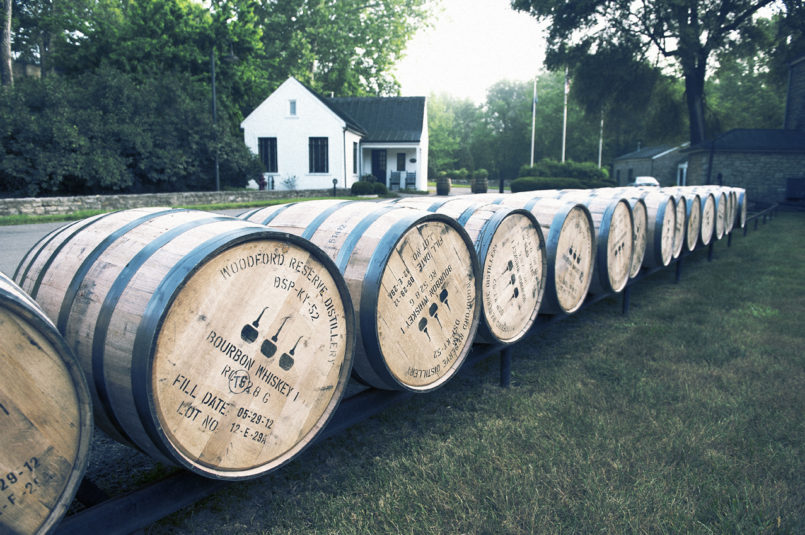 Standing in front of a group of women at Palihouse West Hollywood in Los Angeles, Elizabeth O'Neill has a glass in her hand and everyone's undivided attention. She lifts the drink to her nose, taking a breath in before sipping the caramel-colored liquid. She instructs the captivated onlookers to do the same. While the ladies are inhaling deeply, closing their eyes and trusting their olfactory systems to correctly identify notes of cloves and maple syrup in the spirit, O'Neill is looking at the new bourbon aficionados with pride. And why shouldn't she be proud? Every sip of Woodford Reserve that hits their lips at this all-female Bourbon Breakdown was first tasted and approved by her, the distillery's Master Taster.
O'Neill didn't know much about this coveted position while she was earning her master's in Counseling Psychology at the University of Louisville and planning to become a therapist back in 2009—but her mother planted a new seed in her head. "My mom worked in production for another distiller, [Seagram's], in their quality department and some of the sensory area," says O'Neill. "The alcohol industry is in my blood." Coming from a long line of bourbon drinkers and industry professionals, O'Neill jumped at the chance to work at Brown-Forman, Woodford Reserve's parent company, as a sensory lab technician.
"Bourbon is my life. I love it, so it never really feels like I'm working. I'm very fortunate to be in this situation."
Her spirits education began before she landed the job: "When I interviewed at Brown-Forman, they took me into the lab and showed me a bottle of new-make whiskey right off the still, before it had been put into barrels. It was clear! I had no idea bourbon was clear and that all of its color came from the barrel." After a few years of testing, O'Neill knew that Woodford Reserve was the brand for her. She describes her working relationship with the drink as "love at first sensory experience," and each barrel of Woodford is a testament to her dedication to the craft.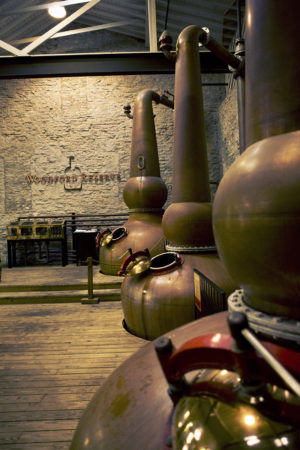 As a Master Taster, O'Neill doesn't just sit around sipping whiskey for hours as one might dream (although she's always down to enjoy a full glass of Distiller's Select). She's Woodford's quality control—completing analytical testing on pre-bottled batches and approving every barrel—as well as the company's warm public face when fans visit the distillery and when she travels the country spreading the good word.
O'Neill's effortless, outgoing nature is a direct result of her close bond with Woodford's Master Distiller, Chris Morris. "He taught me to not be shy," says O'Neill. "Just walk up, stick out your hand, give them your name, and thank them for coming. Even just saying 'hello' to people at an event—or maybe just at the liquor store—there's always an opportunity to be kind and build the brand."
O'Neill isn't driven by sales quotas or social media followers; she really loves what she does and wants to share it with the world. That's why she's consistently educating herself about the history of whiskey and where it's going in the future. "Bourbon is my life," says O'Neill. "I love it, so it never really feels like I'm working. I'm very fortunate to be in this situation." Although she's already flourished at her dream job by working hand-in-hand with Morris on every new Woodford release, O'Neill isn't resting on her laurels. She could even see herself taking the reins of the whole operation somewhere down the line. "With time and proper education from Chris, I would feel prepared to take on the role [of Master Distiller] if I was lucky enough to be asked."
However, luck has nothing to do with O'Neill's continued success at Woodford Reserve. She's serious about her job and her company, but, most importantly, she knows that whiskey is to be enjoyed. "There's no wrong way to drink bourbon," insists O'Neill. "Just as long as you're drinking it!" FL