It's been joked that the post-punk generation is the first to lack the slightest sense that it will someday grow old. And perhaps only lending fuel to those flames of denial, every new crop of buzz bands gushes with fawning homages to their most hallowed influences—name-checking Gang of Four here, Public Image there, and Joy Division everywhere. Said influencers are thusly inspired to stage seemingly perpetual reformations, carrying on as if the very idea of "ending" a band were an unthinkable absurdity.
"In the old days, bands used to break up," says New Order keyboardist Gillian Gilbert. "Or the singer would die in a plane crash and that was it."
It's perhaps a little jarring for her to put it exactly that way, considering how New Order were literally borne from the aftermath of Joy Division singer Ian Curtis' suicide. As the history books have it, remaining members Bernard Sumner, Peter Hook, and Stephen Morris bolted a few more synthesizers onto their musical manifesto and carried on under the starkly literal moniker New Order. Gilbert joined shortly after.
Now, it would be fairly impossible to argue that New Order haven't actually broken up at least once since then. Five years of silence had passed before a reunion gig in 1998, and 2001's Get Ready was vaguely hailed as a "comeback" record. Yet with the release of Music Complete this fall, there ostensibly comes a promise that they now intend to carry on as long as is necessary.
 "Writing and recording does become harder work as you get older," singer-guitarist Sumner admits of birthing their first new album in a decade. "It was very intense—at one point, we were doing seventy-hour weeks. But, then, this is all I've ever done."
New Order, it must be said, is newer—and renewed. Gilbert returned to the studio for the first time since 2001, and her touring replacement Phil Cunningham, as well as Tom Chapman—who filled the hole left by bassist Peter Hook's animosity-charged departure—are now fully colluding members. And perhaps poetically verifying the post-punk circle of life, they have now signed to Mute Records, once surely the ideological riposte to the band's former label, Factory.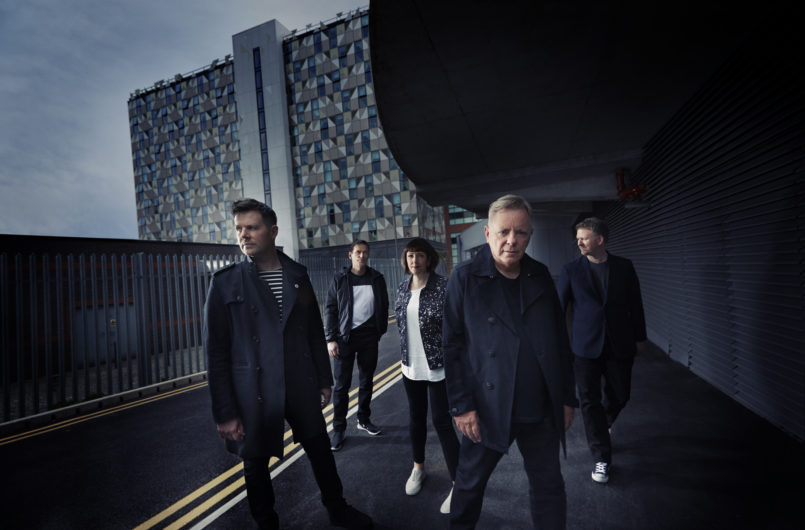 "Yeah, us and Depeche Mode—it's weird," Gilbert observes. "But it does feel like we're starting all over again, which I think shows on the album."
What shows, in fact, are New Order's exalted and long dormant technological inclinations, informed by three years of live performances, and fans' "apeshit" reaction to the trotting out of their dance floor classics. And if ever they could benefit from a bit of self-referentialism, what more fertile ground than "Confusion" and "Blue Monday"?
Sumner enthuses, "Just getting back into electronics has been very exciting—it's been so long. We're doing all the things we dreamed of doing in the '80s but couldn't because of the limitations of technology."
What Music Complete does best is serve as a reminder of New Order's sheer sonic power when they get things right. Indeed, the explosive "Singularity" might be the most successful marriage of trance and heavy metal yet. And returning to their early '80s Damascus moment, "People on the High Line" and "Tutti Frutti" tap various veins of NYC club culture from that time, which forever propelled them onward from their post–Joy Division gloom.
"We're doing all the things we dreamed of doing in the '80s but couldn't because of the limitations of technology." — Bernard Sumner
 They even invited a couple of their most fervent acolytes—The Killers' Brandon Flowers and Elly Jackson from La Roux—into their normally tightly guarded recording process. But easily the strangest track is "Stray Dog," in which Iggy Pop recites Sumner's existential poetry over a sort of fuzzed-out Stooges update. "I can't stop drinking / It's in my blood," Pop snarls, to eerie effect.
Still, while Music Complete decisively proves there was no problem summoning the fabled New Order muse, there's an undeniable sadness to the apparently permanent departure of Peter Hook—with so much of their mythos having rested in the three surviving members of Joy Division bravely carrying forward from tragedy. And melancholy epics "Academic" and "Nothing But a Fool" do sort of cry out for his inimitable bass styling.
Gilbert reckons, "I believe we do have a good sense of our history. But then, if you're always thinking about what happened in the past, I don't think it gets you very far."
To be sure, Hook's assertion that his absence equates to a Queen without Freddie Mercury is a quite good bit of enmity-tinged hyperbole. He's also publicly called Sumner a "twatto," so best to not hold one's breath for reconciliation.
Despite using words like "alienation" and "depression" to describe the atmosphere after the release of 2005's Waiting for the Sirens' Call, Sumner is stoical, if not a little relieved: "[Hook]'s chosen what he wants to do, and he must be happy doing it, because he wasn't happy in New Order. He wanted things done his way, and if it wasn't done his way, he wasn't happy."
Yet with the band seemingly riding a new high, Sumner pauses for a strikingly confessional moment, seeming to want to apologize for his own part in New Order's well-documented erraticism of days past: "I was getting fucked up all the time, drinking too much—though I'm not the only one in the band guilty of that. Some performances would be amazing, and some just no good and I think it was down to how hungover we were. So it was our own fault—we put ourselves in that position. But I guess nature sorts you out in the end. We still have a drink…we just don't get shitfaced."
In spite of it all, what New Order has always unfailingly managed is to galvanize new generations of fans, as Gilbert is all too happy to verify.
"I've been surprised by how many young people are coming to the shows, especially in Paris, Brussels, and Brazil. It's all very exciting." FL