Andy Shauf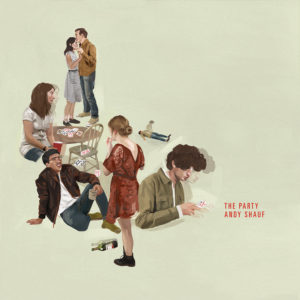 The Party
ANTI-
9/10
For most of us, a house party is at best an excuse to get drunk on whatever is in your friend's liquor cabinet, or a chance to flirt with that one cute girl in your office; at worst they're an uncomfortable social obligation we drag ourselves to once every couple of weekends. For Andy Shauf, those gatherings and the characters that tend to occupy them are the backdrop to his latest album. Part confessional diary and part character study, Shauf's The Party is a conceptual album that turns the goings-on of a house party into a gorgeous work of storytelling.
The Saskatchewan native has been writing folk songs for years but only started turning heads in the States last year when his 2012 album The Bearer of Bad News was re-released by Portland label Tender Loving Empire. His penchant for breathing life into specific, flawed characters was apparent then, and he's gone even further to connect himself and those imaginary people with The Party.
While Shauf presents himself as the wallflower, his prowess at assessing people from afar is surprising. He turns his awkwardness into voyeuristic poetry as he tells the story of archetypal characters that we've all encountered before, like the "overdressed and underprepared" first arrival ("Early to the Party") or the guy who fumblingly spills his guts to his crush ("To You"). When he turns the lens on himself on songs like "Martha Sways," his unflinching gaze turns into a heartbreaking glimpse into his own world as he dances with a woman who could almost be his old love ("I held her close / Like I held you / Martha sways / And I follow suit / She fills my glass / And I toss it back / Into the space that once held you").
Amidst the twinkle of boozy pianos, delicate orchestral strings, and hazy clarinets, Shauf's imaginative vignettes come together into one intricate web of love, loss, and dancing. It's a stunning achievement for the quiet young soul from Regina.