case/lang/veirs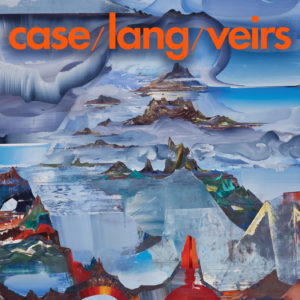 case/lang/veirs
ANTI-
7/10
When k. d. lang e-mails you asking to collaborate, as she did Neko Case and Laura Veirs, you say "Yes." Within the first thirty seconds of case/lang/veirs, the product of that e-mail chain, all three singer/songwriters are trading lines—and if you're excited about this album based on any of the three names in its title, you know how good that sounds.
By way of a quick introduction, k. d. lang is famous for being k. d. lang, and Neko Case is slightly less famous for being Neko Case (and one of The New Pornographers). Portland favorite Laura Veirs may be the least familiar name; she released her first album in 1999 and hasn't stopped since. The straightforward sweetness of her voice is a nice balance to the deep velvet of lang's and the smooth sharpness of Case's. Appropriately, one of the songs Veirs sings is called "Best Kept Secret" (though it's actually about Tim Young, who plays guitar with case/lang/veirs).
With the personnel on this album, there's no way it wasn't going to be powerful. The question, then, is how the trio would choose to use their power. Initially, the three thought their Portland-based collaboration would be punkier. Given the material that each has released in the past, though, it's not a big surprise that their powers combined turn into a sort of folky Americana—never mind that Case and lang have Canadian roots. It's equal parts devastating, as on the Veirs-sung "Song for Judee" ("They found you with a needle in your arm / Beloved books strewn round at your feet / You loved the sons of the pioneers and the Hollywood cowboy stars"), and romantic. The lang-led "Honey and Smoke" could've been plucked from her '90s heyday. 
Although public radio stations everywhere are drooling, no one song on case/lang/veirs is a number-one single. Veirs and Case were never in that business, and lang's been there and done that (in fact, she's had two number-one dance songs). These aren't teenagers looking to get famous. They're grown women with many years of work and experience behind them, and they don't really care if you like what they've done. But you will.