Blood Orange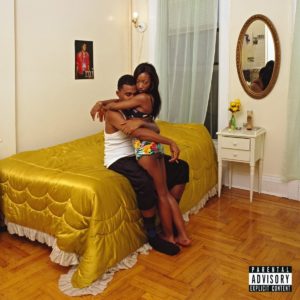 Freetown Sound
DOMINO
8/10
Take even a fleeting glimpse at Devonté Hynes's Instagram account and you will immediately begin to know his many passions. Flickers of poetry, jazz, art, hip-hop, sexuality, and, especially, dance resonate across a grid of little square frames. These elements not only comprise Hynes's digital identity, they also provide fabric for his newest and boldest achievement as Blood Orange—the personally- and socially-charged, sweeping Freetown Sound. What Hynes has showcased over the course of three albums ensconced in his most intimate musical vehicle is an uncanny ability to orchestrate, and to do so with a wider sense of purpose.       
For this writer, the a-ha moment regarding the potential of Dev Hynes occurred in the tense wake of the Ferguson, Missouri, shooting of Michael Brown, during a 2014 Jimmy Kimmel Live! performance of Cupid Deluxe highlight "It Is What It Is." The performance was set over a minimally geometric facade and involved a broom. Hynes appeared in a homemade "Black Lives Matter" shirt and, in addition to skillfully choreographing a performance that felt instantly recognizable while somehow fresh, he absolutely shredded a solo on his Steinberger that channeled a shade of Prince. The dancers and featured singer, Hynes's then-girlfriend Samantha Urbani, were treated as an integral part of the performance, and yet its central artist's presence and personality managed to naturally seep through.
It's not by coincidence that the performance was impeccably executed; its designer has demonstrated an avid commitment to the art of dance, often posting photos of himself in a leotard at his local studio. Hynes seems to have a poetic respect for the give-and-take of bodies in motion, and this concept applies in colors to his recent work as Blood Orange. He refers to Freetown Sound as his Paul's Boutique, likening the experience to that of a mixtape. Nearly every track embraces collaboration in some form, but the album as a whole feels remarkably cohesive and unified. "By Ourselves," an Adam Bainbridge (a.k.a. Kindness) co-write, opens the record with a recitation of poet Ashlee "Lola" Haze's "For Colored Girls (The Missy Elliott Poem)" and samples from Charles Mingus's "Myself When I Am Real." The pop-oriented "Best to You" features an arresting vocal exchange with Empress Of's Lorely Rodriguez. Hynes has proven himself a master at writing and arranging for female voices, and none other than Debbie Harry is given the treatment on "E.V.P." Carly Rae Jepsen contributes dynamically to the house-tinged "Better Than Me," and Nelly Furtado is brought back for "Hadron Collider." Beautiful voices juxtapose in the vase of Hynes's candid, cathartic lyrical approach; his touch is capable of fusing disparate elements with remarkable fluidity.
Freetown's title derives from the birthplace of Hynes's father in Sierra Leone, and its sound is duly informed by its predecessors. "But You" could pass for a Michael Jackson watercolor, and the "E.V.P." verses, in all their DX7 glory, recall Grandmaster Flash. When facing forward, Dev Hynes grieves and rallies in equal measure on his most ambitious and successful work to date, responding to the unrelenting turmoil of the world around him as much as he is reconciling with himself. The voice Hynes has cultivated as Blood Orange is purely his own, and on Freetown Sound, he has learned to project it in an impactful array of harmonies.