In all of sport, there may not be a venue more associated with beer-drinking than Chicago's Wrigley Field. In fact, you can probably peg the origin of the suds-swilling bleacher creature to the Cubs fans who for years have made the outfield seats the friendliest sections of the Friendly Confines (er, unless you're a St. Louis Cardinal).
But drinking at Wrigley doesn't just mean cozying up to a frosty stadium cup. In addition to extended craft beer offerings—which include Goose Island's Sofie and Matilda—you can now enjoy a selection of fine cocktails while root, root, rooting for the Cubbies.
With the team currently playing so well they might actually quench their century-plus World Series drought, getting into the second-oldest park in the Majors hasn't been easy this summer. So we asked Vice President of Food and Beverage John Balaun to show us how to mix up a few rounds so we can recreate Wrigley at home. Ivy garnish optional.
AUDI CLUB SQUEEZE PLAY
THROW IT BACK! THROW IT BACK!
2 oz. Grey Goose La Poire vodka
½ oz. triple sec
Lime juice
Sour mix
Combine vodka and triple sec, add a splash of lime juice, top with sour mix. Serve in a glass with salted rim and lime garnish.
CHICAGO HEAT
Made with locally produced CH vodka and goes down faster than a batter facing Jake Arrieta.
1 ¼ oz. CH vodka
1 ¼ oz. pineapple juice
Blood orange sour
Shake vodka, pineapple juice, and a heavy splash of blood orange sour mix. Top with club soda. Garnish with fresh mint sprig.
BLEACHER BUM PUNCH
Note: This recipe serves an entire infield. Let's play two.
9 oz. Captain Morgan coconut rum
9 oz. orange juice
3 oz. ruby red grapefruit juice
6 oz. cranberry juice
Combine all ingredients and stir. Pour into pitcher. (A glass serving pitcher, not the nearest reliever.)
BIG LEAGUE MOJITO 
The second-best Cuban product in Wrigley, after Cubs left fielder Jorge Soler.
1 ½ oz. Captain Morgan white rum
½ oz. simple syrup
6 fresh mint leaves
Halved lime cut into wedges
1 oz. club soda
1 mint sprig
Muddle lime, mint, and simple syrup in shaker. Add rum and fill with ice; shake. Pour into glass and top with club soda. Garnish with mint sprig and lime wedge.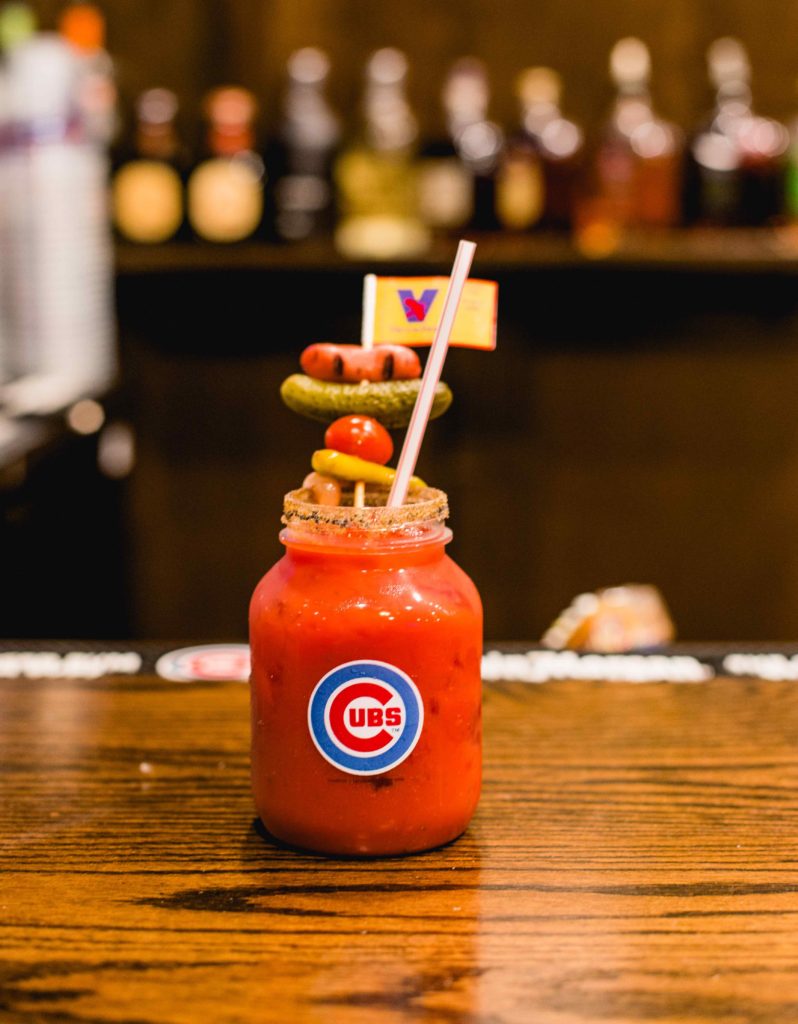 CHICAGO DOG BLOODY MARY
Ketchup strictly prohibited.
1 ¼ oz. Tito's Handmade Vodka
Bloody Mary mix
1 mini Vienna Beef hot dog
Celery salt and poppy seeds
1 skewer
1 mini kosher pickle
1 cherry tomato
1 sport pepper
1 cocktail onion
Rim 20 oz. mason jar with celery salt and poppy seeds. Fill with ice. Add vodka and Bloody Mary mix. Garnish with bamboo skewer built with mini Vienna Beef hot dog, mini kosher pickle, cherry tomato, sport pepper, and cocktail onion. Mustard and relish floater optional. FL
This article appears in FLOOD 4. You can download or purchase the magazine here.