The Avalanches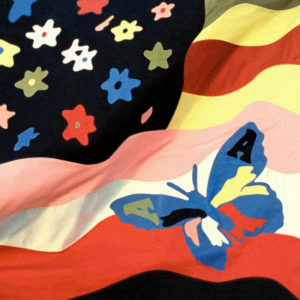 Wildflower
ASTRALWERKS
7/10
Australian group The Avalanches floated into consciousness in the year 2000 with a sample-driven slice of heavenly pop in the form of their debut album Since I Left You. This was before Daft Punk's Discovery, but after DJ Shadow's Endtroducing….., and, fittingly, it existed at the time somewhere in the middle between the party-ready robots and the crate-dusty DJ. What's proven to be so rejuvenating about this record over the years is its use of samples—the boombastic triumph of "Frontier Psychiatrist" is a head-swirling combo of beats and film dialogue, choral voices and turntable fireworks. So where does that put us fifteen years later, with the revelation of a whole new sonic tapestry to drape around our collective brains?
The acceptance of Since I Left You as a new kind of plunderphonic pop classic ensured that Wildflower would be stocked to the gills with guest stars from all four corners. This largely works in the album's favor, adding a kick of the hip-hop mixtape approach instead of pure sound collage. But it also makes the new songs like rows of neon lights—after a while the dazzle feels like a haze. On the one hand, there's the MF Doom and Danny Brown–featuring "Frankie Sinatra," which reminds us of the classic equation in which sample + hook + rhyme = good fun for all. Or the Byzantine layers of the Biz Markie–starring "The Noisy Eater," which comes off like De La Soul working through The SMiLE Sessions. These songs shine in ways that are new to The Avalanches, as does the Toro y Moi collaboration "If I Was a Folkstar," a pretty party-house number that shows off some late night/early morning magic before the sublime vocals come in.
The proliferation of old and new voices does take the focus away from the layers of sound composition and sample placement (what The Avalanches do best) and instead provides a backdrop for voices that serve up a shorthand menu of acclaimed cult acts of the '90s (Silver Jews, Royal Trux, Mercury Rev). It's not that these don't work; they often do (especially the Jennifer Herrema track). But Wildflower, with its Daisy Age sentiment, loops, alt-rock guest spots, and hip-hop veterans often feels less like the continuation of something new and more like a retrospective of what once was.