Along with Martin Messerschmid, Markus and Michael Acher formed The Notwist as a grunge band in 1989 in the town of Weilheim in Oberbayern, a half-hour's drive from Munich. Messerschmid left the band in 2007, but not before their sound underwent a series of radical transformations—from the plunking noise of their 1991 self-titled debut and the following year's Nook to the post-hardcore experimentation of 1995's 12 to the jazz-inflected, electronica-beholden Shrink and the hybridized glitch-pop of 2002's Neon Golden, all the way through their most recent album, 2014's Close to the Glass.
Today, the band are announcing their first-ever live album, Superheroes, Ghostvillains + Stuff, due out October 14. Sub Pop will be releasing it digitally in the US and it'll be available in 2xCD/3xLP format in Europe via Alien Transistor. The album was taken from the second night of a sold-out three-show run at the Leipzig venue UT Connewitz last December. Not surprisingly given their creative restlessness, it finds them reimagining songs from throughout their catalog, reaching as far back as Nook's "One Dark Love Poem."
We're also pleased to be premiering the Superheroes version of the Neon Golden single "Pick Up the Phone." While it retains the original's sense of longing and sweetness—there's no changing the tinge of hopelessness in that vocal melody, nor any chance of scrubbing out the song's signature pillowy loop—it concludes in a flutter of electronic wing-beating, its cold anxiety at once overwhelming and accentuating the song's soft human core. Give it a listen below, and check out the album's artwork and track list, too.
Should your interest be sufficiently piqued, and should you happen to find yourself in Europe, The Notwist will be embarking on a tour of the continent in early 2017. Those dates, as well as a handful of late 2016 shows, are below too.
Superheroes, Ghostvillains + Stuff track list
"They Follow Me"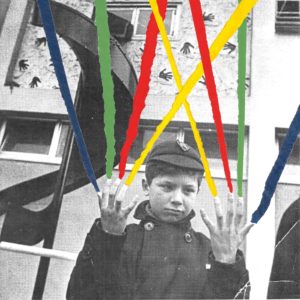 "Close to the Glass"
"Kong"
"Into Another Tune"
"Pick Up the Phone"
"One with the Freaks"
"This Room"
"One Dark Love Poem"
"Trashing Days"
"Gloomy Planets"
"Run Run Run"
"Gravity"
"Neon Golden"
"Pilot"
"Consequence"
"Gone Gone Gone"
The Notwist tour dates
11/5 – Weissenhaeuser Strand, DE – Rolling Stone Weekender
11/6 – Berlin, DE – Lido
12/12 – Düsseldorf, DE – Zakk
12/13 – Luxembourg, LX – Atelier
2/2 – Zurich, DE – Rote Fabrik
2/13 – Leipzig, DE – Conne Island
2/14 – Hamburg, DE – Rosse Freiheit
2/15 – Amsterdam, NL – Paradiso
2/16 – Gent, DE – Vooruit
2/18- Reutlingen, DE – Franz K
2/19 – Frankfurt, DE – Batschkapp
Superheroes, Ghostvillains + Stuff is out October 14 on Sub Pop.