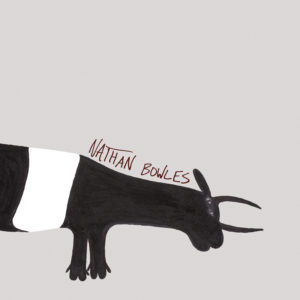 Nathan Bowles
Whole & Cloven
PARADISE OF BACHELORS
8/10
Nathan Bowles's new album Whole & Cloven is filled with shimmering, ecstatic moments, but its undeniable highlight is the eleven-minute "I Miss My Dog," a slowly-unraveling meditation that explores the emotional ground between gentle melancholy and almost unbearable sweetness. As with the rest of the album, the elements here are simple—clawhammer banjo, clattering percussion, and earthy piano—but in Bowles's capable hands these common tools are utilized in marvelous ways, welding minimalist drones to Appalachian stomps. You've likely seen Bowles backing up his buddy Steve Gunn on drums (he also contributes piano, organ, and banjo to Gunn's recordings) or read his name in the liner notes of albums by Pelt, Hiss Golden Messenger, or the Black Twig Pickers, but his solo LPs offer an unobscured look at his singular approach, the blend of soulful country boogie, avant-garde minimalism, and ancient string-band traditions he's honed over the last decade.
Whole & Cloven is Bowles's third solo album, and second for North Carolina label Paradise of Bachelors, which has established itself as offering one of the most dependable catalogs in modern music. The record builds on the foundation established by his last, 2014's Nansemond, which focused on locales and wordless stories from Bowles's native Virginia, but it expands in new directions as well. On the solo piano composition "Chiaroscuro," he unfolds a latticework of melodies, evoking the repetitive loops of Steve Reich or Terry Riley. On "Moonshine is the Sunshine," a cover of an early '70s jam by Jeffrey Cain, Bowles offers the album's only vocals (aside from humming on "Blank Range/Hog Jank II" and scattered breaths throughout), singing with a wry, jovial tone and booming humor. "The straightest line is crooked / And it ain't gonna get no straighter," he sings slyly.

The more listens in, the more these outliers fit in the broader context of Bowles's mostly solo-banjo format. With only light accompaniment, his playing is fluid and slippery on "Words Spoken Aloud" and loping on "Burnt Ends Rag," inspired by his old friend and artistic inspiration, the late guitarist Jack "Dr. Ragtime" Rose. Regardless of his stylistic detours, Bowles performs with a sense of economy and percussive flourish on everything he puts on tape, offering liveliness and joy no matter how sparse his toolkit.