Exploded View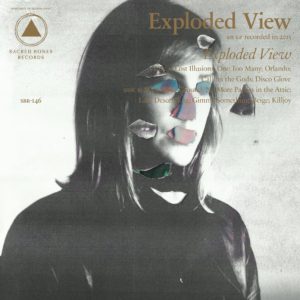 Exploded View
SACRED BONES
7/10
Anika is the singularly named English/German songwriter/musician/journalist who has put out a couple of releases under her own name, including her 2010 debut, which was produced by Geoff Barrow of Portishead. Her dislocated vocal style—part early Stereolab and part J. G. Ballard–infused, "I'm dead inside"–inspired coldwave—made a perfect fit for those experiments in post-punk and Krautrock dubbiness.
A recent tour through Mexico gave her a back-up band consisting of Martin Thulin, Hugo Quezada, and Amon Melgarejo. Whatever happened onstage worked and worked well so a new project was formed—Exploded View. Girl group–inspired indie record have become ubiquitous in 2016, but Exploded View get darker and weirder than the rest. The grooves of "No More Parties in the Attic" and "Lost Illusions" are distinct and feel fresh as they unfold into droning, thickly grooving psych-outs and Metal Box-era thudding rhythms; they rumble with authority and contain all sorts of push-and-pull tensions.
Anika's vocals are another coup. What you can discern are bits of about death, illusions, Robert De Niro, masturbation, news cycles, and who knows what else. Partly singing and partly talking, she presents an external dialogue of thoughts and dreams; she seems to have been ushered in from a different era, one in which under-singing is more valued than any sort of vocal projection. But then a track like "One Too Many" feels like the haunted folk of Sibylle Baier with Vince Clarke–era Depeche Mode adding the counter melodies, and it's hard to know what to think. In part, this feels like a sister record to Cate Le Bon's far-out Crab Day from earlier this year, but much more dense. Consider Exploded View the Welsh musician's German-Mexican cousin.