Mykki Blanco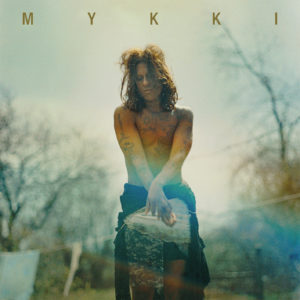 Mykki
DOGFOOD/!K7
7/10
The full-length debut from Mykki Blanco has been a long time coming. For a while it was thought to be called Michael and was due out in 2015; now it's called Mykki and it's here. Blanco has taken the well-trod route of getting her fans lubed up with mixtapes before the main event, but it's probably the only element of her career that anyone would consider traditional.
Blanco's aesthetic—one of syrup-addled R&B and boombastic hip-hop filtered through a queer lens, where art-inclined ravers and street punks might be one and the same person—is an intimate vision with widescreen possibilities; just listen to "Loner" or "High School Never Ends." Navel-gazing R&B is in high demand in 2016, but Blanco navigates this world like she's the first person on Mars, feeling around for new textures and realizing it's possible to do things differently. Sometimes she's creeping playfully in the dark like a mixture of Danny Brown and Tricky (see "My Nene"), but other times she's in full strut mode, head up high and sounding like Cappadonna rapping over "A Milli" (see "The Plug Won't").
There's an aqueous texture to much of the production, a druggy fog that breaks wide open on "Fendi Band" and comes into full clarity on "For the Cunts," where you get a feel for what it might have been like for Frankie Knuckles to spin Miami Bass. Final track "Rock N Roll Dough" lays what Blanco used to do (pop pills, rave hard, work in galleries to pay salaries) with linguistic dancehall bravado, but the end result is an album that makes you excited to see what she's going to do next.