Nick Cave & the Bad Seeds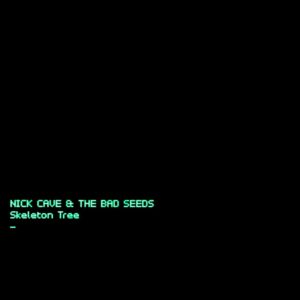 Skeleton Tree
BAD SEED LTD.
9/10
"There are no accidents," says Nick Cave in the middle of Andrew Dominik's devastating, cathartic documentary One More Time with Feeling, a mere instant before he trips and knocks over a mic stand. It's one of a small handful of funny moments over the course of the film, but in this case, the laughs come as a necessary respite. Skeleton Tree, Cave's sixteenth album with The Bad Seeds and the subject of Dominik's film, earnestly documents the cacophony of emotions that arise in the aftermath of unspeakable tragedy, bleeding outward from a grieving family to ultimately touch us all. Before tipping the stand, Cave had been explaining the "capture the moment" approach espoused by The Bad Seeds in making this record, but like the harrowing content of Skeleton Tree, the sentiment speaks deafening volumes.
"You fell from the sky / And crash-landed in a field near the River Adur / Flowers sprang from the ground / Lambs burst from the wombs of their mothers," begins Cave on opener "Jesus Alone." Imagery of biblical proportion has long been a staple of a proper Bad Seeds record, but never has it felt so unavoidably personal. Last summer, Cave and his wife Susie were faced with a parent's worst nightmare when their fifteen-year-old son, Arthur, fell from a cliff to his death near their home in Brighton, England. The album was largely written and partially recorded before Arthur's death, but it's impossible to listen to Skeleton Tree without absorbing some of the disorientation resulting from a loss that one can never fully process.
Oftentimes, the writing feels prescient. "If you want to bleed / Just bleed," offers a depleted Cave on "Girl in Amber." Over the course of the album's eight gorgeous tracks, he bursts forth and trembles with exquisite, horrific poetry as though he's left with no choice. On the pitch black "Magneto," we find him in the utter depths of sorrow. "I love, you love / I laugh, you laugh / I'm sawn in half / And all the stars are splashed / Across the ceiling." Absent a target for his grief, Cave often turns the bubbling destruction inward.
It should be noted, however, that despair is only one element of Skeleton Tree. We find a Cave who has been displaced from his typically cocksure, flickeringly grim modus operandi. "I must try to remember to be kind," he confesses to Dominik in the mixing room during a candid moment of One More Time with Feeling. There are times on the record when Cave seems to be concerned only with holding up those around him.
One such instance occurs in the form of "Rings of Saturn," which is buoyed by an orbital synth drift from Warren Ellis, who himself was so rife with grief over Arthur and loyalty for the Caves that he hardly spoke for the film. Cave waxes helpless on the impassable distance between he and his partner that nevertheless fails to deter him from reaching out to her. It's breathtaking. "Her eyes that look at me through her rainy hair… / And I'm there and I'm also not there / And I'm spurting ink over the sheets / But she remains completely unexplained."
Skeleton Tree is unquestionably a document of staggering loss. But it's also a testament to the beautiful ways in which human beings bind together in the direst of moments. Perhaps the best way to get through a tragedy is to acquiesce to the overwhelming notion that it's an impossible task. Take it from Cave himself. As the artist concedes in the closing bars of Skeleton Tree's most naked track, "I Need You," sometimes the best solution is to "just breathe."