"Are you sewing right now?"
Comedian Liza Treyger halts her FaceTime interview with California's Deap Vally—Lindsey Troy and Julie Edwards—to clarify. They reveal that they're knitting, which is unsurprising, because the duo met five years ago when Troy was taking a crocheting class at Edwards's Los Angeles knitting shop. "We're making hats for the Red Hot Chili Peppers," says Edwards. Deap Vally is wrapping up a run opening for Flea and Co. in European arenas, so this, too, makes sense. "Our friend Josh Klinghoffer is in the Chili Peppers now, and I've known him for about ten years," says Troy. "So I think when our name came through as a potential support act, he was like, 'Oh yeah, they fuckin' rock.'"
That they do. Following this leg, the duo will start touring on their own in support of their sophomore album, Femejism, which is brimming with fantastic bluesy psych-rock. The album was recorded while the band was between labels, having consciously uncoupled with Island Records, who released their debut album Sistrionix in 2013. Their reasoning for the split was that they wanted to run their own show, and that having total control over your finished product is close to impossible when you're working with a major label. They parted ways with Island and got to work. With their new arrangement (i.e., no arrangement), they were able to hand off a finished album to their new label, Nevado, with the help of producer Nick Zinner of the Yeah Yeah Yeahs.
On one of the first singles from Femejism, "Smile More," Troy sings, "And yes, I am a feminist / But that isn't why I started doing this," as if bored with having to affirm the band's stance to naive journalists. With those words, Deap Vally is basically saying: Like, no shit, who isn't a feminist? Let's talk about the music. And now that there are three Vally girls—the band is joined on their current tour by Mira, Edwards's baby daughter—there's a chance they might continue receiving those antiquated inquiries for some time.
Luckily, today it's Treyger on the other end of the phone. The new New Yorker and Deap Vally superfan has a packed schedule of her own: she's all over podcasts and every comic showcase you can list, and she guest-starred on the first episode of Horace and Pete, Treyger-superfan Louis C.K.'s self-produced web series. The rising comedian caught up with the band for FLOOD before their soundcheck in Stockholm, chatting with Troy and Edwards about their music, touring, and what it's like opening for everyone's first crush, Anthony Kiedis. Since all involved are on the same page regarding equal rights (yes, please), they jumped straight to chatting about babies and partying. The interview concluded with an exclusive screening of one of Julie's tour videos, featuring Chili Pepper Chad Smith entertaining a bouncing and laughing Mira while Flea supplies the bass soundtrack. And yes, it was just as precious—and badass—as it sounds.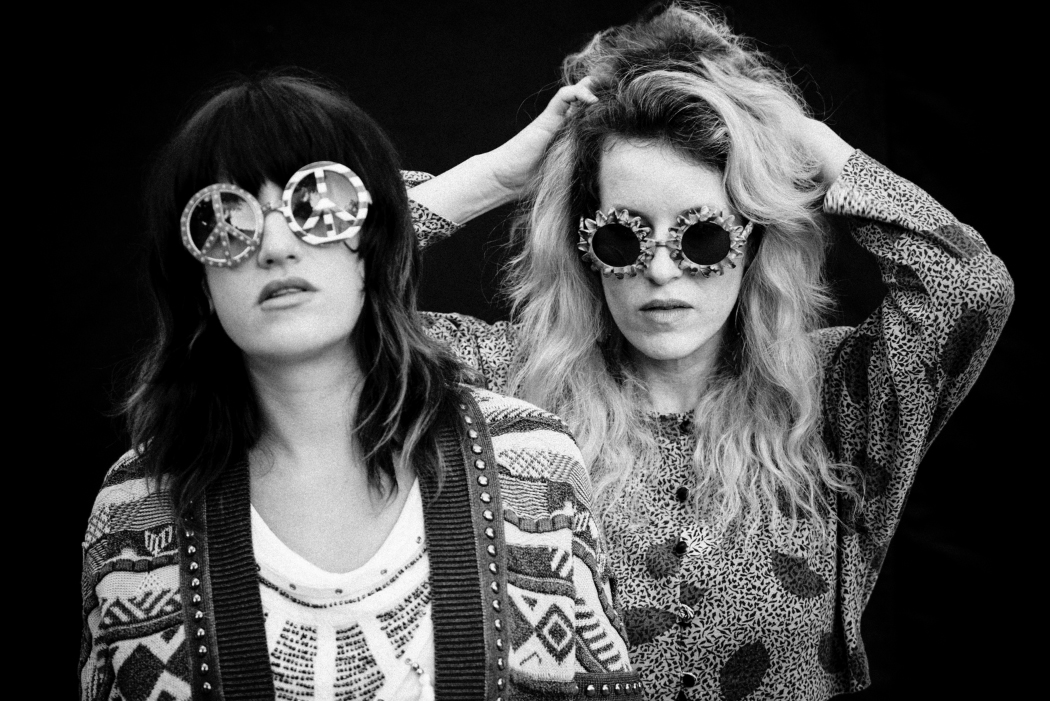 Liza Treyger: Congrats on the baby! How is it touring with her?
Julie Edwards: Thanks! It's the best.
Liza: The amount of partying has decreased, probably?
Julie: It's baby partying.
Liza: Deap Vally has been together for like five years—what do you think you guys have that your previous bands didn't?
Julie: I guess what they didn't have is the synergy and the alchemy of the two of us together. For whatever reason, this seems to work very well.
Lindsey Troy: We both have a lot of drive and ambition, and years of experience playing music. And we have the same intentions: to blow people's minds, melt faces, intimidate people, and accost audiences.
Liza: When you were making the record without a label—taking your time and playing with other bands—what was that time like? Was it freeing? Did you have any anxiety about it? Or was it just a good time?
Julie: It was all of the above. There was anxiety, especially coming home after being on the road for, basically, several years. That was a little bit jarring. I think we both knew that the right thing would come along. We had the freedom to make this record however we wanted to make it on our own time.
Lindsey: And we had the opportunity to actually be home and have lives and get our personal shit together, which is also nice.
Liza: Are there any venues that you've played that made you say, "Holy shit, we're crushing it right now, I can't believe we're here"?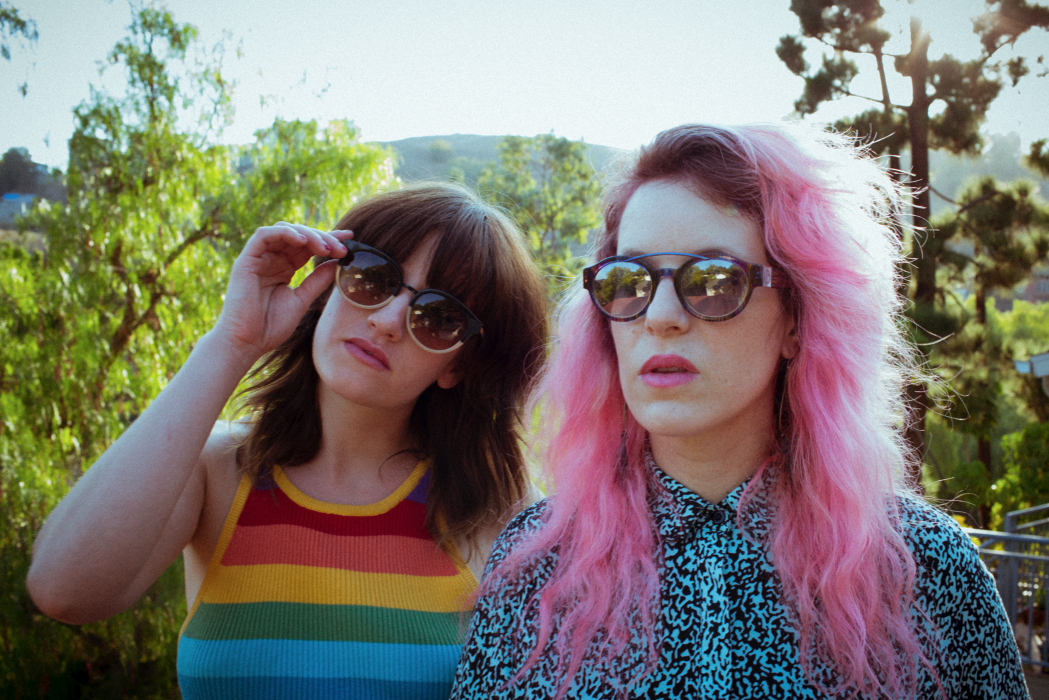 Julie: That's usually most shows. But especially when we're headlining. We played a headlining show in London that was sold out—1,600 people—that was really awesome. Playing festivals like Reading and Leeds and Glastonbury, where we're playing to 10,000 people and they're all singing along—that's pretty surreal and really gratifying. And then tours like this as well. It's crazy when I think about myself when I was in eighth grade and obsessed with the Red Hot Chili Peppers and madly in love with Anthony Kiedis and Flea. And now I'm here on tour with them. Liza, did you have a crush on them when you were younger?
Liza: Oh, I have a Red Hot Chili Peppers tattoo on my ankle. Yeah, I really loved them, and Anthony Kiedis was definitely a number-one-crush contender.
Julie: He's helped a lot of women discover their sexuality at that important age.
Liza: Julie, you got married not too long ago. Did you love your wedding?
Julie: Yeah! It was in my parents' backyard and my dad officiated.
Liza: Right now the energy is very anti-wedding in my social circles. But I love them so much; I think it's sweet and romantic. But I feel like people try to be too cool for school nowadays.
Julie: You live in New York. Isn't everyone anti-everything in New York?
Liza: Yeah, but I love it here.
Lindsey: When you moved to New York, were you super intimidated for the first year, being in a big city? I remember when I moved to LA from San Diego, the first year was jarring. It was kind of soul crushing, and I was intimidated by people.
Liza: I'm sure I got lost and was scared at certain points, but I loved it. My friend and I shared a bed and a railroad apartment with no doors, and it was very "New York." I'm cheesy. I love Sex and the City and I was just happy to be a part of it all. If I see something from an episode of Seinfeld, I just get giddy with joy that I'm a part of this thing, this city.
Lindsey: We have so much respect for comics. That's such a crazy thing to put yourself through.
Liza: Well, all comics tried being musicians first. All of us. Just know that in your hearts. FL
This article appears in FLOOD 5. You can download or purchase the magazine here.