BACKSTORY: While studying outdoor recreation in college, artist Elsa Hansen took to cross-stitching, honing in on an 8-bit, video game–inspired style rampant with pop culture puns and poignancy
FROM: Louisville, Kentucky
YOU MIGHT KNOW HER FROM: Her design work on HBO's The Neistat Brothers and her high-profile cross-stitch quilts—one of which was purchased by Chinese revolutionary artist Ai Weiwei
NOW: Preparing to show her work in upcoming solo exhibitions and on ElsaHansen.com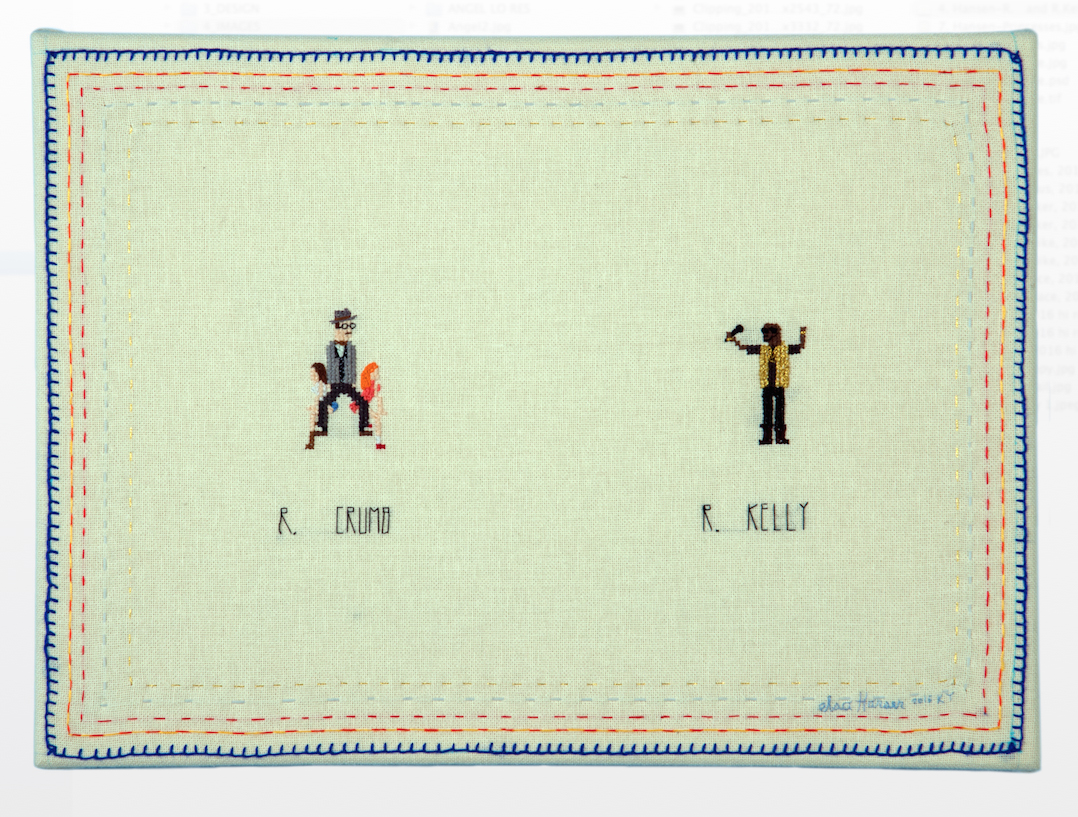 Elsa Hansen was just looking for something to do on the weekends.
So she started cross-stitching to fill the days between her college courses. Before long, the hobby had completely taken over. She began making small bookmarks, stitching pop culture figures into their fabric in the hopes of selling a few by drawing from the worlds of TV, movies, and music.
Eventually, her creations leapt from in between the pages. "I had so many [characters] I decided to put them on a quilt," Hansen says from her home in Louisville. "I got obsessed with it, failed all my classes, dropped out of college—[I was] just cross-stitching all of the time, and I haven't stopped."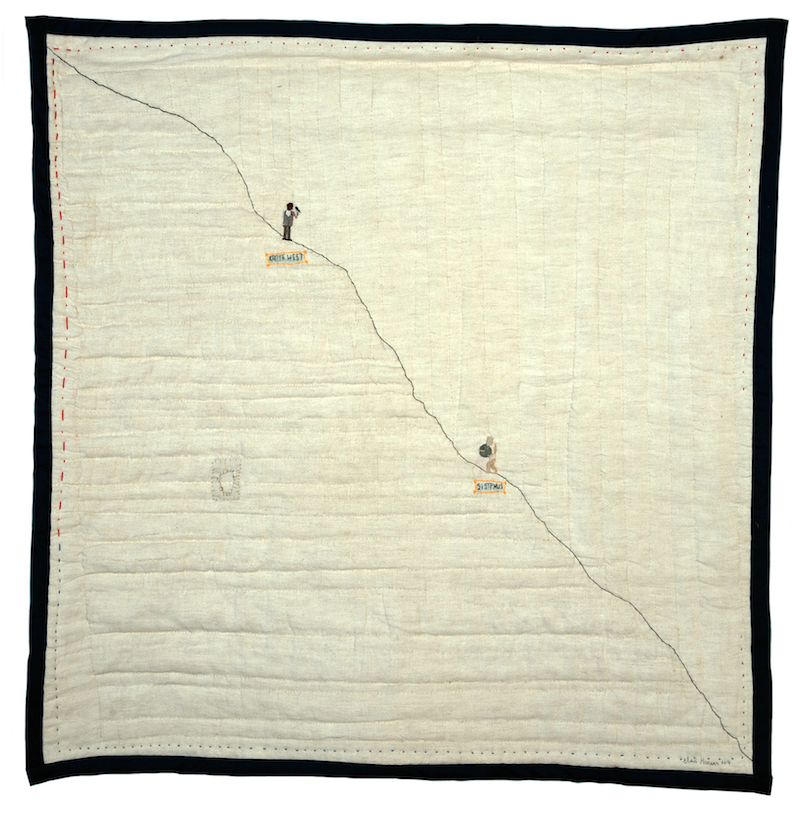 Her goal of becoming a "park ranger of some kind" unspooled as Hansen devoted herself to art. She did design work on HBO's 2010 series The Neistat Brothers, but her chief artistic export is still her cross-stitch designs, which update the old-timey thread and needle method with an 8-bit, vintage video- and computer-game aesthetic.
While Hansen's style evokes flat Nintendo visuals, it's her far-reaching scope and curious humor that make the work resonate. On one quilt, she illustrates her take on The Three Stooges: pornographer "Larry" Flynt, Harlem Globetrotter point guard "Curly" Neal, and Velvet Underground drummer "Moe" Tucker. In another piece, Kanye West, looking ice cold in his gray 808s & Heartbreak suit, stands higher up a mountain than Sisyphus, who's pushing his boulder.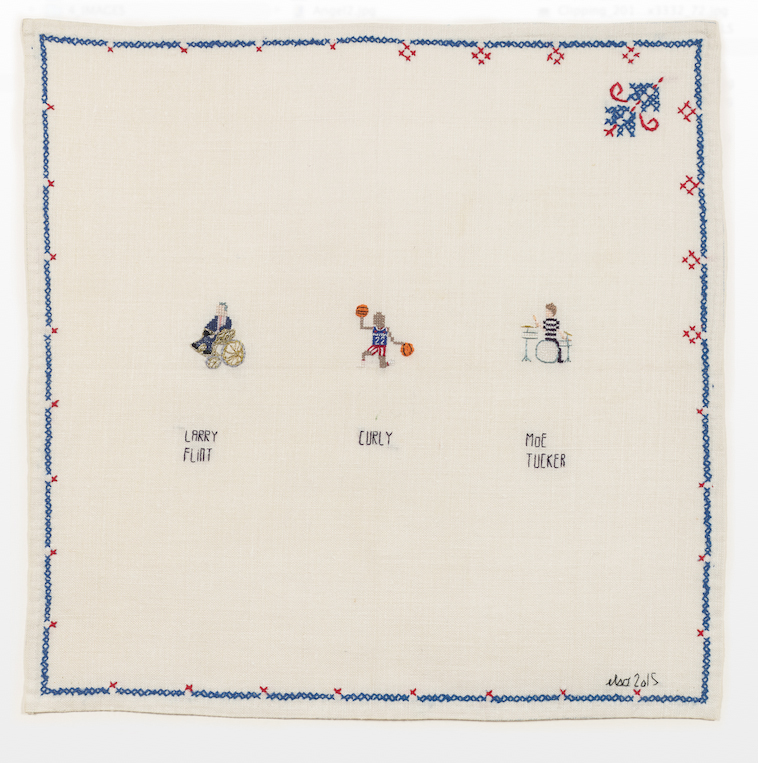 Mostly, Hansen says her work reflects what she's been thinking about—externalizing her inner dialogue. One recent project, which she refers to as her "white guilt quilt," finds her stitching "great African Americans like Malcolm X, Huey P. Newton, Aretha Franklin, MLK, the Obamas, and Langston Hughes," in response to her own recent meditations on blackness in America and the country's history of systemic racism. (She's got another celebration of black excellence devoted to the Harlem Renaissance in the works as well).
"I always have some sort of connection [to the art]—but sometimes it takes me a couple of years to realize how directly it relates to my life," Hansen says.  "But it's fun to get some distance from a piece and realize, 'Oh, that's because I was feeling this way.'"
She's well aware of the tonal contrast inherent in her work—that when the average person thinks of cross-stitching they imagine grandma's crafts or "God Bless This Mess" thrift store art. But Hansen's work has teeth, and she's unafraid to explore violence. Her "head wound" series depicts JFK's assassination and Olympic diver Greg Louganis's 1988 accident at the Seoul Olympics, tying obliquely into "American pride and its failings."
Hansen's work has earned her attention from some big names, including Chinese revolutionary artist Ai Weiwei, who purchased her cross-stitch quilt that pairs him with Kentucky settler Daniel Boone. Sometimes her characters are paired together because of their shared names—Oscar de la Renta and Oscar De La Hoya; Buffy Sainte-Marie and Buffy the Vampire Slayer—or for quick sight gags, like Conan O'Brien's resemblance to his quiltmate George Jetson, but Weiwei and Boone shared something deeper, representing "bravery" and the "wild frontier," Hansen says. Her work shares that sense of exploration, examining violence, celebrity, and shared interconnectivity.
Not bad for a weekend hobby. FL
This article appears in FLOOD 5. You can download or purchase the magazine here.