"No one's gonna hear it the same as it's said /
No one's gonna listen to it straight from your head"
— Angel Olsen, "Lights Out"
Cresting the cliffs outside of Asheville, North Carolina, the Blue Ridge Parkway looks out over the rolling, cyan hills of the Tennessee Valley. It's one of the most beautiful stretches of highway in the country, and the switchbacks descending the Appalachian Ridge offer a thrilling release into the vastness of the foothills. It's a place of deep reflection. Nestled among these peaks is a converted chapel where Angel Olsen stood at a crossroads three years ago. The road up here has been a gradual and winding one, but since finally claiming this post as her home, the singer has wasted no time in asserting her place among the landscape.
After completing her new album My Woman, Olsen turned her creative focus to a trilogy of music videos that she predominantly produced, directed, edited, and starred in herself. The striking clip for synth-laden album opener "Intern" begins with a close-up of the singer in a tinsel wig—bangs trimmed in her signature hairstyle—piercing the fourth wall with her defiant cerulean gaze as if to say, "Yes. I can see you there, too."
It didn't take long for viewers to get hung up on her silvery mane. Was she trying to bury herself in some sort of character? They were feeling around in murky bathwater, missing the point, she felt. Of the myriad aspects of filmmaking, Olsen has quickly taken the most lustrous shine to editing, as it affords her extra control in articulating whatever message she wishes to convey through her work. But recently, she has been coming to grips with the fact that her struggle will sometimes prove to be in vain.
"Really, the wig was just, like, low budget, no stylist, it looked pretty," she says over the phone from Asheville. "It's funny because the friends that know me are like, 'It's so cool to see how much of you is in it, like, [of] your actual personality.'" In contrast, the video for the eight-minute-long album centerpiece "Sister" closes the video triptych with a shot of a wig-free Olsen emerging from a shimmering Los Angeles swimming pool, baptized and beaming with a knowing grin. It's a welcome moment of levity that follows a piece of music with real emotional weight. "All my life I thought had changed," she repeats in the coda, her delicate vibrato quivering like that of a young Stevie Nicks.

In a sense, it had already changed by great measure. Olsen was raised in St. Louis by her adoptive parents, and she grew up attending inner-city public schools, an experience to which she attributes her uncanny toughness and the DIY approach with which she has taken on a multitude of creative projects.
"If anyone ever fucks with me, a part of me refers back to that time when someone was going to start a fight with me in the middle of the hallway," she says. "I kind of go into that zone of my identity as a pre-pubescent tough-ass."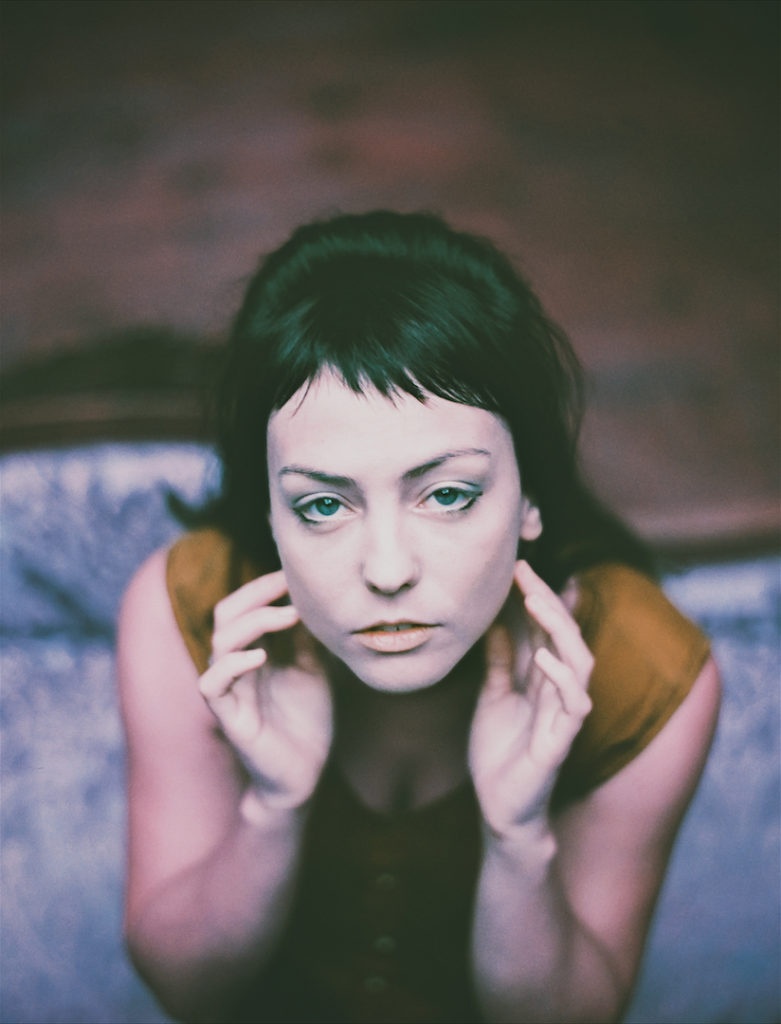 Not wanting to "spend $30,000 on art school," Olsen left St. Louis and enjoyed several years embedded in the Chicago art scene, attending whimsical, surrealist-themed dinner parties and eventually cutting her teeth touring as a singer with Bonnie "Prince" Billy, who had taken note of her preternatural pipes. It was at a show in Australia where someone requested songs from her 2010 debut EP Strange Cacti that the singer was surprised to find her audience already waiting for her.
"That was when it occurred to me that people in the world knew about my music," she says. A couple of years later, following a tour in support of the full-length Half Way Home, the logistical hurdles that most artists take years to clear would seamlessly align for her. "I booked a tour and then after that tour I had a booking agent, I had a PR agent, I had a label after me. It was super weird—and easy. I was lucky." Olsen's early releases saw the light of day on her friend Jon Hency's Bathetic Records, whose Asheville base would set the stage for a sort of cottage industry that coalesced around the singer.
"I went to Asheville on the last show of this tour where my mind was blown [by discovering] that people listen to my music," Olsen says. "I met this woman who converted a small chapel on a hill to a house that she lives in. We were talking about our lives: she was adopted, I was adopted, we talked about being aliens. It was like with each subject we had a synchronicity." M.E. Bethel, a sort of progressive renaissance woman, would serve as a mentor figure for Olsen. Her son even appears as a greenhorn journalist in the "Intern" video. The pieces would fall into place from there, setting the scene for Olsen's embrace of her newfound home.
"Everybody is kind of like a community," she says. "The people I had just met at [the time I moved to Asheville] were friends and they were hanging out, but within the last three years, sometimes having to do with my career, they've all been merging as a small production company of people who also hang out and go [canoeing and hiking] together." At the core of the scene is Olsen's most formidable vehicle: the voice that she has displayed with candor stemming from her earliest, folk-oriented releases. Yet however tender the treatment of her vocals, the precocious speaker behind them has had no shortage of things to say.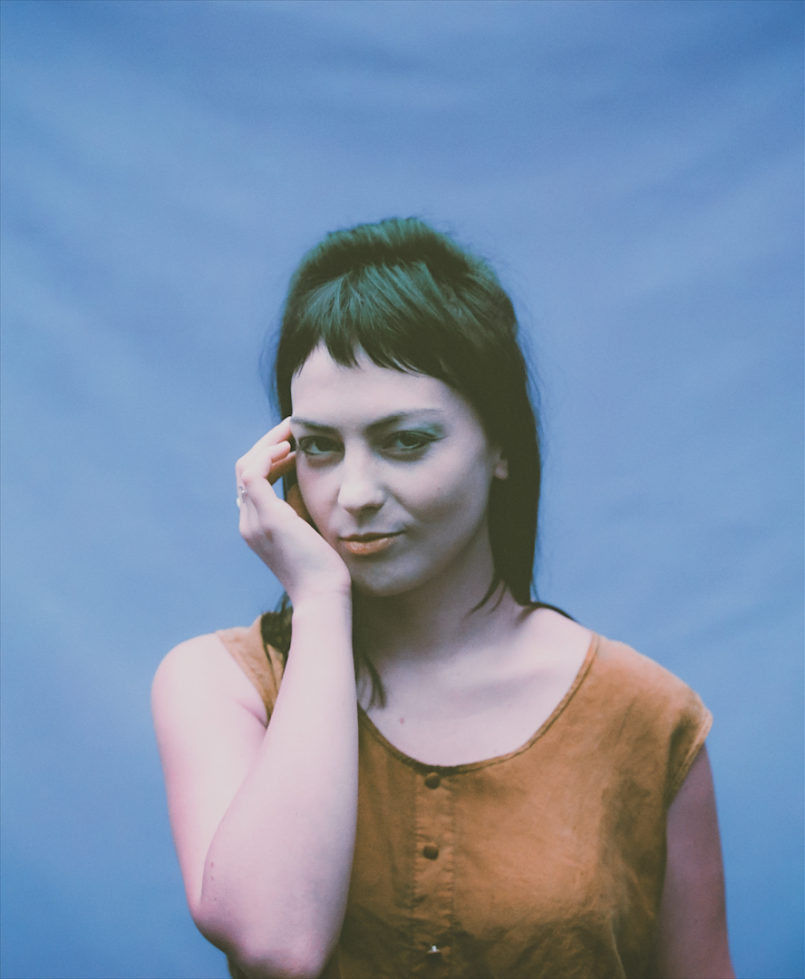 "I am alive," she lilts on Half Way Home opener "Acrobat" over babbling acoustic guitar and an uneasy, diminished accordion that releases and cascades down the scale into harmony. "I thought that I died." The juxtaposed sentiment is one of gravity, but it's held aloft despite itself by Olsen's dextrous vocal.
A couple of weeks following our phone conversation, in concert at Philadelphia venue Union Transfer, that same delicate voice fills the hall with such booming force that it becomes easy to slip under the current and forget that a thousand other people are standing in the same room. Over ten tracks co-produced by Olsen with pop practitioner Justin Raisen at Vox Studios in Los Angeles, My Woman unveils a massive sound built around the singer's vocals, treated with clarity here as opposed to the throwback ham-radio strokes of her lauded 2014 breakout, Burn Your Fire for No Witness. Where that record's rawness found a singular voice beginning to emerge from the echo chamber of its own mind, on My Woman Olsen has burst from the chrysalis, her personal-yet-resonant lyrics now echoing freely outward. It's a resounding statement that documents a powerful artist taking complete ownership of her work.
"I'm asking people to look a little further than a cover of a record."
But control can only extend so far. The singer knew that she was inviting interpretation by naming her album My Woman, and yet the specter of the inevitably exhausting responses was not enough to stop her from making the statement she set out to make. At a climatic point of "Woman," the semi-titular penultimate track, she issues the charge: "I dare you to understand / What makes me a woman."
"I'm not saying it's a feminist record," Olsen says, sitting on the corner of a plush couch in the green room of Union Transfer before her show. "It's just that this particular song is about women, and—at least [for] me as a woman—what I've dealt with, which is: I'm heterosexual, I'm in love with a guy, and sometimes he doesn't see from my perspective the way that I would like. And maybe I don't see from his perspective, either. But how would anyone know what it's like? It's not his fault. That's the kind of argument that very real people have all the time."
Anxiety over the response to her ideas and people's misunderstandings of her identity is a huge theme in Olsen's work. It comes up in various forms over the course of our conversation, from the misinterpretation of her wig to the knee-jerk reaction to her album title. "It's cool that you can take and make your own meaning out of what is intended," she says. "But I just want to make some things clear. I'm asking people to look a little further than a cover of a record."
Spending time with Olsen, it becomes easier to understand just why she's adamant to reconcile personality and persona. She's engaging in conversation, her eyes flickering in consideration of each question. She spends much of her downtime on tour reading—lately it's been the introspective fiction of Elena Ferrante and Clarice Lispector—and combing through local vintage shops. ("You can really find some good jeans [in Philadelphia]," she says. "Used jeans that are already altered to fit you well. That's not something you can find [just] anywhere.") A writer's songwriter, she understands the value of subtle details and shows a healthy capacity for empathy. Watching her magnetic face shift in anticipation of a question or a response, it's clear that Olsen genuinely seems to care about what you've been through, too.
"They say it in love songs, but it's true. The first time you really give yourself to someone, you're unprotected."
Her sensitivity to limitations allows her to approach potentially ugly situations with grace. "It's a little bit different to be a lady in the music industry than to be a guy," she says. "I just like to handle it like Dolly Parton would handle it. If someone says something that's obviously naive, and they didn't mean it to sound a certain way, I'm not going to be all huffy about it and just walk out of the room. I'll be like, 'You didn't mean to be like that, but you're totally being like that right now.'"
In her songwriting, Olsen has a natural predilection to examine the nebulous distances between people in intimate contexts. As we're often prone to selling short those we hardly know based on superficial characteristics, she also muses on the ways in which we can find ourselves all of a sudden misrepresented by those we hold dearest. The experience can be devastating.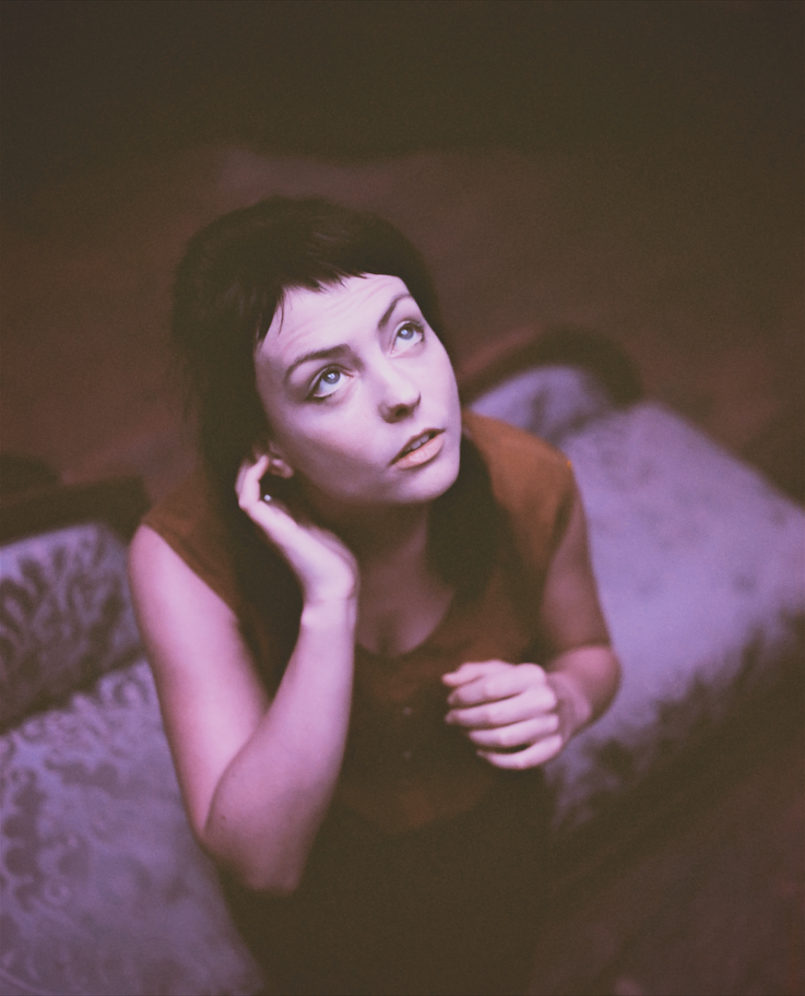 "The first time hurts the most," she says. "They say it in love songs, but it's true. Because the first time you really give yourself to someone, you're unprotected. You have no shield, you have no references for what to look out for. You're just open. I often am like, 'Am I in love with this person, or is it that I have a love and I'm in love with the love I have, and there's a preconceived ideal attached to that, and they end up fitting it in some way?'
"I think a lot of these songs play into that," she says. "It feels a little more autobiographical, or like I'm unafraid of saying for the first time, 'Yeah, this is stuff I've dealt with,' because I wouldn't have been able to write it if I didn't. But I also think there are times when you peel back the construct that's the ideal of what you want, and you can be surprised by what's there. It might not be what you would expect or want, but it could be better."
There's an implicit hopefulness in her words, but Olsen's ideas about love have progressed in a parallel fashion along with her records. Where Strange Cacti and Half Way Home showed the singer wide-eyed but possessed of cautious wisdom, Burn Your Fire for No Witness is scorned, its pervasive existential dread and loneliness (which Olsen playfully admits was inspired in part by her reading of Kierkegaard) fueling the caustic simmer of distorted guitars. My Woman, however, takes the next step in the progression, more concerned with the practical experience of going through—and triumphing over—heartbreak in order to emerge as a person who has grown and who is ready to encounter new experiences.
"My Woman is actually going through it," she says. "And then [asking], 'How do I get out of it?' I have to accept that I don't have an answer. It's going to keep happening, but it's OK because I like going up the hill. I like seeing the things when I go up the hill, and then when I have to come back down I just need to learn to laugh more. Because there's going to be another hill! If it's with a person or with myself, there's going to be a hill."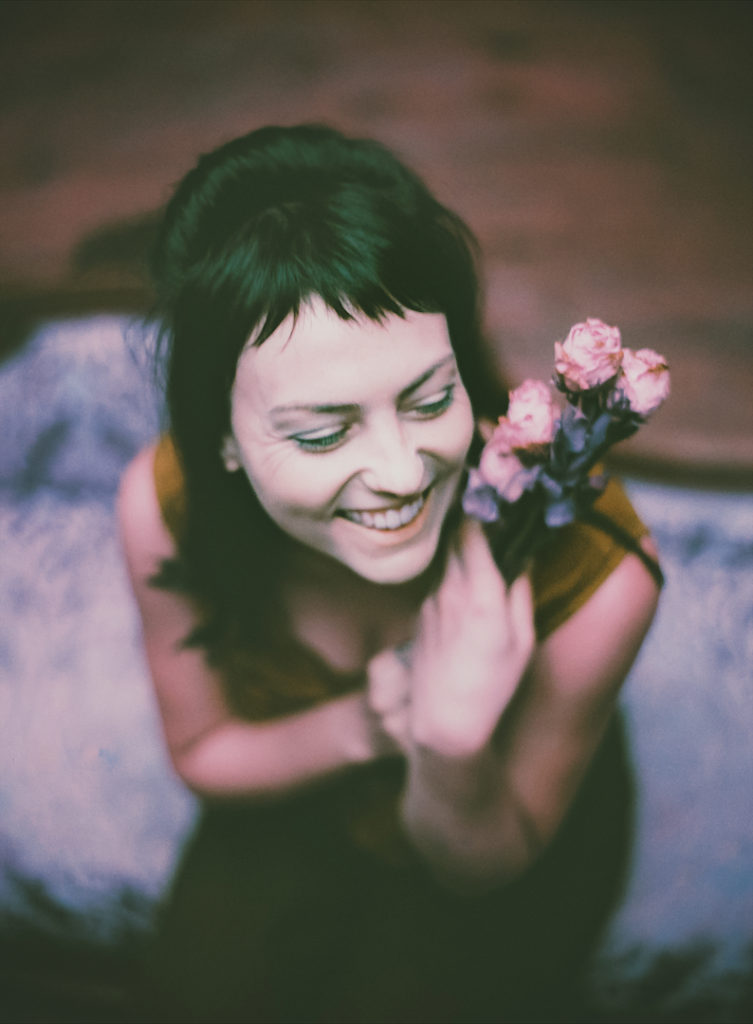 While the entirety of My Woman is informed by such insights, the second half of the record grapples most effectively with weightier material. "Sister," the heaviest song on the album, opens the side. Olsen calls out delicately for someone who seems to be just out of reach: "Piece us together / Know it's forever / Show me the future / Tell me you'll be there." The feeling of longing for real connection with another person is palpable. Its doppelgänger, "Woman," finds the singer searching like a forlorn alchemist for a way to bottle up and preserve a shared understanding. "I'd do anything to see it all / The way that you do," she sings. Finally, she arrives at a place of concession in the somber closer, "Pops," whose idiosyncratic meter conjures Neil Young's Buffalo Springfield hit, "Mr. Soul": "I'll be the thing that lives in the dream when it's gone."
Angel Olsen, the person, seems hell-bent on reconciling the significant disparity between her true self and her public image by being as active as she can in her role as an artist, and by documenting her life, her feelings, and her values in this way as much as possible. Whether it's auditory, visual, or both, it doesn't much matter. Olsen is uniformly enthused by everything that is rightly coming toward her up the Blue Ridge Parkway. She recalls the elation she felt, even as an ulcer-stricken insomniac while mixing the record, from the simple feeling of being deeply immersed in her work.
"Even though I was physically hurting and it was unhealthy, I was just so excited," she says. "It's the happiest I think I've been in a long time."
"You'll never be mine," she sings early on in My Woman, and in a sense she could be singing to the listener's preconceived notions of what she might be like—the uncertain picture that has caused her a measure of anxiety ever since her lilting vibrato first passed through a microphone and audiences readily took notice. Perhaps Olsen is right. Maybe this can never truly happen. Maybe we aren't meant to have complete control over the way others perceive us. But with each song she writes or video she crafts, with each step she takes toward a life of creative consonance, Olsen and her unruly mirror image draw one step closer to meeting each other someday in the swirling breeze at the top of a hill. FL
This article appears in FLOOD 5. You can download or purchase the magazine here.