Various Artists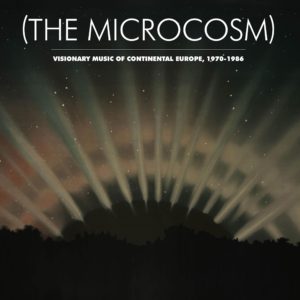 The Microcosm: Visionary Music of Continental Europe
LIGHT IN THE ATTIC
8/10
Light in the Attic's 2013 compilation I Am the Center is a widely admired and oft-cited contextualization of New Age sounds. The three-LP collection proves that the best in that widespread, oft-misunderstood genre does not belong in the dollar-bin ghetto but instead contains highly expressive, deeply individual slices of folk art that demand a deeper listen. While that collection focused on many privately pressed, cassette-only Americanisms, The Microcosm: Visionary Music of Continental Europe turns the beam out across the Atlantic and features tracks from some of the best-known explorers in the realm, including Ash Ra Tempel, Vangelis, and Roedelius. As a comparative piece, it shows just how similarly pathed the musical visions of the New Age light-seekers and European space-rockers were.
In Microcosm, Vangelis is represented by a slow-burning soundtrack piece from a 1970 ecological documentary. The glacial pace, slowly stacked guitar fragments, and treated piano work set up the monolithic beauty now reminiscent of Brian Eno and Sunn O))),  and the featured Ash Ra Tempel track, the harder-to-find "Le Sourire Volé," is a blast of bandleader Manuel Göttsching's pulsating, relentlessly hypnotic guitar production. 
But even the deeper dives into previously unknown cosmic cassette sounds reveal pieces of music just as fascinating as their more well-known kin.The late '70s track from Bernard Xolotl is a tape-sourced spaced-out guitar and synth workout that is no less blissful than anything by Stars of the Lid or Spiritualized. Germany's Karl Schaffner has a track with Lothar Grimm called "Caravan," taken from a 1984 cassette that sounds like someone shot Ry Cooder's Paris, Texas soundtrack to the moon and back. Another forward-thinking piece comes from Suzanne Doucet and Christian Buehner, whose 1983 "Shiva's Dance" is a largely electronic mood excursion with a droning melancholy not dissimilar to modern soundscapers Tim Hecker and William Basinski.
Producer/compiler Douglas Mcgowan deserves a tip of the crocheted beanie for telling a larger story about the growth of spiritualism and how this search for a kind of cosmic space was happening on either side of the Atlantic in different idioms. Here's hoping the series continues unabated across the globe.