"FUTURE shock" refers to the condition of experiencing accelerated change in a short span of time. This nervous term, along with similarly pessimistic phrases like "information overload," was popularized by author Alvin Toffler in the tumultuous bridge between the '60s and '70s  to articulate a rising anxiety about the unfamiliar landscape of tomorrow's world. It defines the weakened grasp on the security-blanket concept of "normal," already thin when you're born and unraveling more by the day.
By any outside observation, the fabric of Daveed Diggs's reality has changed dramatically in the past year. But it's tough to overload Diggs with information. He's admired for his rapid-fire rapping. He was raised in the shadow of Bay Area academia. He carefully weighs answers as his mind works in multiple alternate universes, all with thoughtful calm and a philosophical smile. His bemusement at what his life looks like right now could be described as "future shrug." Because to him, despite becoming the breakout star of a cultural phenomenon, only two things have really changed: he has more possibilities and less time to pursue them.
Though his physical form is momentarily stretched across an armchair in Hollywood, and his recent past is aglow with acclaim from his Broadway roles in Hamilton, his thoughts are still light years away, drifting through a vast universe of his own creation. As lyricist and emcee of LA experimental hip-hop group Clipping, Diggs and his collaborators (and best friends) William Hutson and Jonathan Snipes have bent genres and challenged conventions. But when he was presented with a science-fiction premise Hutson drafted as a short story, Diggs welcomed the biggest challenge the group had faced yet: sustaining a single narrative across an entire album.
Starting with the notion of a spacecraft's sole passenger confronting an empty cosmos, Diggs saw an opportunity for Afrofuturist allegory. "It's an intergalactic slave ship delivering human cargo from one world to another," he explains. "There was an uprising and only one survivor. This former slave can't go back home and can't go where he was going, so he just points the ship into deep space and hopes for the best." The ship's artificial intelligence helps him along the way, falling deeper in love with him the deeper into the galaxy they journey. Thus begins the fascinating, risk-taking voyage of Splendor & Misery.
"It's about the legacy of slavery," Diggs continues. "For oppressed people, the unknown is actually celebratory. What a lot of traditional science fiction posits is that the unknown is the scariest shit, right? But for most oppressed people, that's probably not the case. Logically, the shit you already know is the worst shit. What you don't know is freedom. That's what spirituals are about. That's what work songs are about."
Among Splendor's industrial soundscape and internal monologues, spirituals authored by Diggs sit preserved like time capsules. Past and future mirror each other With such convincing authenticity that it's only in context that listeners consider the verse "Look to the stars / Where the sun is long gone" from the galaxy's level instead of from the ground below. "These songs exist in the DNA of this character," Diggs elaborates. "He doesn't know why he knows this stuff, but it's in there."
For all the symbolism present in the story of an alienated man in an alien void, Clipping worked carefully to build a narrative balanced by ambiguity and open to interpretation. Still, Diggs promises a complex mythology for those ready to explore the vast reaches. "There's a lot of Easter eggs and hidden things for anyone who's gonna want to nerd out over this. So many codes and secret messages. We're excited to see what people come up with. Maybe they're more right than we are."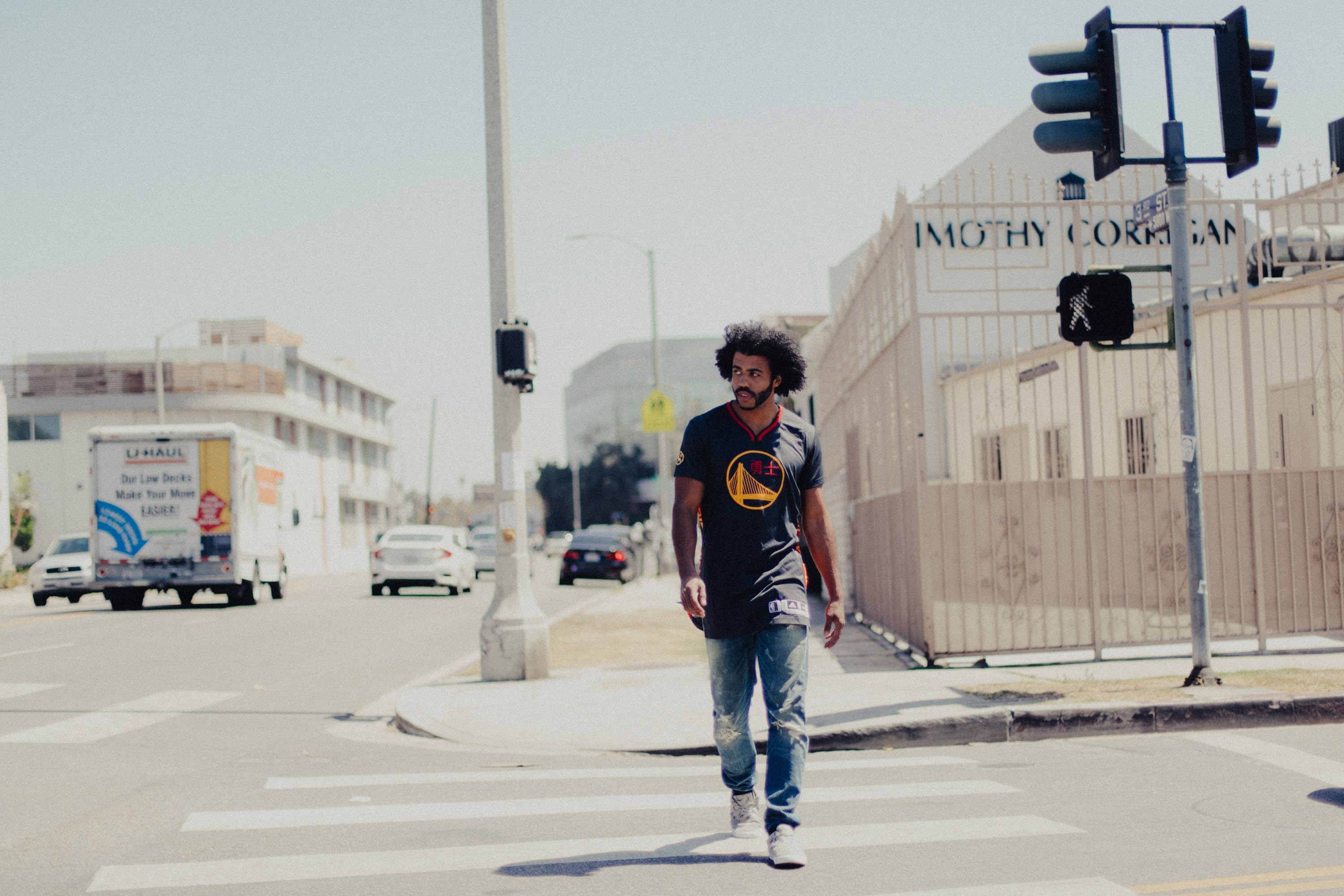 PRESENT Diggs with a musical challenge, like the scope of Splendor or his intent to write raps for Clipping from any perspective except first-person (note the "I" missing in their otherwise self-titled album CLPPNG), and he'll jump. Present him with a role, and there's more to consider.
"When I'm hired to be an actor," he says, "I'm only responsible for this very narrow part of a bigger story, so my job is to be careful about the stuff I say 'yes' to. That will free me to be comfortable and focus."
With that focus as his compass to follow through sudden demand, many of his upcoming projects center around progress and positivity. These include his recurring role as a worldly poet in the third season of acclaimed sitcom black-ish, his spot as a benevolent private-school instructor in next year's dramatic feature Wonder, and his appearance as a rap icon in Netflix's The Get Down.
For him, rapping without a first-person perspective and performing as a piece of a larger ensemble are both part of the same worldview as the indefinite stars of Splendor: it's all a form of freedom.
"If it's not about you, you can do whatever you want," he grins.
Spoken like someone who readily defers credit to his collaborators—all the way back to the third grade.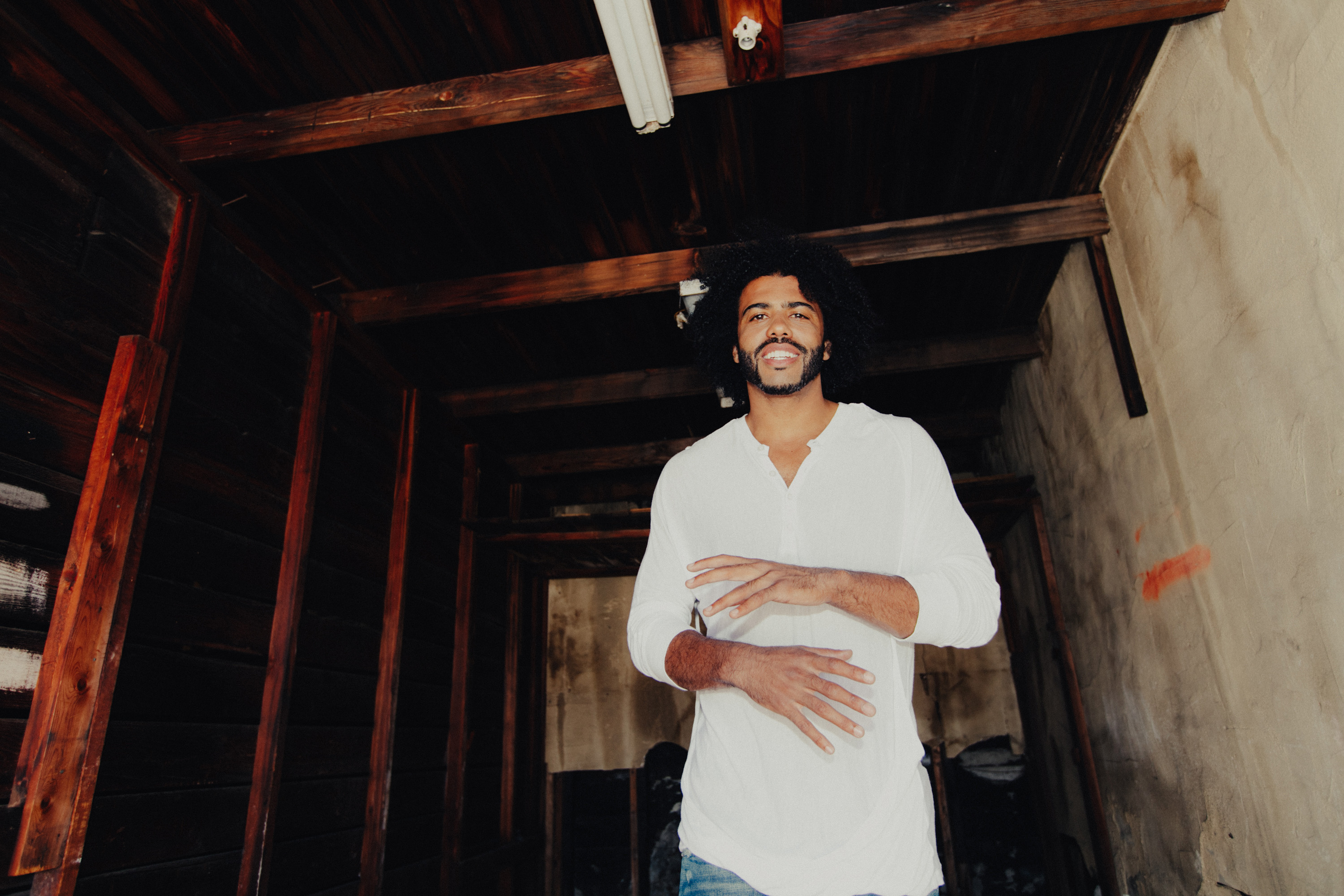 PAST UC Berkeley's campus by about three miles sits Albany, California, a small town that's fit for housing graduate students and their families. Born in Oakland, Diggs moved north when his mother enrolled for her PhD. In Albany, he met Hutson and together they developed their first creation decades before Clipping—a game called Fugitive Tag.
Love of music kept them close over the years; they stormed the nearest record store every Tuesday and parodied Snoop Dogg's "Gin and Juice" for a middle school project. While studying theater across the country at Brown University, Diggs made constant trips west to visit Hutson at UCLA's theater program, where Snipes was Hutson's freshman year roommate.
But beyond bonding with his future bandmates, Diggs felt a gravitational pull back to California: the Bay Area's thriving hip-hop scene. "I just came back from learning all this theory about art that I didn't really fuck with. I didn't know how to execute anything," Diggs says. He entered the hyphy movement alongside rappers like his all-time favorite, E-40. "It influenced how I think about art in general, coming back to a place where I'm in the midst of this movement in music that was so real and energized and such a community." He glows as he recalls first witnessing the hyphy scene. "People would pull up to red lights, and if the key song would come up, everybody would hop out of their car at the traffic light—just stop traffic in downtown Oakland to dance. I've never seen shit like that anywhere else in my life."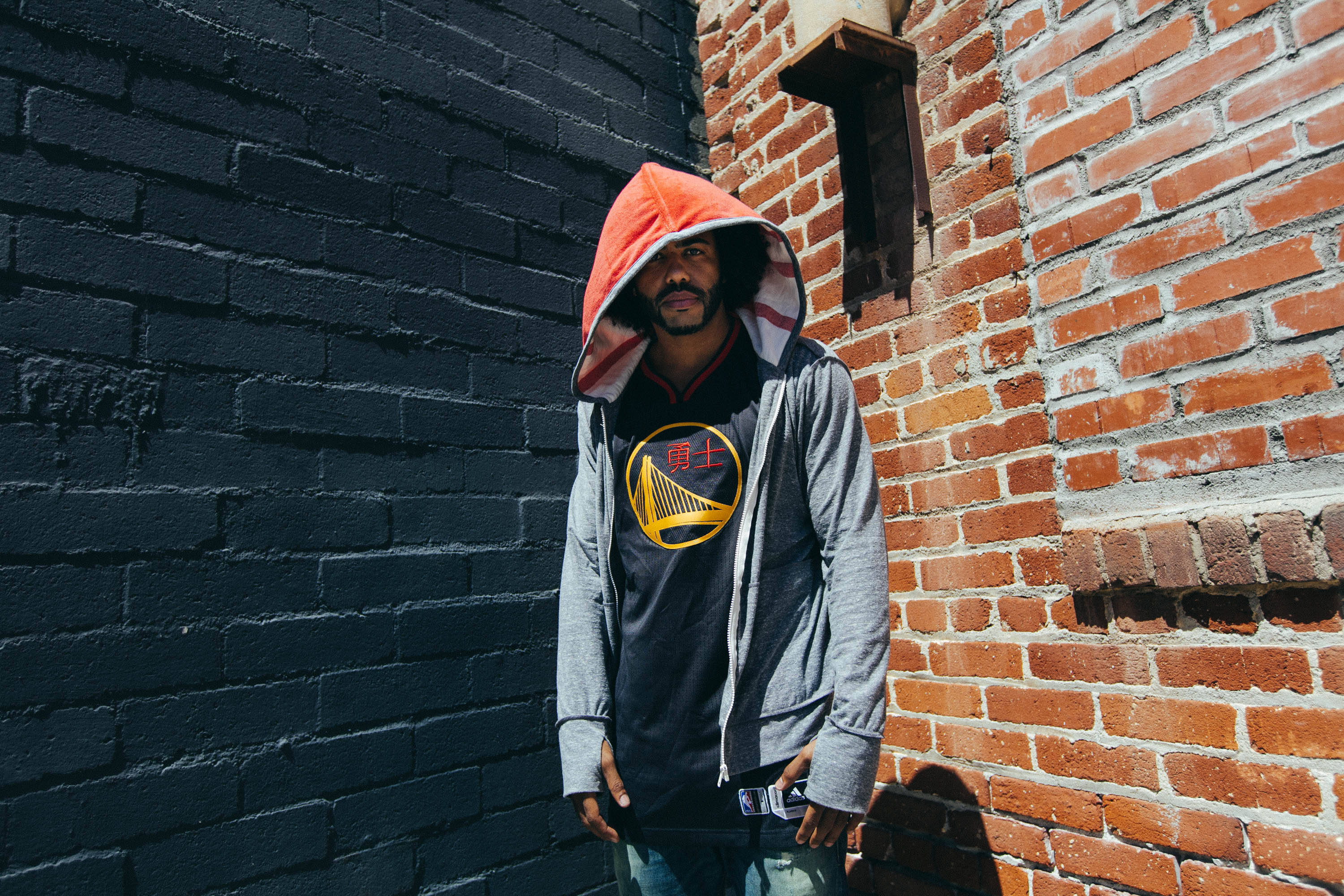 That spirit—the expressive love of music, movement, identity, community—motivated Diggs in all his pursuits as a performer. Though he admires HBK Gang and Kamaiyah as recent examples of Bay Area heart, he also feels the struggle. "Gentrification has happened very fast," he says. "My mom and dad both got priced out of Oakland. The culture's changed, but you can still feel the ghosts of that."
With sudden changes and ghosts on the mind, it may finally be time to acknowledge the dead presidents in the room.
https://www.youtube.com/watch?v=Ovje92D742s
PRESENT company excluded, Broadway actors will embellish a bio with shout-outs, social media handles, Bible verses, or in-jokes. But open the Playbill for Hamilton and see that Daveed Diggs's bio leans on brevity fitting for a writer without an "I." Theater credits. Clipping albums. Solo album Small Things to a Giant. Thanks for your time.
Portraying dual aristocrats in Lin-Manuel Miranda's masterpiece—Act One's inexhaustible Marquis de Lafayette and Act Two's swaggering Thomas Jefferson—Diggs stole every scene as he called upon his hyphy background to embody distant revolutionaries with vital immediacy. His shock of wild hair and infectious smile reached across sold-out shows to the back of the balcony. He delivered the fastest raps in Broadway history in "Guns and Ships," daring die-hards to sing along while he danced on desks and restlessly paced the Richard Rodgers Theatre stage. He received a Tony Award for Best Featured Actor in a Musical just weeks before leaving the show in July.
Does he miss it? Diggs pauses just long enough to smile: "No."
He laughs as he follows up. "Those are some of my best friends. I definitely miss getting to see them every day. But that grind… I loved it, and I'm also totally fine not doing it eight times a week."
His Clipping bandmates laugh, too, as they recall the unexpected intrusion of a hip-hop musical into Clipping's process. "That was genuinely surreal," Hutson marvels. "When he left to go do that…we thought he'd be back in three months. But then he started texting me pictures of him with Beyoncé."
"'Oh, there you are with Obama,'" Snipes mimics.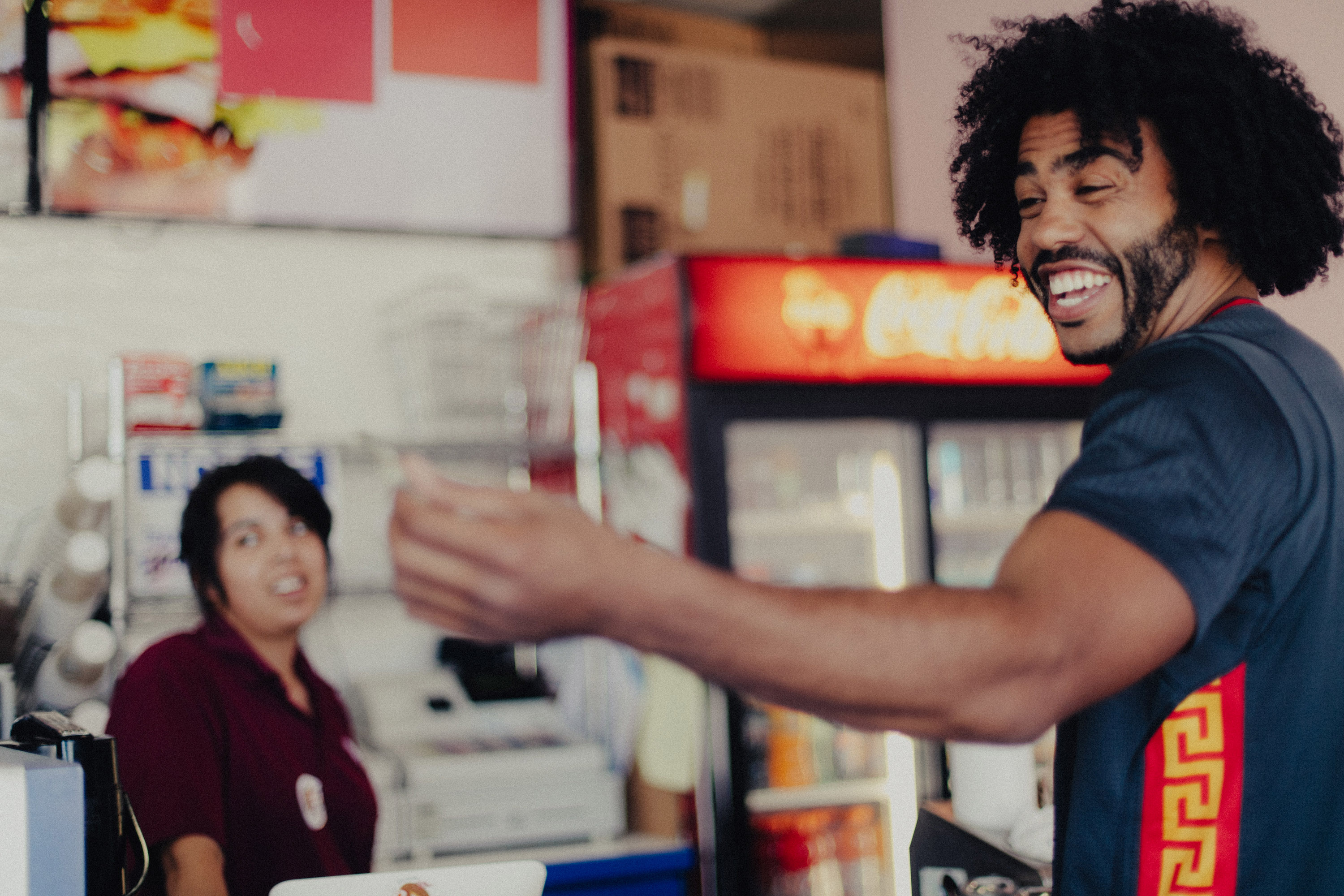 Most work on Splendor & Misery was recorded before Diggs was offered the role, but to continue production throughout the run, Clipping had to step up. "A couple times [Hutson and Snipes] came out to New York for a week, I'd book some studio time, I'd work with them until my  call time, go do the show, come back, and work all night," Diggs says of the process.
Far from fatigued, he relished creating throughout Hamilton's reign. "Music is the thing I've always come back to. I'm running around doing a lot of TV shows and movies, and that's cool. But this industry's real fickle. It's not gonna last forever. And it doesn't really matter, because I'm just gonna keep making my fuckin' rap songs."
Though he'll gladly return to the stage someday, it will surely be on his terms. "It's gonna be hard to rope me into an open-ended contract again," he says. "It does something to your brain, to not have an end date for a thing. Fortunately, I was totally in love with the show I was doing. But what if I wasn't? It makes me more aware of time."
FUTURE creations orbit Diggs in countless trajectories, now that his place in early American history is ancient history. "It's mostly about time management right now. It's a really great time to be in idea mode, but it's very hard to finish things. How can I sit in a studio and make some shit happen?"
Clipping is already developing their next album as they prepare for a tour at the end of 2016, and Diggs intends to release solo tracks individually as he finishes them. Having compared the blackness of space to black experience in America, and knowing Hamilton brings more eyes and ears than ever, he hopes to drop more future shock upon us soon: "If there's a theme running through the projects I'm working on right now, it's broadening the definition of 'normal.' These aren't anomalies, these are the ways people live. For art in general and how we receive art, understanding the heart of a thing is starting to become more important than it was. And that speaks volumes to what we are right now, and what we expect of our stars and of our superstars."
What to take away from Diggs's calm humility in the face of life's stunning changes? "We've all been doing this long enough," Snipes suggests. "When you're slogging away for nobody and no recognition, you have to be doing this because you love it. You've made your peace with the fact you love the work so much and you don't expect to see much success. That's grounding."
Diggs echoes his friend. "Trying to do something because you think it's what somebody else is gonna like, it wastes a whole lot of time. So for me it's just, 'Do I love this?'"
That imperative reflects and refracts all throughout the timeline of Daveed Diggs, from lifelong collaborations and Bay Area loyalties to the choices he makes about his art every day. And somewhere light years from now, Splendor & Misery's AI captures both his voice and his objective: "Warning: mothership reporting / This love will be defended at all costs / Do not fuck with it." FL
This article appears in FLOOD 5. You can download or purchase the magazine here.