NE-HI was born in a basement, but they came of age in a spotlight. A modest one, to be sure—the Chicago quartet has spent time on the road with Car Seat Headrest and local brethren Twin Peaks—but one whose luminescence allowed them to see themselves clearly as they prepared to follow up their spunky 2014 self-titled debut. Gigging for larger crowds and playing through actual rigs gave them a sense of sonic and mental clarity that they'd never been privy to while they were still bashing it out on the DIY basement circuit, all of which came to bear on the creation of Offers, their forthcoming album being released by Grand Jury (and one of the records we're most looking forward to this year). "Making this record became about the struggle to figure out what we actually wanted to be," co-frontman Jason Balla says. "We have the opportunity to say something; what is that going to be?"
What it is is something far more oblique, complex, and (of all things) beautiful than the high-grade garage rock of NE-HI. They gave us a first glimpse of that growth with the sad sparkle of "Stay Young" back in November, and today we're premiering the video for "Offers," the album's second single. Like "Stay Young," the track finds NE-HI taking their foot off of the throttle, rolling the windows down, letting the air blow the papers around a bit. They avoid the circuit, cruising in a single direction and never coming back to anything like a chorus or even much of a hook, and while the song never breaks the tension established in its opening moments, it still feels informed by the scene that nurtured them. "'Offers' is our attempt at conjuring the spirit in the first moments of ascent," Balla says. "In the midst of a long night, it came spontaneously with equal parts joy and catharsis." This is what happens when you pull out of the garage.
Melanie Coles's video, with its nonstop overlays and juxtaposition of colored archival photos with footage shot in rural British Columbia, is a perfect tonal match. "The notion of 'Offers' creating endless visions of reality are shown in this meticulously disorienting abstraction of natural and exterior elements," Coles says. "Fragments of imagery layered with texture, grain, and contrast are punctuated by the song's black and white tones and minimal lyrics."
You can check out the "Offers" video, as well as the album's art and tracklist, below. And if you live pretty much anywhere in the US, NE-HI are coming to your town this spring; those dates are below, too.
https://www.youtube.com/watch?v=gmZ8AwqyqN4&feature=youtu.be
Offers tracklist
"Palm of Hand"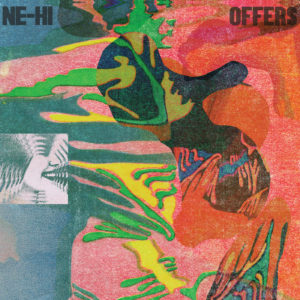 "Sisters"
"Don't Wanna Know You"
"Offers"
"Prove"
"Out of Reach"
"Everybody Warned You"
"Drag"
"Every Dent"
"Buried on the Moon"
"Stay Young"
NE-HI tour dates
Mon. Feb 6 – Brooklyn, NY @ Baby's All Right
Fri. Feb. 10 – DeKalb, IL @ The House Cafe
Wed. Feb. 22 – Ft. Wayne, IN @ The Brass Rail
Thu. Feb. 23 – Kalamazoo, MI @ Shakespeare's Pub
Fri. Feb. 24 – Chicago, IL @ Empty Bottle
Sat. Feb. 25 – Cincinnati, OH @ MOTR Pub
Wed. Mar. 1 – Kansas City, MO @ Riot Room
Thu. Mar. 2 – Omaha, NE @ Reverb Lounge
Fri. Mar. 3 – Davenport, IA @ Daytrotter Downs
Sat. Mar. 4 – St. Louis, MO @ Off Broadway
Sun. Mar. 5 – Milwaukee, WI @ Riverwest Public House
Fri. Mar. 10 – Lexington, KY @ Cosmic Charlie's
Mon. Mar. 20 – Hot Springs, AR @ Low Key Arts
Tue. Mar. 21 – Memphis, TN @ Hi-Tone Cafe
Wed. Mar. 22 – Birmingham, AL @ The Syndicate
Thu. Mar. 23 – Asheville, NC @ The Mothlight
Fri. Mar. 24 – Durham, NC @ Duke Coffeehouse
Sat. Mar. 25 – Richmond, VA @ Hardywood
Mon. Mar. 27 – Washington, DC @ DC9
Tue. Mar. 28 – Philadelphia, PA @ PhilaMOCA
Thu. Mar. 30 – Brooklyn, NY @ Baby's All Right
Fri. Mar. 31 – Cambridge, MA @ Middle East Upstairs
Mon. Apr. 3 – Kingston, NY @ BSP Kingston
Tue. Apr. 4 – Albany, NY @ The Hollow
Wed. Apr. 5 – Rochester, NY @ Bug Jar
Thu. Apr. 6 – Lakewood, OH @ Mahall's
Fri. Apr. 7 – Columbus, OH @ Spacebar
Sat. Apr. 8 – Detroit, MI @ Marble Bar
Tue. Apr. 19 – Denver, CO @ Hi Dive
Fri. Apr. 14 – Iowa City, IA @ The Mill
Sat. Apr. 15 – Minneapolis, MN @ 7th St. Entry
Sun. Apr. 16 – Sioux Falls, SD @ Total Drag
Tue. Apr. 18 – Denver, CO @ Hi Dive
Wed. Apr. 19 – Salt Lake City, UT @ Kilby Court
Thu. Apr. 20 – Boise, ID @ Neurolux
Fri. Apr. 21 – Spokane, WA @ The Bartlett
Sat. Apr. 22 – Seattle, WA @ Barboza
Sun. Apr. 23 – Portland, OR @ Holocene
Tue. Apr. 25 – San Francisco, CA @ Rickshaw Stop
Thu. Apr. 27 – Los Angeles, CA @ Bootleg Bar
Fri. Apr. 28 – San Diego, CA @ Hideout
Sat. Apr. 29 – Tucson, AZ @ Club Congress
Mon. May 1 – Dallas, TX @ Three Links
Tue. May 2 – San Antonio, TX @ Limelight
Thu. May 4 – Houston, TX @ White Oak Music Hall
Fri. May 5 – Baton Rouge, LA @ Spanish Moon
Sat. May 6 – Atlanta, GA @ The Earl
Mon. May 8 – Nashville, TN @ The High Watt
Tue. May 9 – Louisville, KY @ Zanzabar
Wed. May 10 – Bloomington, IN @ The Bishop
Offers is out February 24 via Grand Jury.