Imagine a different world, one in which Michael Stipe and Peter Buck and Mike Mills and Bill Berry become so emboldened by Patti Smith that they leave the South and set up shop in the Lower East Side, where they press a theatrical, romantic version of the thin-lined sound that would come to define them back in our timeline. Now imagine that they've made the move to Warner Bros., and the ensuing expansion of sound that would follow.
If you're still with me, then the band you're looking at is probably Imaginary People. The New York quintet made waves in 2015 with their debut, Dead Letterbox, and now they're preparing to release the followup. October Alice, which is out April 28 via Five Five Diamonds, was produced by Kevin McMahon, who—much as he's done in the past with Titus Andronicus—shapes Dylan Von Wagner's taut dystopia into a compelling and even welcoming place.
That's the case with "Mr. Hesitance," which we're premiering today. It's a dark, brooding song that finds the band glancing at mid-'90s alt-rock tropes without ever really making eye contact—solos sound reluctant to begin their spooling out, guitarist Mark Roth ties a half-hearted choo-chooing tag to the end of the main riff. But most compelling is Von Wagner, who leads us through the fog with an honest-to-goodness voice, a character-driven instrument that sounds like it might be capable of choral heights but for whom Bach hardly captures the drama at hand.
Check out "Mr. Hesitance" below, as well as the tracklist and art for October Alice.
October Alice tracklist
1. Snapshot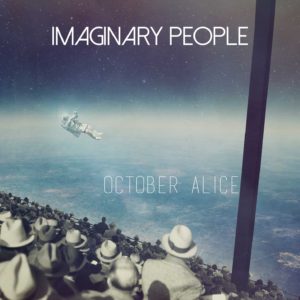 2. Spectacles
3. Mr. Hesitance
4. Seven Days
5. The Pelican Theme
6. Long for the Rue
7. Half Step
8. Whisper to Stop
9. Fresh Kill
10. Magdalena
11. Human Race