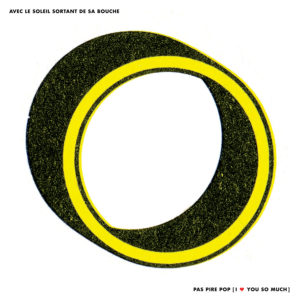 Avec le soleil sortant de sa bouche
Pas pire pop, I Love You So Much
CONSTELLATION
7/10
On their second album, Pas pire pop, I Love You So Much, Montreal quartet Avec le soleil sortant de sa bouche drill deep into the concept of groove.
The band's 2014 debut Zubberdust! made clear bassist Jean-Sébastien Truchy, drummer Samuel Bobony, and guitarists Sébastien Fournier and Éric Gingras' ambition to meld the kosmische sounds of Can and Neu! to funk rhythms. On that record, they found unity in the dual forms's roots in repetition, and on Pas pire pop, I Love You So Much the combo utilizes that understanding to expand their range. Emphasizing Afro-pop textures, Avec le soleil taps into a similar post-punk global fusion that propelled Talking Heads and Brian Eno circa Remain in Light.
The LP's two-part opener "Trans-pop express" begins by reprising the theme heard on the previous album's "À partir de dorénavant," but quickly veers onto a new path. Its far-off orchestral vocals give way to a crackling electric guitar riff and shouted vocal pairing that wouldn't sound out of place on an early DFA 12″. The song sets the template here, alternating between trance-inducing jams and thrashing punk.
On the ensuing three-song suite, "Alizé et Margaret D. Midi moins le quart. Sur la plage, un palmier ensanglanté," named for French writer Marguerite Duras's novel and 1969 film Détruire, dit-elle (Destroy, She Said), the band utilizes an approach of subtle addition, piling on layers of keys and distortion as the song builds with each subsequent movement. It draws its title from a Duras quote: "Sitting on the beach we find—in spite of ourselves—a little shade, protection, and privilege under the bloody palm tree of the less fortunate." Like the sounds here, the quote draws into contrast comfort and violence.
The second side of the album is devoted to "Tourner incessamment dans l'éclatement euphorique de soi—Road Painting Ahead," a twenty-minute, five-song suite that segues from brass-dappled disco pop to Autobahn-bound synth rock, guided through the turns by interlocked guitars. Pushing these wild melodies against taut, restrained rhythms, the band approximates the feeling of another Duras quote: "Pouvoir, au milieu de la folie, redevenir humaine." In "the midst of madness," the album articulates the sense of "becoming human again."