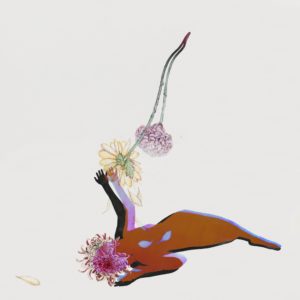 Future Islands
The Far Field
4AD
7/10
Future Islands' greatest asset is Samuel T. Herring. I'm not saying anything controversial by suggesting this. The band writes good songs, but it's Herring who ultimately sells them. His presence is outsized, a charismatic and intense figure whose voice infuses each song with more pathos and earnest humanity than you would've ever thought possible in a dreamy synth-pop song. He ends every performance dripping with sweat, and became a meme thanks to their Letterman performance of "Seasons (Waiting on You)" in 2014. He's also a hell of a dancer.
Naturally, Herring is ultimately what makes the band's fifth album, The Far Field, the success that it is. Lead single "Ran" is similar to their breakthrough single "Seasons" in many ways. It's upbeat pop music built on a sinewy bass line and disco beats engineered for both sunlit driving and dance-floor hedonism. But when Herring reaches an emotional climax just before the chorus, growling, "I can't take it, I can't take this world without—this world without you," it becomes something more than feel-good indie pop. It's an impassioned cry that possesses an unusual physicality. It's far more Bowie or Redding than Belle and Sebastian.
The Far Field, much like Future Islands albums that preceded it, is a deeply romantic album. Not just romantic in the sense of love and affection, but of a certain lust for life and the desire to live in the face of that which would stand in our way. Self-doubt grips Herring throughout the album, but it's never enough to hold him back. "I'm no stronger than you, and I'm scared," he sings on the moody "Through the Roses," only to later turn around and say, "We can pull through together." On the powerful, buzzing "Cave," he meditates on growth and self-preservation: "The fear that keeps me going and going and going / Is the same fear that brings me to my knees." And when the subject does turn to actual relationships, as on "Beauty of the Road," it can be ill-fated, the comforting feel of a lover's embrace ultimately proving elusive in the long-term for a group of hard-touring road dogs.
To heap all of the credit on Herring would diminish the returns to the rest of the band, who on this album sound as great as always. Producer John Congleton deserves some of the kudos as well, his long history of making great bands sound even better holding true on this batch of songs. Yet it's hard to imagine any of them cutting as deep or sounding as soulful without that dynamic bellow at the front of it all. Future Islands continue to make indie pop that sounds great, and it's Samuel T. Herring that allows these songs to be felt rather than merely heard.