Thurston Moore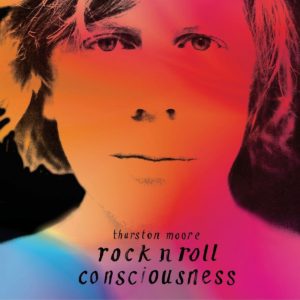 Rock N Roll Consciousness
CAROLINE
7/10
Thurston Moore's discography is so crowded with solo and collaborative releases that it's really difficult to pinpoint the exact spot where his newest, Rock N Roll Consciousness, fits in. His catalog is brimming with CDRs, cassettes, lathe cuts, lathe-cut cassettes (maybe that's not a thing), and so on that carve out a distinct space for him as one of the greats to survive the post-punk, no-wave, college rock, grunge, alt rock scene. So let's just call this his 2017 album.
True to its name, Rock N Roll Consciousness is a rock album—it's got vocals, solos, and a full band (including My Bloody Valentine's Deb Googe and Sonic Youth's Steve Shelley), so it's a good entry point back into the man's mindset since his relocation to East London a few years back. Perhaps there he's created a hive mind with Julian Cope—it might explain the album's allusions to the shaman, the godhead, peyote goddesses, and other mystical ephemera. This doesn't necessarily make it a detour for Moore, whose lyrics have always trafficked in the countercultural phrasings and punk t-shirt slogans of the past.
It is, however, a five-song blast of instantly recognizable discordant guitar tones and the kind of crunchy, heady forays into punk-jam-band land that he's been perfecting since "Expressway to Yr. Skull." Those sometimes bright, sometimes askew notes are easy to take for granted, which has been the case as long as the Sonic Youth template has been in print. But Moore is nothing if not impassioned, and his ability to lock into noisy squall is razor sharp here. He leads the band through long-form (nothing under six minutes) astral workouts like "Exalted," a kind of Amon Düül-meets–Crazy Horse processional that builds and explodes a few times over before introducing Moore's whispering jive talk nearly eight minutes in. "Cusp" gives the percussion a chance to lock into the infinite, which, with Moore's sweet and dark melody, actually gives off some air of My Bloody Valentine's subverted noise.
All said, this is a beautiful and strong album, concise in its jamming and righteous in its spiritual core. Plus, it's cheaper than an ayahuasca cleanse.