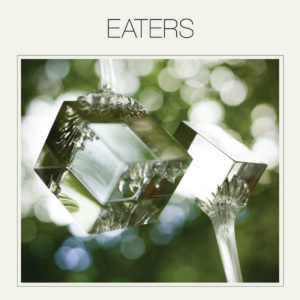 Eaters
Eaters
DULL TOOLS
6/10
At the most granular level, Eaters is a two-piece synth-art-punk band out of Brooklyn. Formed by Bob Jones (who doubles as a member of the less economical Eternal Tapestry) and Jonathan Schenke (sound engineer for Parquet Courts, The Men, and others), the project explores the rhythmic elements of pared-down punk. It's not really about making dance music—although you could shake to it before the more twisted segments. The pair approach percussion and repetition with labcoat precision, but somehow manage to avoid sterility through blasts of white synthetic noise and vocal melodies.
Eaters is the follow up to their 2014 (also) self-titled debut (there were several experimental releases in between tied in with art installations). Three years on, and there's a sense that the group have evolved to incorporate a more widescreen vision. "Always and Never" takes some Philip Glass–like repetitions and pins them against soaring guitar lines and a vocal turn that is part Gary Numan and part Thurston Moore. "Blue Light," meanwhile, is a kind of synth-addled noir that feels like it fell off the soundtrack to Cat People (which is of course a good thing).  
Songs like these are countered with updates on the sounds featured on their debut; "Embrace the Strange" feels like a basement party circa either 1980 or 2001, a dance-punk throwdown with grimy guitars and alienated vocals. On "Empty Yourself," Jones and Schenke go into a dark, quasi-industrial zone that is further explored on the early acid-house pulses of "The Grass the Grazing." The midpoint album palette cleanser "Horizons" gives off futuristic and bucolic vibes à la Eno's Another Green World. Lest you get too comfortable, "The Well" goes full Wax Trax! on you with its dark, oppressive synth work.
Overall, Eaters is a gentle step forward. Jones and Schenke's collaboration feels less like a studio project and more like a performance-based band intent on spinning their own take on the man/machine conundrum.