Rancid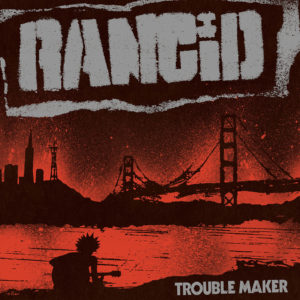 Trouble Maker
EPITAPH/HELLCAT
7/10
Though they were born out of Berkeley's gritty, grimy punk-rock-squat scene at the very start of the '90s, much has changed for Rancid in the quarter of a century or so that's followed. These days, the band—formed from the ashes of Operation Ivy by Tim Armstrong and Matt Freeman—are more likely to be found in mansions than tweaker pads, but if you didn't know that, you'd never guess it from the songs on this ninth studio album.
Like the four records that precede it in Rancid's discography, Trouble Maker was produced by Bad Religion guitarist/Epitaph Records head honcho Brett Gurewitz, and songs like "Ghost of a Chance" and "Beauty of the Pool Hall" brim with the rough and ragged energy that defined the band back in those stormy early days. At the same time, though, nostalgia has worked its way into the band's sound. Nowhere is that more evident than on "Buddy," a breakneck but heart-tearing tribute to a long-lost friend. In his distinctively indistinct, slack-jawed drawl, Armstrong relives days that can no longer be relived in an exhortation to make the most of the short time we have on this planet. Elsewhere, "Telegraph Avenue" is a poignant love letter to rebellions of days gone by that manages (via a jangly melody that bears a passing similarity to "I Fought The Law") to stare down the personal and the political through an amorphous pair of cracked—but rose-tinted—glasses.
While Trouble Maker is far from a political record, its songs certainly exist within the fragile framework of America in 2017. The upbeat ska-punk of "Where I'm Going" and "Make It Out Alive" are both snarling and defiant anthems with bawdy singalong choruses that address the hardships of life—"Some of us didn't make it through / Some of us didn't make it out alive" is the rambunctious gang vocal that ends the latter song—while ironically titled closer "This is Not the End" is a furious blast of insolent energy.
It's the same kind of energy that's always propelled this band. In the past, Armstrong's mush-mouthed vocals have teetered toward self-parody, but those moments are few and far between on Trouble Maker. Instead, his sloppy delivery and occasionally non-existent enunciation only add to the rawness of these songs, all of which makes this record a worthy addition to their long-running catalog. It might not push punk in any new directions, but the fact that the band's fire, heart, and soul remain very audibly intact is cause for joyous—and probably reckless—celebration.