Arcade Fire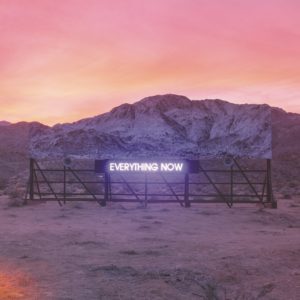 Everything Now
COLUMBIA
6/10
Like all of Arcade Fire's albums, Everything Now is, basically, a diagnosis of the modern world as perceived by Win Butler and his good-time family jam band. And here is a mild spoiler: Win doesn't much care for it. Indeed, where Funeral studied isolation and grief, Neon Bible warned of religious imperialism, The Suburbs dove deep into postmodern malaise, and Reflektor sifted through glitter for scraps of austere truth, Everything Now is an exploration of consumerism, and of the unlikely cultural moment that substitutes pornography for love, binge-watching for patience, instant gratification for everlasting truth. It's a record about information overload, bursting with sounds and ideas as if to prove its own point.
All of this is fairly familiar, as far as cultural commentary goes, and it's territory that's well-trod by everyone from Neil Postman to Radiohead. It's also a pretty natural progression for Butler, who's always been on just the right side of the line that separates prophetic witness from get-off-my-lawn cantankerousness. Well, until now, maybe: Everything Now is perhaps most noteworthy for how it finds Butler sounding like more of a crank than ever before, lobbing broadsides that consistently feel a bit too easy, a bit too general. "Creature Comfort" is about the all-consuming hunger for attention—you know, like on Twitter and stuff. "Signs of Life" contrasts the search for meaning with the act of waiting in line, which is something Butler thinks we all spend way too much time doing. The title track casts us as prodigals in exile, lost in a sea of songs and experiences, feelings and ideas, all of them siren songs luring us away from what's real.
On paper, it is the dourest of any Arcade Fire album, a significant achievement for a group whose debut album is called Funeral. But the damnedest thing about this band is how adept they are at transforming their messianic vexations into rock and roll that's honest-to-goodness exhilarating, which much of this is. Crucially, it also feels like a consolidation and refinement of their past records, leaning hard on the disco thump of Reflektor but splicing it to U2 grandiosity and Springsteen fist-pumping, all of it condensed into their most focused album since Neon Bible. And there are some new wrinkles, too—the Paul Simon Graceland undertones of "Everything Now," the light reggae grooves of "Peter Pan" and "Chemistry."
Their crusade sounds sufficiently rousing on the first few songs, in particular: Following the arena-swelling piano anthem and dancefloor pulse of the title song, "Signs of Life" brings in a brass section for tight funk, and "Creature Comfort" rides a frenzied New Wave groove. Yet, for all their ample charisma, Arcade Fire isn't always able to salvage their tunes from the heavy-handedness of their message. Example: A song about how we have access to "Infinite Content" includes a twist about how we should be "infinitely content." Then, once again pushing the too-much-of-everything mentality, the song is played twice back-to-back, first as a blast of punk and then as a country slow-dance. Maybe by hearing it twice, we'll all realize that we're consuming too much!
Arcade Fire has long been identified as the heir to U2's hallowed throne, and for good reason: Everything Now is a more interesting and sophisticated record than any U2 have made since the '90s.  Say what you will about St. Bono, though: Even the bleakest U2 records have been anchored in hope. On their latest, Arcade Fire sound like they've followed consumer culture's empty promises to their absolute nadir—and now they can't find their way back.