Tyler, The Creator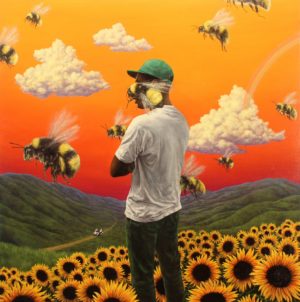 Flower Boy
COLUMBIA
7/10
It's easy to fall under the weight of Tyler, The Creator's persona when listening to and thinking about his music. Much of this is Tyler's own fault. He catapulted himself to great heights in large part thanks to his aggressively bombastic music, but his character has been equally important to his success—if not more so. It's not that Tyler doesn't take his music seriously, but the results have never quite backed the fire of his personality. With the release of his fourth LP, Flower Boy, he has finally eschewed the post-curricular fireworks in favor of a more mature sound. He's taking his work more seriously, and we should too.
Tyler's always been an immensely talented producer and rapper, but he's never put together an album as cohesively as he does here. From beginning to end there's a discernible aesthetic, and when he strays from it—on a track like "Who Dat Boy," in which he refers back to the horrorcore strut of his early output—there's deep thought behind the shift. He goes full-on existential from the album's outset, examining his relationship to his fans and thanking the girls that have made him feel like somebody on opener "Foreward." On the next track, "Where This Flower Blooms," he enlists Frank Ocean on the chorus and turns into the role model he's always rebelled against when he raps, "Tell these black kids they could be who they are / Dye your hair blue / Shit, I'll do it, too / Look, I smell like Chanel."
He frequently alludes to his fluid sexuality. On "I Ain't Got Time!" he raps, "Next line will have 'em like 'Whoa' / I've been kissing white boys since 2004." In 2015, Tyler tweeted, "I TRIED TO COME OUT THE DAMN CLOSET LIKE FOUR DAYS AGO AND NO ONE CARED HAHAHHAHAHA." At the time, it seemed like he was just fucking around. Within the context of Flower Boy, it's much trickier than that. Tyler's development lies in his ability to examine his own sexuality and questioning not through inflammatory speech, but through the content of his work.
This sort of backwards maturity proliferates throughout the record, not only in the lyrical content but in production as well. His earlier efforts, particularly Cherry Bomb in 2015, had moments of sheer brilliance, but they were few and far between. Flower Boy is both exceedingly lush and beautiful in addition to following a line of cohesion Tyler's lacked to this point.
"Garden Shed" takes cues from psych-pop bands like Mild High Club, while "I Ain't Got Time!" is an uptempo bounce track, with a pummeling low end that accents the song's party atmosphere to great effect. The album solidifies its footing on the back half, with "911/Mr. Lonely." It's one of the album's finest tracks—one that also features Frank—and once again finds Tyler getting particularly introspective. "Yeah I got a sold out show / Crowd wild out but it don't matter 'cause you not front row," he raps.
Whether it be his sexuality and his use of gay slurs, his race-baiting comments, or any number of silly controversies, it's always easier to focus on everything but Tyler's music. On Flower Boy, Tyler, The Creator makes his strongest case yet that the music's all that matters.