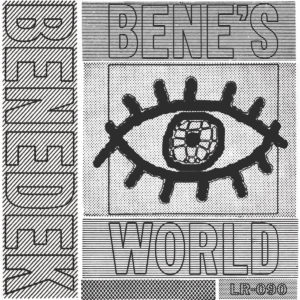 Benedek
Bene's World
LEAVING
7/10
Is there a genre as beloved of the synthesizer as boogie? The revision of the genre that's transpired over the past decade moves to modify the definition to, say, funk music, especially that which fetishizes waveform technology's awkward years in the 1980s. From antique Korg and Roland keys to the fat wobbles of bass synthesizers, it's an unflinching revelry in the absurdity of programmed sound. What began with Québécois cash cows Chromeo and electro-funk patron saint Dâm-Funk in the mid '00s grew tepidly, finding followers of the proper temperament. And just when we thought the vibes couldn't get stranger, a new unlikely hero emerges: LA-based funk esoterist Nicky Benedek.
Whereas most Ableton homebodies might spend their time scouring the net for codecs of effect plug-ins to stockpile, Benedek roves the wilds of Los Angeles thrift stores for the discarded musical equipment of neighboring aspirations past. On Bene's World, his latest and first full-length for Leaving Records, a subsidiary of Stones Throw, Benedek reveals his affinity as a collector of such artifacts and their means of merging with his creative process to produce music that gleefully bridges reminiscence with newness. It's the warmer, groovier California model of The Man-Machine.
Glib music journalist humor aside, though, Bene's World could easily be tagged and shelved as neo-boogie kitsch. But, judging from Benedek's production history, these pieces represent a deeply biographical and vibrantly contemporary feat of compositional growth. It's a biography influenced by many high-water marks from the LA landscape of the past thirty years, namely West Coast G-funk, electro/boogie, new age house and Sega Genesis.
It would seem that, since his debut, Benedek's enigma has been somewhat demystified. His first LP appeared in complete anonymity from DC-based Peoples Potential Unlimited, offering no track titles and nothing beyond the author and label's name. As if to complement that notion, the eight tracks that make up Bene's World carry a far more personal tone than anything he's produced thus far. For an industry often defined by a cool detachment from the banalities of the everyday, Benedek somehow strikes a synthetic naturalism that feels like an authentic testament to his experience. The wound-down drum program and lilting keys of "Tuff Luv" tend toward a sentimental whimsy. It's the memory of a forgotten moment or perhaps a nostalgia aggregated from a Sweet Pea Atkinson ballad.
Through Bene's World, Benedek takes several steps closer to the listener in an almost plainspoken revelation of the day-to-day. It's all-too-imaginable that the subtle domestic movements between his lifelong home in West LA and his studio in Koreatown sound something akin to the marching trod of "Ocean Park," the aerobic incantations of "Afterglo," and the rapid energies of "Big Nite City." It's a weird ride off into the descending western light, but rest assured the driver knows every contour of our route.