Eli Bonerz occasionally dips into nostalgia while describing the unlikely success of his clothing line X-Large. But really, who can blame him? Not many people can say that after receiving a degree in architecture from the Rhode Island School of Design, they went on to make a lasting impression on the aesthetics of hip-hop and streetwear. But that's exactly what happened.
"It was a feeding frenzy, it felt like we were slanging dope as customers fiended for what we were pushing," he writes in True OG Streetwear, a massive tome X-Large released in 2016 to coincide with the company's twenty-fifth anniversary. "[We were] living the dream, or better yet living the daydream, because we were literally making this shit up as we did it…and getting away with it, too."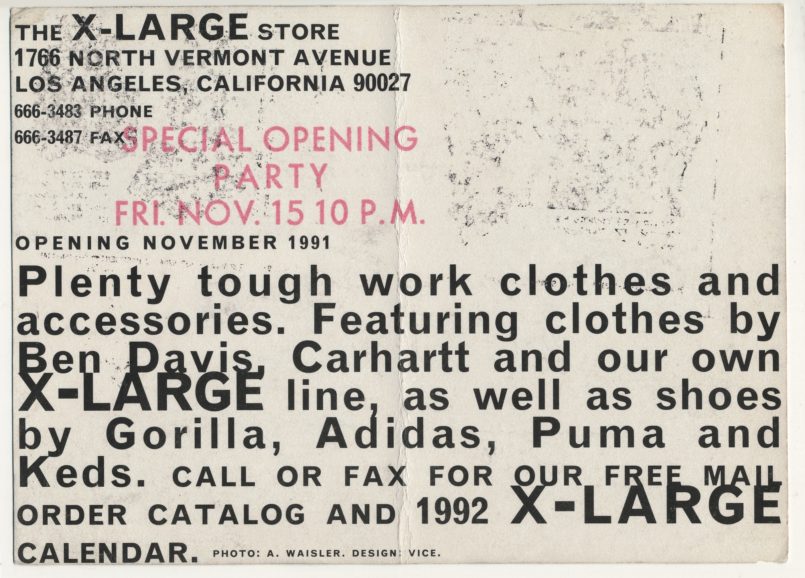 After graduating in 1989, Bonerz and former RISD roommate Adam Silverman collected $30,000 from friends and family with the intention of starting their own fashion line. Some of that initial investment came from Mike D, who—as legend has it—Silverman met by chance while walking his dog. Bonerz considers Mike D a patron saint of the company, contending that without him there wouldn't have been an X-Large at all. Even still, he's hesitant to frame the musician's involvement as a sign he thought the business could succeed—only that it was a vote of confidence for the concept.
"We believed it was something to do and we were committed to the imagery and the look," Bonerz says on the phone in Los Angeles, dashing the idea that either he or Silverman ever thought of themselves as business savants. "I don't think I would mistake anyone believing in it. I'm not sure Mike believed the Check Your Head record was going to have the impact it did. Everyone was just operating on intuition and were behind what we were doing. No one thought it was going to turn into a company that generated money and became real. Or have any lasting impact on style."
Bonerz and Silverman set up the first X-Large store on Vermont Avenue in Los Feliz, then an up-and-coming neighborhood in Los Angeles (more locations in New York, Tokyo, Seattle, and Toronto would follow). The aesthetic was swap-meet chic: Ben Davis work clothes, deadstock Adidas and Pumas from the '70s, and a line of graphic tees art-directed by Bonerz. The original merch was a colorful mash note to the collective's love of B-flicks, graffiti, inside jokes, and their own logo, which Bonerz designed based on a painting by Steve Gianakos. It was a confrontational image. As Bonerz explains, New York and hip-hop gave fashion a theatrical flair, but Los Angeles and X-Large gave it a harder, more eclectic edge.
"There were a lot of clothing labels that serviced specific parts of the lifestyle culture," he says. "There was surf. There was skate. There were music-licensed brands. But we didn't look at those labels as being defining. I think we looked at all of them together as a Venn diagram: Where there was overlap, we incorporated that… Today it seems very axiomatic or self-evident that this is the way companies operate, but we did it because with our generation, that was something that a lot of people were feeling."
X-Large's willingness to embrace the culture as it was happening became an effective ethos. A crew grew around it that included present and future creative forces alike. Spike Jonze took many of the initial catalog photos, often working with untrained models. Sister label X-girl was co-created by Sonic Youth's Kim Gordon, future Academy Award nominee Chloë Sevigny served as a fit model, and 20th Century Women director Mike Mills worked as an in-house graphic designer for the female-centric line.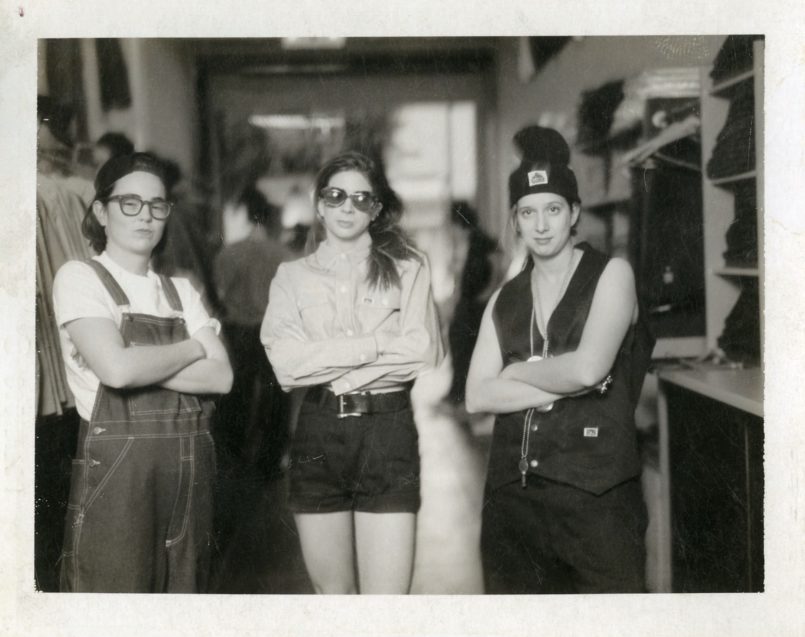 It also helped having a member of a noted rap trio serving as a de facto X-Large spokesman. There were moments of intersection—Bonerz notes with some pride that he gave Mike D the beanie and shoes he's wearing on the Check Your Head album cover. And during a 1994 interview with E!, the rapper explained the X-Large style, saying, "The whole essence of B-boy fashion, hip-hop fashion, is pioneering something, innovating something. You might take a golf visor that only people over the age of sixty are going to buy at a golf shop, and [if] you're able to carry that off, then you've pioneered right there."
But navigating the points of intersection between the company and the band wasn't always simple. "Mike and the Beastie Boys in general, they're not willing to stooge for anybody," Bonerz says. "We didn't want him to, because that would have killed the legitimacy of what he was doing. It was very hard to negotiate how that worked. Adam [Silverman] and I, we knew that our relationship with Mike was going to be helpful but it was going to have limits. It was sometimes hard to explain to other people who were involved in the business why Mike wouldn't do more for the brand. I think it was clear from the beginning that Adam and I understood the limits and the benefits of working with Mike."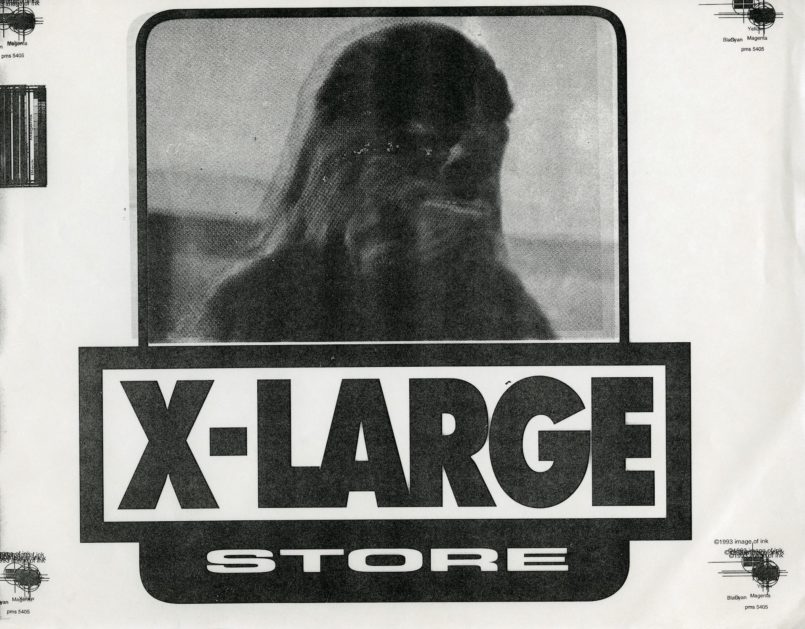 As the brand grew, it began to grab the attention of larger companies. Initially they resisted buyouts (Bonerz on Adidas's attempt: "They offered us a pretty crappy deal"), instead opting for collaborations with likeminded labels such as FUCT. They also began a series of in-house labels, including Mini (high-end shirts), XLA (a skate brand), and DEEP (inspired by Asian culture).
But in 2008, Bonerz divested, selling to Tokyo company B's International (Silverman had previously left the company in 2000 and has since become a celebrated ceramicist). He jokes that he was getting too old for streetwear before admitting he was simply ready to move on. The scene was evolving, and he wanted to focus his attention elsewhere.
"That's just the way it goes in fashion, music, and art," he notes pragmatically. "These ideas coalesce around certain points for a time but they can't last for too long. Moods change because other people get their opportunities as well. The creative force can only last so long."
For the X-Large founders, their time as fashion influencers may have been brief, but their optimism and hustle proved you don't have to fight for your right to party—or even dress the party… Just work your asses off. FL
This article appears in FLOOD 6. You can download or purchase the magazine here.