It's a rainy day in mid-May, a few weeks after the last snow melted, and Buff Monster couldn't be happier to be living in New York instead of Los Angeles. The street artist was looking for a change of pace, so in 2012 he left behind a city he'd already covered with cartoonish pink monsters. The Big Apple rewarded Buff with a new life, and a deluge of artistic and entrepreneurial opportunities.
"There's nothing wrong with nice, but nice gets old after a while," he says of perpetually pleasant Los Angeles during our phone interview. "It's a struggle here, but it keeps you honest and keeps your integrity in check. After living in LA for so long, it's incredibly refreshing. LA is based on fantasy and made-up things; New York is less about that."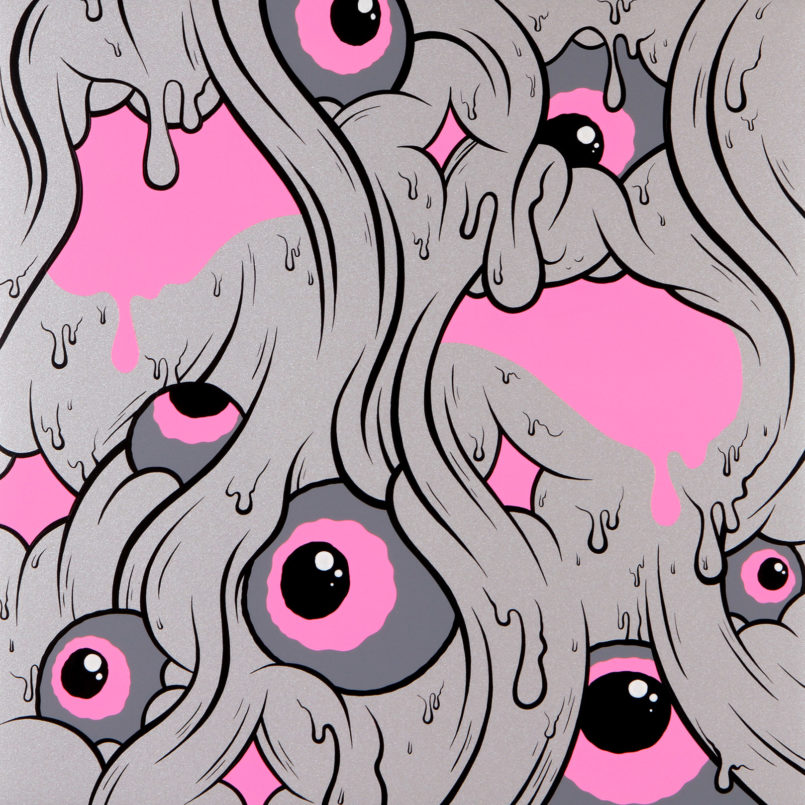 Buff knows a thing or two about made-up things. He also has a savvy eye for business opportunities. From Disney and Coca-Cola to Nike and Hello Kitty, his collaborations continue to expand as his indefatigable ambition shows no signs of slowing down. He's even managed to incorporate himself into the New York zeitgeist, painting an "Eye Heart NY" mural on one of the elevators in building four of the new World Trade Center as part of a curated art exhibition.
"A lot of brands and opportunities call for a New York–based artist. After moving here, all of a sudden I'm in the running for these things," he says.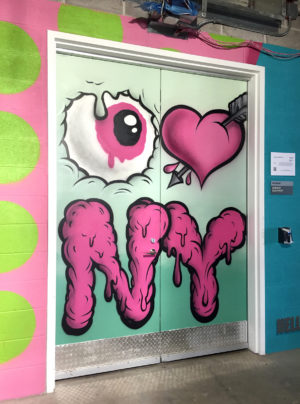 Los Angeles was actually the second place that the painter, toy creator, sculptor, and animator called home. He was born in Hawaii in 1979, and he grew up in thrall to ice cream, Garbage Pail Kids, and heavy metal before enrolling in the University of Southern California. Inspired by commercially iconic artists Walt Disney and Andy Warhol, he earned a minor in business administration along with a major in fine arts.
Buff, who coyly insists that that's his real name, reflects on his business-minded decision: "I don't think it was [necessarily] that smart—it just kind of made sense. All the biggest artists are great businessmen. Business is all around us. Everything we wear, eat, and deal with in our lives comes from a business: the pen you're writing with, the phones we're talking on, the paper this will be printed on."
And Buff's entrepreneurial spirit is paying off. A few days after our phone call, he will separate the product division of his business into its own brand (a move similar to the one Shepherd Fairey made with his Obey clothing venture). The new company will be called Stay Melty, which also served as the title of Buff's self-designed, 224-page book documenting his artwork.
The peculiar phrase makes sense to anyone familiar with Buff's images of drippy, disconnected eyeballs and pink, melting monsters. It rings even more true when one bears witness to his fascination—nay, obsession—with a particular confectionary carnality.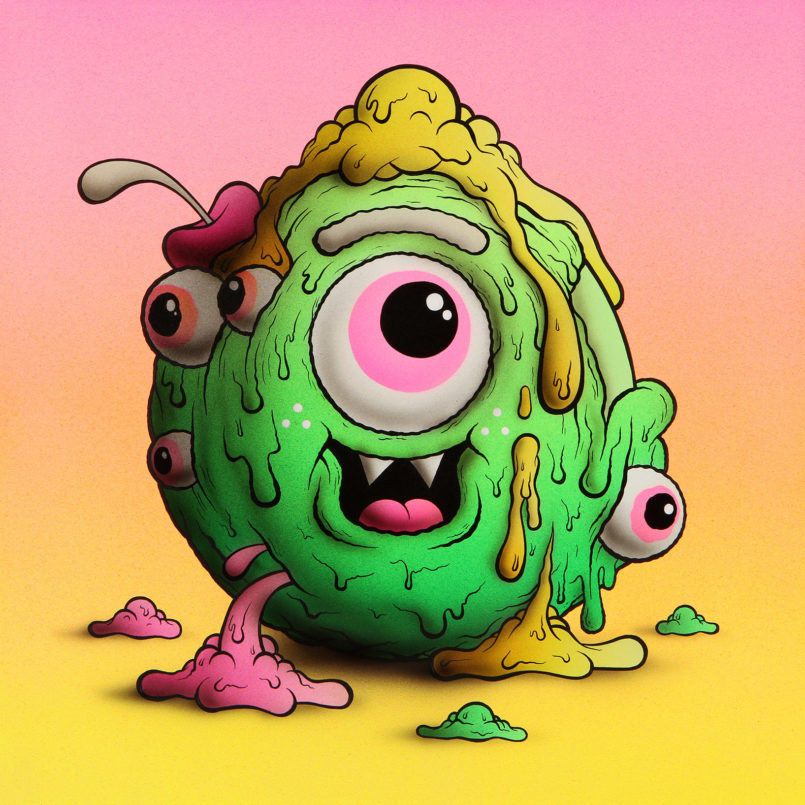 "Ice cream is a metaphor for life," he muses. "A scoop of ice cream is awkward to deal with in the beginning. It has potential but isn't fully realized. Once it melts, the promise is coming true. It's sweet and it's filling and it's really becoming what you want it to be."
He continues: "As time goes on and ice cream melts, it goes into this soupy, messy state. The melting ice cream cone metaphor relates to my work ethic, too. It's as if I'm holding an ice cream cone that's melting. It addresses the individual versus society or culture as a whole, [too].
"We're constantly melting," he concludes. "But inside of everyone melting collectively and individually, we can still enjoy it for as long as it lasts. As long as you're eating ice cream, you can't go wrong."
Brain freeze? We'll give you a moment to collect yourself.
A couple of weeks ago, Buff was bumbling about the Arctic Circle—a precious place that is itself melting all too quickly. He went there with his girlfriend as the region was experiencing its spring season.
"It was still snowing every hour on the hour, and it was cold as all hell," he recalls. "It was amazing to go to this place where all this awesome heavy metal comes from."
"Ice cream is a metaphor for life."
Like ice cream, metal is another childhood fixation Buff has continued to cling to in adult life. But while there's some Internet chatter about him favoring black metal, his go-to sub-genre isn't of the face-melting variety. Buff rocks out to power metal—bands like Iced Earth (of course), Blind Guardian, Metal Church, and King Diamond.
Of course, he's no stranger to extremity.
"My street-art partner and I, we would do billboards. That was such a crazy time," he remembers. "I was climbing up these long, sketchy ladders and onto super-sketchy billboards. I'm thankful I got out alive and unscathed. It seems like a lifetime ago I was willing to climb up all those places."
But don't think for a moment that he's toned down. Last year, on a brick wall in Jersey City, he painted his biggest mural yet: a sixty by fifty foot tall behemoth with his smiling cyclopean creatures depicting the seven heavenly virtues (prudence, justice, temperance, courage, faith, hope, and charity) in front of a pink backdrop. The project required him to use a cherry picker and reach as high as he was physically capable.
Buff says some people can maybe recite the seven deadly sins, which he painted last summer in Montreal, but most don't know about heavenly virtues.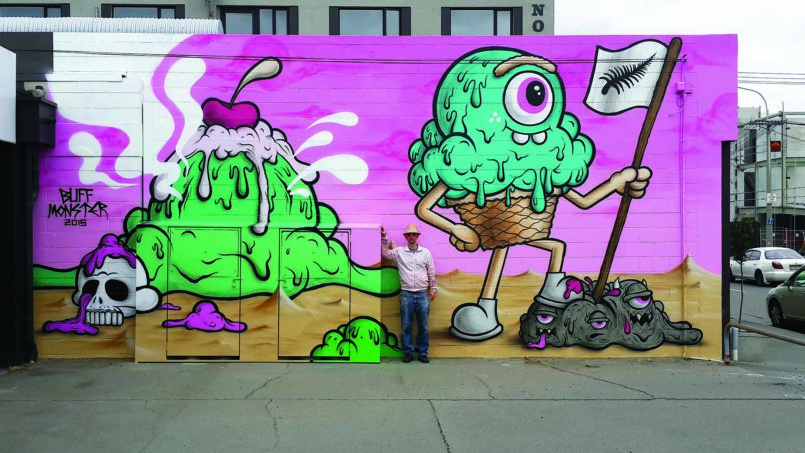 "Politically and socially, in America in 2017, it doesn't hurt to have a reminder of the virtues," he says.
So what is he brewing now? He's releasing a Spanish-language version of his Melty Misfits trading cards and stickers, which parody his beloved Garbage Pail Kids so perfectly that they even come wrapped in wax paper. Also in his sights is an installation at Life Is Beautiful, an art-meets-music festival that's happening in late September in Downtown Las Vegas.
Buff has another massive project on the way, but while he initially planned to reveal it this year, it's delayed.
"Some projects just take so long—and that's OK. I have a lot of short projects that are rewarding. Maybe next year."
Till then, stay melty. FL
This article originally appears in the FLOOD Festival Guide presented by Toyota C-HR. You can check out the rest of the magazine here.