Some people call it summer, but for us, this time of year is one thing and one thing alone: festival season. We've had our bags packed since—well, since last year—and we feel like we're getting pretty good at the whole thing, to be honest. So we thought we'd make a magazine that fits nicely between the sunscreen and the semi-legal drone in your bag—one that's packed with features, lists, picks, and tips for making the most of your festival experience, wherever you may be. Say hello, friends, to the FLOOD Festival Guide. Click here to read or download the Hundred Waters side, and here to read or download the Buff Monster side—or check it out below.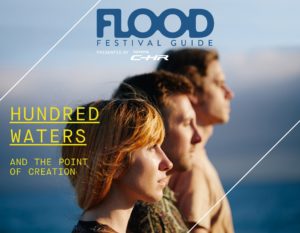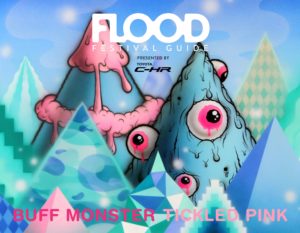 Plucked from the stages and grounds of the upcoming fests that we're going to be at, the issue features stories on Hundred Waters and Vince Staples, repping the musical side of things, in addition to Buff Monster and Demetri Martin, repping comedy and visual art, respectively (though it should be noted that Martin can play a mean glockenspiel).
Surrounding those stories, we've got suggestions for Don't Miss live acts—White Reaper, Kweku Collins, and S U R V I V E—some mischief-making suggestions from Cole Alexander of Black Lips, a Food Map of America from Chef Kelly Fields, an interview with comedian Marcella Arguello, a visit with the artistic team Yok & Sheryo, and, of course, a festival survival kit, fast fashion picks, and essential gadget recs.
If you're at III Points, Day for Night, Life Is Beautiful, or Voodoo—or at an Ace Hotel, Burton store, Original Penguin store, or Zumiez store—keep an eye out for copies of the issue! Otherwise, you can read or download the guide here, or check it out below.