"If you stare into the abyss, the abyss stares back at you."
Nicole Miglis is referring to Hundred Waters' new life in Los Angeles, but one can't help but think of her band in such terms of give and take, form and void, isolation and community.
Miglis—who you can hear scaling the stately edifices of the group's music, her piano arpeggios belaying a voice that seems incapable of losing its grip—hails from Melbourne, Florida, while her bandmates Trayer Tryon (bass and electronics) and Zach Tetreault (percussion) hail from Orlando. After meeting in Gainesville at the University of Florida, they formed Hundred Waters, and their eponymous 2012 debut, a sweetly foreboding collection of virtuosic electro-folk and space-consuming art rock, bears the hermetic confidence of a group of exceptionally talented musicians finding that together they have the resources and rapport to emerge as a fully formed entity.
"We lived in a small town that was really supportive, which made us feel like we were doing something that mattered," says Tryon. They had no idea that just beyond the outskirts of town there was even such a thing as an abyss to stare into. "We didn't have any conception of a music industry before we started putting out records," he remembers. "No idea what a manager was, how people released music… We were immune to a lot of the fear of failure that people can have in a big city."
Still, the debut garnered acclaim, and Skrillex invited Hundred Waters along on his Full Flex Express Canadian train tour. Though the band and the emo-coiffed electronic dance musician ostensibly share little in the way of sound or fanbase, Tryon talks about their match-up as if it was meant to be. "[He's] a very open, fun person who's [involved] in anything he does for the right reasons. We like [working] with him because he doesn't overthink things and just follows his intuition." Post–train party, Hundred Waters signed to OWSLA, Skrillex's label, and toured with acts like Grimes and Julia Holter—the combination of which pretty succinctly sums up Miglis and Co.'s studied, omnivorous approach to genre.
"We didn't have any conception of a music industry before we started putting out records. We were immune to a lot of the fear of failure that people can have in a big city." — Trayer Tryon
While on tour, and over the course of three years, the band recorded some sixty songs that would eventually be winnowed down into their sophomore album, 2014's The Moon Rang Like a Bell. From the soul-stirring opening salvo of "Show Me Love" to the comparably ostentatious and twinkling "Xtalk," the album shows them flexing their strengths—leaning especially hard into Miglis's voice, a force simultaneously elemental and ephemeral—while also being a clear reflection of how far they'd come as a group of friends.
"Emotionally, I think that record really paralleled the feeling of being in a car," Miglis says. "Like, experiencing things in this self-contained box on wheels. Specifically, as the passenger [you're] powerless, but moving forward—or powerful, depending on how you look at it."
Each song seems painfully aware of its place, of its limits and how far it can push away from its nucleus before the noise of the outside world pushes back. Which could simply describe a group of songwriters with a healthy sense of self-awareness, but there's something so much more spacious to Hundred Waters, something physical, as if one sound—a trilling flute, say—cannot exist without a counterweight to balance and define it. It's all a very holistic experience.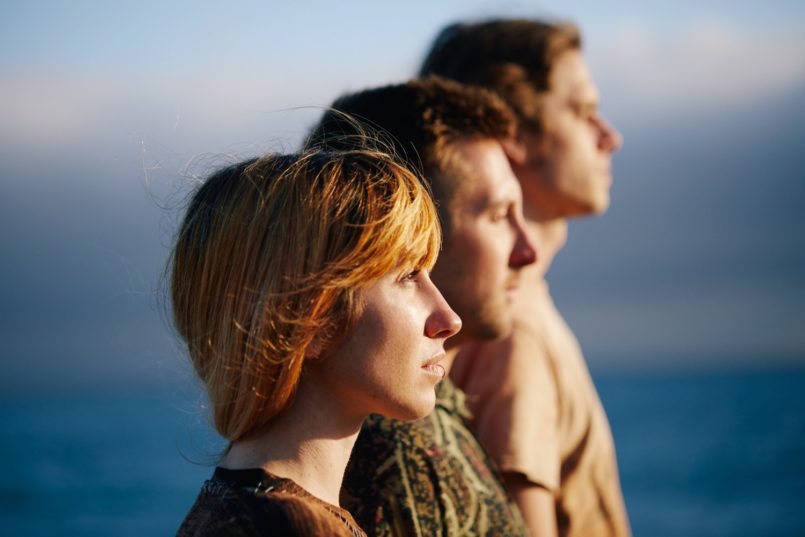 Upon release of Moon Rang, the band created FORM Arcosanti, a music festival in a small community in Arizona an hour north of Phoenix. Former band member Paul Giese discovered Arcosanti while studying architecture at UF, and upon stopping there on tour to check it out, the band fell in love.
"Paolo Soleri, the founder of Arcosanti, was an architect, designer, artist, and philosopher who constantly explored the possibilities of human aspiration," says Tetreault, aligning the experimental community with the way the band operates as artists. "Arcosanti's foundation exists around art, culture, and people coming together to share ideas and celebrate compassion." Having just completed its fourth annual staging, FORM represents an ecosystem of empathy.
"We were more noticeably inspired by the ethos of Arcosanti, its natural beauty, architecture, and intention," Tetreault says. "[It's] an alternative human habitat and paradigm for urban development, and FORM demonstrates a [different] festival environment and platform for cultural exchange."
"Each year is a reinvention, a refinement, and the possibilities feel endless." — Zach Tetreault
"Initially, yeah, I think the intention was to play a show in a more interesting place than the places we were playing on tour," Miglis agrees. "But every year it seems to adopt a greater meaning. I think it's grown in tandem with the world and now seems to be at this place where it can be used as a vessel for a lot of things."   
Perhaps unsurprisingly, the way Tetreault and Miglis talk about FORM resembles the way the band has grown, from its first steps outside of Florida and into the aforementioned abyss: "Each year is a reinvention, a refinement, and the possibilities feel endless," Tetreault says.
Had Hundred Waters not entered the world with such a strong conception of themselves, 2017 would probably mark the moment in which their notions of what it means to be in a band became completely codified. With the Currency EP, which was released as a surprise in May, and a third album, Communicating, following closely behind it, Miglis, Tryon, and Tetreault seem surer than ever of what they're doing.
"The songs from the EP and the new record were written in a completely different headspace than our last album, I think because we had the luxury of being settled and having a home and being able to play instruments every day, and live somewhat normal lives," Miglis says.
And yet, she still speaks of Hundred Waters as an outfit formed of otherworldly alchemy, a band apart: "I personally (deliberately) tuned out everything while we were writing this record. I pretty much dropped off the planet. I'm still adjusting to life outside the troll hole." It's impossible to not hear her coming full circle, the hermetic environment of the new album's genesis recalling their obscure Floridian beginnings.
"On a more abstract level, I think the heat and the humidity had a sort of vivifying effect on our music, and the outsider-ness of Florida made us slightly Juggalo," she says.
It's like she's answering a riddle she never really posed: What happens when you stare into the abyss? The Insane Clown Posse stares back. FL
This article originally appears in the FLOOD Festival Guide presented by Toyota C-HR. You can check out the rest of the magazine here.