Chalk it up to practicality. Back in the day (1837 to be exact) Helsinki's Hotel Katajanokka was living its first life as a prison. That ended in 2002 when the building was ruled as no longer meeting the minimum requirement for inmates. So what's a city to do when a large building of historical value sits empty? With a little help from the National Board of Antiquities, and slate of renovations, Hotel Katajanokka opened its doors in 2007.  Like Helsinki, a city of contrasts where nature and urban living sit side-by-side and you're more likely to make small talk with the naked person in the sauna next to you than at a bar, Katajanokka is full of contrasts. Dark, imposing, full of nerve-wracking history—but also a strangely cool and cozy place to visit.
The spirit of its former life is infused into every inch of the building. To get to the hotel you first have to walk through the old "prison yard" enclosed by a tall red brick wall. (Thankfully barbed wire and workout equipment has been replaced with benches, meaning when the weather is warm guests have their own private outdoor lounge away from the street.)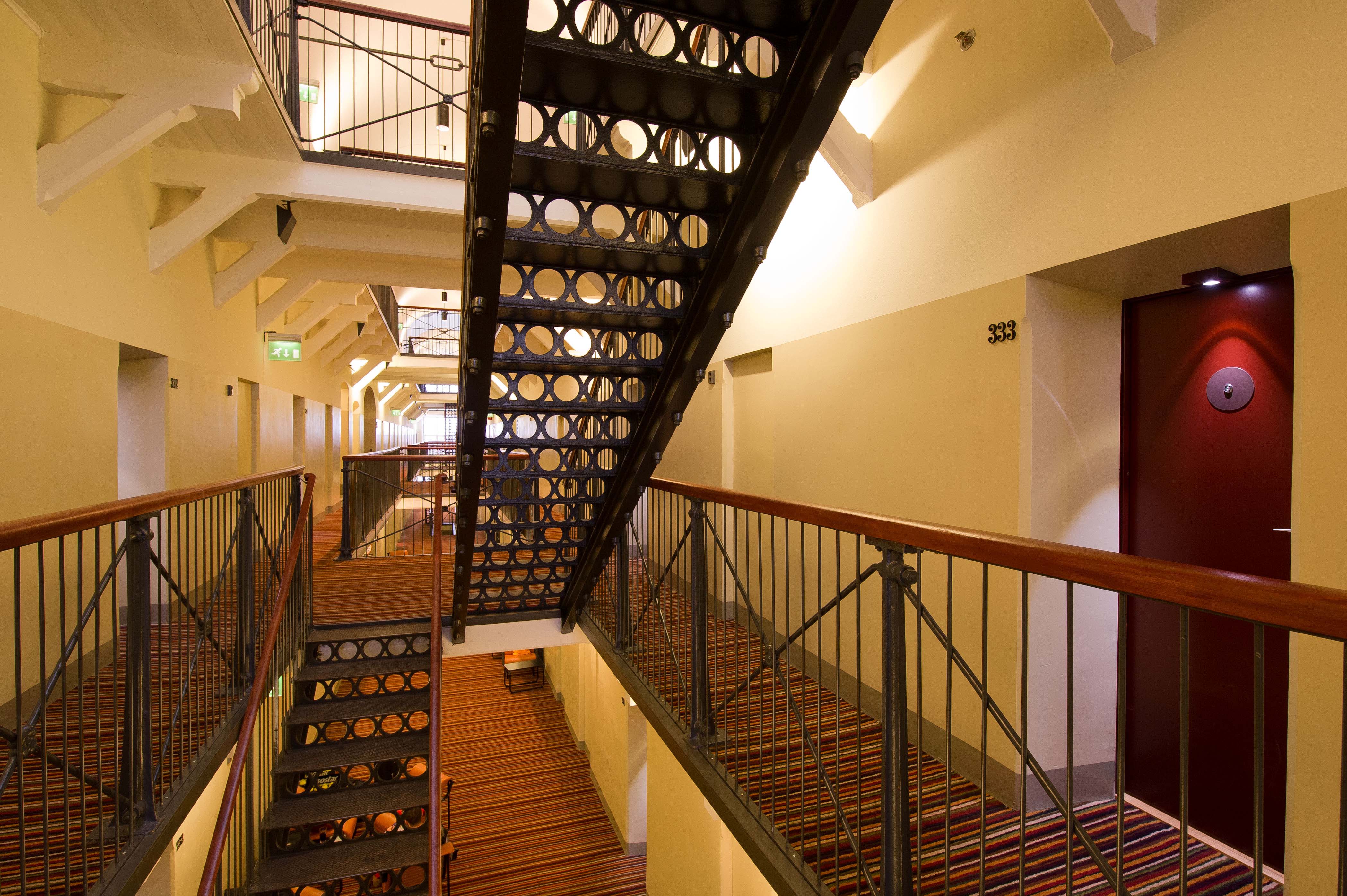 The jailbird vibes get stronger when you enter the main building. From the ground floor you can look straight up to see four stories of cells-turned–guest rooms. Logic would imply this open floorplan would create extra noise, but the building is blessedly sound proof.  An elevator is on hand for heavy luggage, but it's far more satisfying to take the iron staircase that runs through the center of the building. That historical motif is repeated on each floor, where replica prison gates sit in each stairwell (presumably used to contain rioting prisoners) and black and white photos showing what life was like back when guests didn't visit voluntarily. (Spoiler alert: bleak!)
Today's guests don't suffer such indignities. Katajanokka's premier room, which once upon a time was three separate cells, is more than big enough for two or even three people—provided you're all really good friends. The two pushed-together twin beds (a standard in many hotels across Europe) contained so much bedding and so many pillows I ended up answering emails from the middle of the world's most luxurious blanket fort while sipping on a cup of tea. (Even though Finland is unapologetically a coffee nation, my room also featured a wide variety of Just T.)
The bathrooms are small, but in a clever feat of architectural engineering, the toilet area and shower stall are actually in two separate rooms—which means if you're traveling in pairs, you don't need to worry about your bathing time being interrupted by your companion after they've had one too many cups of blanket fort tea. And if you're alone, the whole world (or room, as the case may be) is your shower stall with zero fear of soaking your toiletries bag or pajamas. After what unexpectedly became a fourteen-hour travel day I was thankful for the intense rain showerhead and selection of bath products from Spa Vital.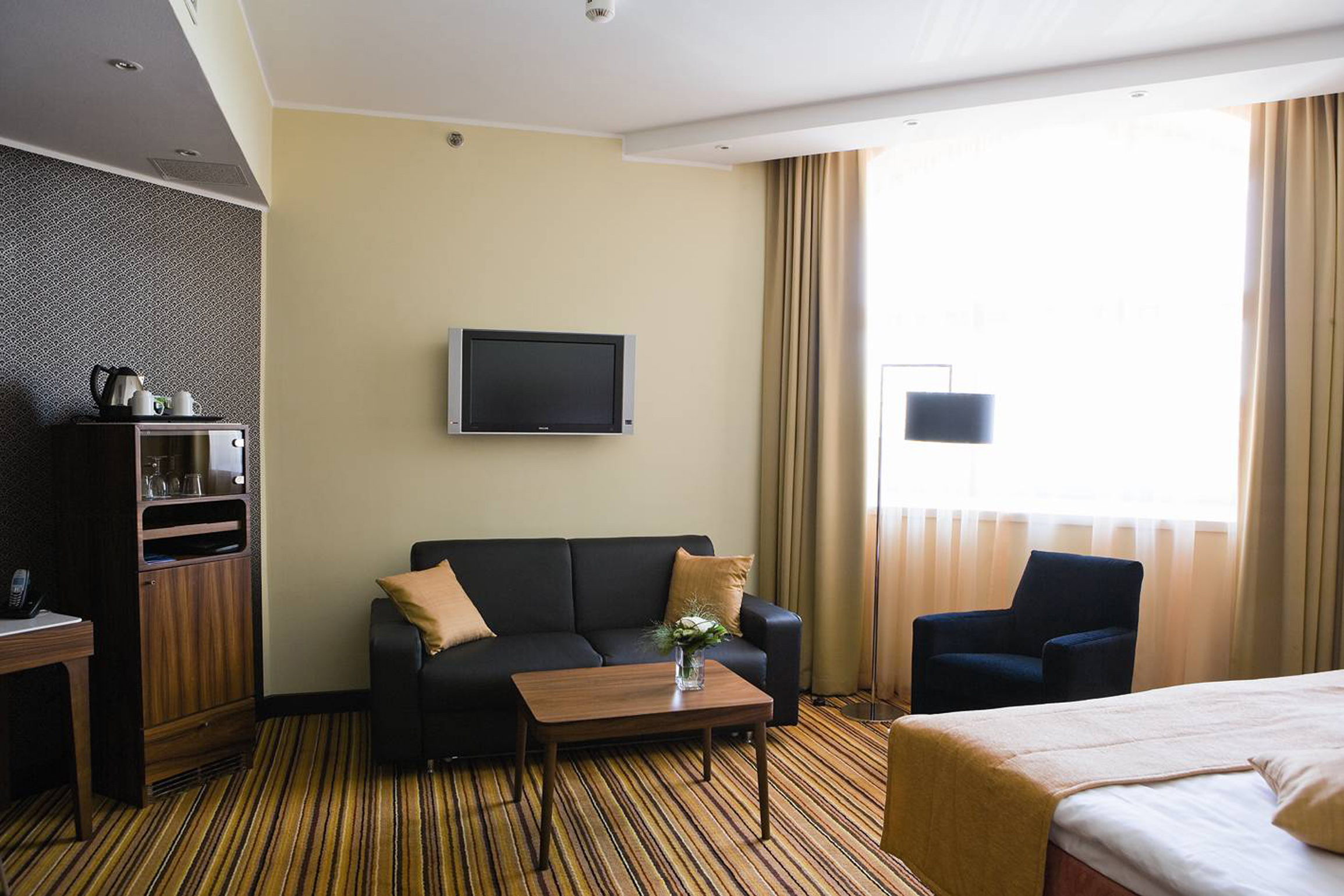 The hotel embraces its past as a prison in a way that comes off as clever, not kitschy—a fact that plays out in conversations with staff. Employees uniformly refer to rooms as "cells." (Me: "I'm exhausted, it's been a long day." Woman at the front desk: "It'll be such a relief then to be locked in your cell for the night.")
Their lavish breakfast buffets (complimentary!), featuring mouth-watering karelian pies (I must have eaten three of these savory rice pastries with every day), are served on metal plates with tin mugs for coffee and tea. After you've finished your candle-lit morning meal in their basement restaurant (which is also open for dinner and drinks), you can also check out two of the remaining solitary confinement cells and feel thankful they don't reflect your sleeping arrangements.
Obviously, the jury is still out on the whole ghost thing. Although ask any of the friendly employees any they'll beg to differ. One waitress told me about how she was working after hours and heard footsteps and a door suddenly slammed shut and locked. It was only after she opened it that she realized her manager had already gone home for the evening. The upstairs wedding chapel has also been rumored to host a few late-night supernatural activities, although my room was right next to it and I didn't hear anything. Chalking this one up to being a heavy sleeper in a room with thick, cell-worthy walls. FL