Ariel Pink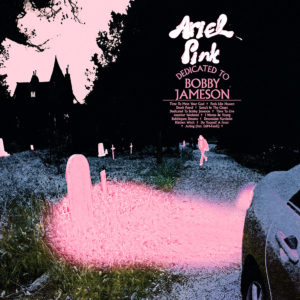 Dedicated to Bobby Jameson
MEXICAN SUMMER
8/10
For an artist whose career has been defined by juxtapositions (male/female, failure/success, jingles/noises, etc.), perhaps the most dualistic thing about Ariel Pink is the love he bakes into each sardonic line he serves up—especially considering it might be full of shit. Dedicated to Bobby Jameson, his eleventh studio album and first for Mexican Summer, conceptually stems from 2014's proggy studio onion, pom pom. Where that record posited a post-Pink world, replete with elements including the selfie-awareness of "Picture Me Gone" and nostalgic sign-off "Dayzed Inn Daydreams," Bobby Jameson spins a web from its titular subject, the forlorn 1960s Los Angeles music icon once referred to as "Mayor of the Sunset Strip," whose real-life disappearance from the scene mirrors the virtual death possessing Pink's own ruminations.
In 1985, riddled by burned industry bridges and subsequent bouts of drug addiction, institutionalization, and homelessness, Bobby Jameson without a whisper drove up the PCH to his mother's home in San Luis Obispo, where he would spend the majority of the next two decades. There he cleaned up his life while most wrote him off for dead. Radio silence persisted until 2007, when Jameson suddenly resurfaced and began to tell his story via Blogspot and YouTube, which he would continue to do before succumbing to an aortic aneurysm in 2015. Jameson's story exists as a sort of negative against Pink's own arc. While one faded into popular oblivion, the other rose to avant fame. While one bemoaned the avatar sure to eclipse his mortal wake, the other leveraged Internet tools to reclaim his identity from the void.
So it's only natural that Pink composed a tribute to his anachronistic dopplegänger, proclaiming Jameson "a Tinseltown tranny" over the title track's early-psych organ line. "Feels Like Heaven" is gorgeous, easily the most earnest love song Pink has released since "Mature Themes" back in 2012. Want to hear an Ariel Pink/Dâm-Funk duet through auto-tune? See: "Acting." The chorus-less "Another Weekend" assumes a loopy stance in the strawberry field haze while reckoning with some of Pink's more apathetic drug days.
The point of all this confusion is that in the end, Ariel Rosenberg managed to trudge through his own pink slime just in time to catch a glimpse of the gray sunset. And, despite spending two albums contemplating his own existence, Ariel Pink has never before seemed like such a necessary fixture here on our planet.