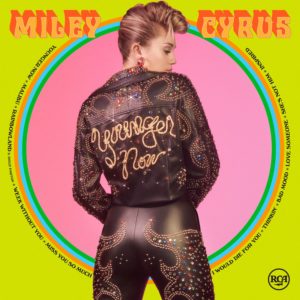 Miley Cyrus
Younger Now
RCA
4/10
Younger Now is an adroit change of pace for Miley Cyrus's career—drop the usual popstar pageantry, take 'em back to the country roots, put her singing, songwriting, and message front and center; the only issues with that being the singing, songwriting, and message.
It began somewhere between Paris Hilton and Perez Hilton, became suspicious somewhere between Jersey Shore and Rebecca Black, and defined our generation by the time the "Cash Me Outside" girl signed a multimillion-dollar deal with Atlantic having barely ever made any music. The Internet is certainly the vehicle of this global fixation on unremarkable people with nothing particularly meaningful or useful to contribute to the space they occupy, and while I'd like to say all this nonsense is harmless, it's now made its way into our democracy.
Younger Now marks Cyrus's second attempt at predominant involvement in the songwriting of her music (following 2015's Miley Cyrus & Her Dead Petz), which was previously put largely in the hands of juggernaut hitmakers like Dr. Luke. Now it's just her and producer Oren Yoel in control of the pen, and the final product sounds of struggle. If her aim was to prove herself as an artist beyond the mere face of an eponymous brand, it served more to prove the contrary.
"Rainbowland" is a vanilla country duet with Dolly Parton, Cyrus evidently hoping to join the ranks of Nashville royalty that write songs about old pickup trucks from private jets. "I Would Die for You" is a serious love song whose lyrics are made up almost entirely of clichés (not an exaggeration). "She's Not Him" features a descending melody I can't imagine anyone in the world would have a hard time writing, and a deafening, reverb-y tambourine on every two and four that gives the air of phoning it in even on the technical end of the music. "Thinkin'" is a fairly well-crafted pop song, but aside from this one, the hooks and choruses are forgettable, falling short even of the earworm effect that juggernaut pop albums are supposed to achieve, if nothing else. On closer "Inspired," Cyrus takes a swing at social commentary: "I'm writing down my dreams, all I'd like to see / Starting with the bees, or else they're gonna die."
I gather that while most great music comes from a person that lives an ordinary life, leaves their trials and tribulations in their music, and painstakingly builds their fan base until they gain a platform on which to relate to other ordinary people, Cyrus has an especially hard time writing meaningful music having been heaved into the corporate entertainment industry at fourteen years old—especially when the bulk of what matters in her caste seems to be quarterly earnings and Instagram followers. Shouldn't we expect much, much more from one of the world's most powerful cultural influencers? Is pursuing music today just a convenient vessel for vapid Internet celebrity?