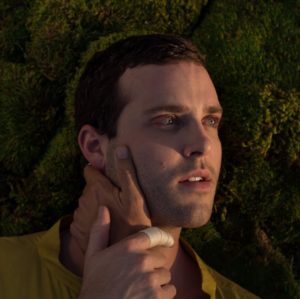 Baths
Romaplasm
ANTICON
6/10
After creating the theme song for a dating simulation game, "Dream Daddy: A Dad Dating Simulator," earlier this year, Baths has returned with a much-awaited full-length  album, Romaplasm. Baths, the musical moniker for Los Angeles–based multi-instrumentalist Will Wiesenfeld, has become well-known for his glitchy, sparkling electronica and witty lyricism.
Baths' third album—the project's first in four years—delivers a collection of carefully curated tracks fluidly transitioning between confessional lyrics and an overwhelming mesh of noise. Wiesenfeld has mastered the ability to manage multiple moving parts at once: Each song on Romaplasm features a wide range of sounds—everything from the classic computerized beeping and buzzing to the chatter of a cocktail party and an indecipherable clicking. These aspects of the songs overlap to create a fuzzy, embracing atmosphere—inviting the listener to escape into Wiesenfeld's imagination.
"Yeoman," the first track on the album, is decidedly upbeat and bright. It's the perfect introduction to Wiesenfeld's work: easy to listen to and captures the essence of his playful songwriting. On Romaplasm, he explores what it means to be queer in 2017—"Yeoman" is a tribute to discovering one's identity and finding love. Weisenfeld sings, "Come, kiss me swell / The feeling like a buoyant waltz / Look, goddammit, no, I don't know how / I love it though your steps are never gonna make a lick of sense."
"Human Bog" introduces the moodier electronica that Baths had centered on in previous albums, Cerulean and Obsidian. If "Yeoman" is a celebration, then "Human Bog" exists as a reality check. In this track, Wiesenfeld fearlessly explores the complexity of his queer identity. He faces critics head on: "I'm queer in no way that works for you." At the same time, he wades through penitence as well. He recognizes that sexuality is most complex for the individual: "Queer in a way that has failed me / I'm not enough of anything."
Romaplasm is best listened to as a whole, rather than choosing one song to focus on. Each track melts into another, creating a full soundscape ranging from manic babbling—reminiscent of a videotape fast-forwarded—to a deep electronic sludge. Wiesenfeld manages both elation and grim reflection on Romaplasm masterfully—it's obvious he has had time to meditate on each and doesn't shy away from making these self-reflections completely, publicly transparent. "I wanted to be honest with myself that this is where my heart lies and where I get the most emotion out of life," says Wiesenfeld in a press release for the album. "I wanted a record that mirrors those emotions but in an indirect way."
On Romaplasm, each track explores another facet of identity, but at times these thoughts are obscured by the sometimes overwhelming instrumentation of the album. And even with undulating vocals that have an undercurrent of being sarcastic or tongue-in-cheek, for Baths, self-exploration—and at times self-deprecation—is packaged with a saccharine exterior.