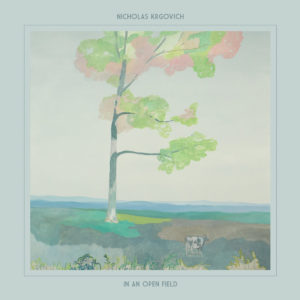 Nicholas Krgovich
In an Open Field
TIN ANGEL
6/10
Nicholas Krgovich has a breathy, familiar voice, and his unrushed and studied take on pop belies his prodigious output. He's been releasing albums under his own name at a once-a-year rate since 2013. Before that, he was finding his voice in a few indie-pop outfits in the Great White North. This record, In an Open Field, comes after a well-received contribution to ex-Dirty Projector Amber Coffman's solo release from earlier this year, and also a recently announced supporting slot on the upcoming Destroyer tour.
This is R&B distilled—a crisp drum track often augmented with pedal steel, muted horns, and warm back-up vocals. When Paul Weller took this route with The Style Council, he dubbed himself the Cappuccino Kid. Krgovich slides into that same Parisian-bistro vibe on the bright-yet-subdued pop of "Blue Wave." Songs like "Country Boy" shuffle into thoughtful grooves that are pensive and soulful but not pretentious. Krgovich may keep a well-thumbed Camus trade in his back pocket, sneaking a fair amount of existential dread into his songs, but he's largely a songwriter who works in broad terms—poetic observations on love dominate.  
"The World Tonight" is a highlight—a mix of unfashionable-to-the-point-of-fashionable synth work that makes the track feel like the Dirty Projectors covering "The Sweetest Taboo." Krgovich's vocals push out of their intimate zone into more expressive areas. "Do It Again" takes a more organic, chamber-pop approach and hits the right marks from the acoustic guitar strumming, sweet string accents, and hymn-like, "I did this, I did that" songwriting—it would fit right in on the masterful 1994 self-titled Cardinal album.
But as mentioned earlier, major reference points here musically are contemporary R&B slow jams—it's in the pauses, the glacial beats, and Krgovich's phrasing that, coupled with the deep levels of introspection, make this ideal listening for starry-eyed shut-ins.