Calexico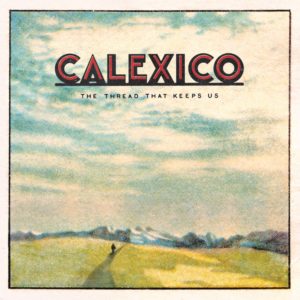 The Thread That Keeps Us
ANTI-
6/10
Tucson, Arizona–based Calexico truly reflect "love in the age of extremes" with their latest, The Thread That Keeps Us—an album exploring the highs of euphoria with pushing tempos, soaring guitar riffs, and grim lyrics.
Now on their ninth studio album, the band has cemented its style, combining post-rock, jazz, and country, along with more traditional Latin influences. The band's name, after all, is a combination of both California and Mexico, and they reside in a border state themselves. With an acute geographic awareness, Calexico is able to explore influences on both sides of the border and encapsulate the best qualities of both. In today's political climate, life along the border seems even more tumultuous, and they capture this uncertainty even without calling out the current administration directly.
Recorded in a Northern California house-turned-studio built from salvaged timber and cobblestones and nicknamed "The Phantom Ship," The Thread That Keeps Us captures the intensity of the natural landscape. The band obviously finds inspiration in rugged topography; the lyric video for their opening song, "End of the World With You," features a dusty, barren orchard, a rolling coastline, and other sights common in the western US.
Each track on this album seems imbued with perfectionism, with Calexico proving themselves able to make many moving parts work well together. Everything feels intentional—down to the crisp, bright trumpet solos and overlapping guitars; this is especially true on "Unconditional Waltz," which is completely instrumental. Even with the absence of vocals, the song is still highly emotive.
Calexico has created a soundtrack for the anxiety of today—fueled by climate change, unstable governments, and general unpredictability. Somehow, they are able to wrangle our collective fears into something worldly, beautiful, and borderless.