When you squint hard enough, the stories chronicling history's greatest artists don't really resemble stories. They're more like myths, fairy tales, legends. Take this romantic nugget from Mary Blume's The Master Of Us All: Balenciaga, in which former Vogue Editor-in-Chief Diana Vreeland describes fashion designer Cristóbal Balenciaga's showings: "One never knew what one was going to see at a Balenciaga opening. One fainted. It was possible to blow up and die."
Blow up and die! 
Like most artists, Balenciaga loved stoking those myth-making flames. Give me an imperfect body and I'll make it perfect, he was fond of saying. ("A bit pretentious, but true," said his longtime vendeuse Florette Chelot.) His greatest contemporaries helped, too. Christian Dior called Balenciaga "the master of us all," while Hubert de Givenchy and Karl Lagerfeld were early acolytes. But due to his secretive nature and obsessive pursuit of his craft, Balenciaga's personal life is relatively obscure compared to his work.
This singular, enigmatic canvas of a man inspired Paul Thomas Anderson after he picked up Balenciaga's biography in an airport. Like Balenciaga, PTA is the most skilled craftsman of his generation. At the center of his latest film, the equally enchanting and bemusing Phantom Thread, is Reynolds Woodcock, a Balenciaga-like couture artist in the '50s London fashion scene. Similarities abound between the fictional Woodcock and Balenciaga: a hatred of anything "chic," spying at showings through curtain-covered peepholes, lives constructed to facilitate the work, and a preference for women with "a bit of a belly."
But Woodcock, as played by the likewise veiled Daniel Day-Lewis, is no Balenciaga. The latter was a mostly stable, openly gay Spaniard based in Paris, fashion's epicenter. Phantom Thread concerns only the House of Woodcock's confined microcosm, as it's enraptured and somewhat welcomingly derailed by Alma, a countryside fisherman's daughter transformed into the fashion designer's muse. In shape, Woodcock's story seems loosely based on a different designer, British couturier Charles James (another inspiration for Anderson, rumors have claimed), a man Balenciaga praised as the "only one in the world who has raised dressmaking from an applied art to pure art."
By all accounts, James was a particular, somewhat vexing perfectionist; he would reacquire sold garments just to work on them more. Though homosexual, James shocked his inner circles when he married Nancy Lee Gregory, a rich divorcée from Kansas who was twenty years younger than him. James attested that this surprising choice was one of untethered passion and not unscrupulously motivated, as some friends suspected. Still, the relationship later expired because James was more dedicated to his work than to his marriage and sunk them financially; for years, they were constantly moving to flee creditors, until Gregory had enough.
"I do not know if I did right to marry and ruin Nancy," James said, " but…the necessity of success and achievement came first."
Phantom Thread serves as a necessary corrective to these long-excused behaviors by mythic artistic men.
Anderson isn't an overtly political artist, but Phantom Thread serves as a necessary corrective to these long-excused behaviors by mythic artistic men. In the film, conflict arises because Alma isn't content with merely playing Woodcock's muse—she's also his lover, and she wants to express that affection in "her [own] way," orchestrating a surprise home-cooked dinner for the two of them. So used to things going his way, Woodcock revolts, caustically subjugating Alma via verbal and emotional tactics. "What happened to make you behave like this?" he demands. "Is it because you think I don't need you?" She nods tacitly. "I don't," he reminds her. Alma doesn't shy away, though; instead, she covertly disables Woodcock, inserting poisonous mushrooms into omelets and his favorite Lapsing tea (James's favorite tea, too, by the way), so he can learn to sometimes play the passenger in their relationship instead of just the driver. Phantom Thread, in many ways, is about masculine forces understanding how to submit to feminine energies.
What underscores the subtle profundity of Anderson's film, and much of his recent work, is how these fictional characters are drawn from real-life sketches of history's lost, offbeat figures. Neither James nor Balenciaga were celebrated in their time as the ingenious innovators they're considered today. That current appreciation doesn't extend far outside its categorical purview, however—the average layman doesn't give two you-know-whats about either artist. The same goes for the more savage, off-color historical figures central to Anderson's previous films: L. Ron Hubbard in The Master, John Holmes in Boogie Nights, or Edward Doheny, the infamous Los Angeles oil tycoon who inspired Upton Sinclair's Oil!, which Anderson adapted as There Will Be Blood.
Of course, it just depends on who you ask.
"That whole business with There Will Be Blood was completely apocryphal. There's not a shred of truth in it," Patrick "Ned" Doheny says in Jean Stein's West of Eden, an oral history of Los Angeles (highlighted in Sean Fennessey's recent TWBB retrospective for The Ringer). "The only true part of the film was at the beginning with him in the mine shaft by himself: [my great-grandfather Edward] did always say he once fell down a mine shaft and broke his legs. But all the rest of it is utter horseshit."
To be fair, if Paul Thomas Anderson directed a movie about me or my family, particularly one as perverse and unrelenting as TWBB, I'd call it "utter horseshit" too. (Seriously, please don't, PTA.)
Anderson's lens is practically microscopic, focusing on history's minor scoundrels, miscreants, and obsessives.
You wouldn't call Phantom Thread a movie about Balenciaga, James, or the half-dozen other English couturiers Reynolds Woodcock is modeled after, either; it isn't definitively fact or fiction, but rather snippets of both. You could say most films and art utilize a similar formula—what is art but the suffusive expression of reality through imagination?—but most artists tend to investigate more personal, contemporary, or well-worn histories that most of us immediately recognize. Family dynamics, the housing market crash, World War II. Comparatively, Anderson's lens is practically microscopic, focusing on history's minor scoundrels, miscreants, and obsessives, instead of our archetypal heroes and villains. But his movies don't merely represent—they dissect, digging in to what personal and social pressures formed these eclectic characters.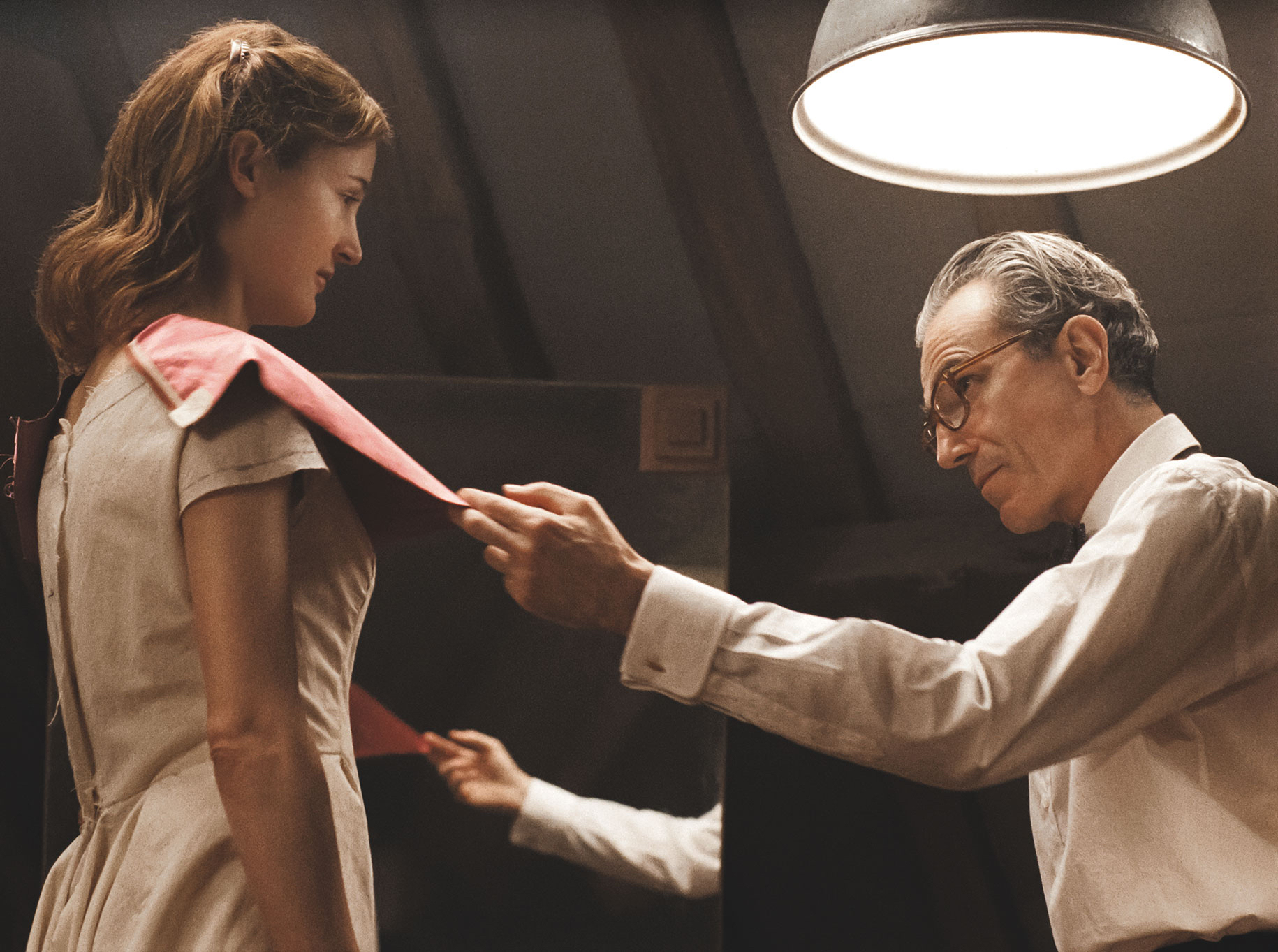 Great artists steal, the saying goes, and Anderson has never been a shy thief. He's of the video store generation of filmmakers, all of whom openly stole, sampled, and remixed from their directing heroes. Anderson's influences have included guys like Robert Altman, Martin Scorsese, Robert Downey, Sr., and Jonathan Demme (Phantom Thread is dedicated to Demme, who passed away last year).
But instead of stealing from other artists, his more recent films pilfer from real-life history, incorporating actual events and details without explicitly representing them on screen. This alchemy tricks the viewer into feeling like they're in a lost memory. Anderson achieves an in-between state, wherein we recognize these as sketches of historical figures, but can't quite pinpoint where we recognize them from. We feel compelled to know more about these people we've forgotten.
This technique also tricks us in a more subversive way. By overlaying fact and fiction, Anderson overthrows our expectations formed by stories told before. In Phantom Thread, an artist's greatness and passion isn't the excuse for deviant, abusive behavior, and love isn't necessarily a potion, but sometimes a poison we willfully ingest. The stories we've been told, particularly those of mythic artistic men, aren't always true. And as much of Anderson's recent work suggests, neither are the supposed facts of life. FL