Holger Czukay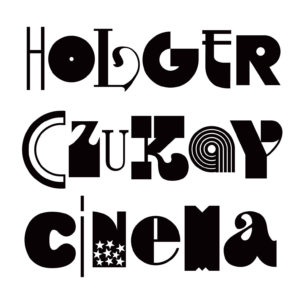 Cinema
GRÖNLAND
8/10
Despite being known as the bassist and co-founder of Can, one of the most influential bands of the late twentieth century, Holger Czukay had little fascination with rock music and its myriad offshoots when he started playing. He came to music through an interest in classical music, and a youthful exuberance for radio and the sounds it inadvertently created—hiss, static, and other imperfections. The oft-told tale of the '60s rocker who had his mind blown by skiffle, Elvis, and The Beatles on Ed Sullivan is not true to the life lived by Czukay. Can's importance is much written-about—a furious fusion of avant garde and psychedelic rock music with enough detours in pop, electronics, and funk to make record nerds froth at the mouth for decades—and, in fact, the group's fiftieth anniversary coincides with the release of this set. Not a coincidence, but certainly made sadder by Czukay's passing in 2017.
Czukay was inspired early on by jazz (the first cut on this deep collection is a brisk and moody horn and guitar piece he recorded in 1960 under his given name as part of the Holger Schüring Quintett), but felt he lacked the instrumental prowess to make that kind of music. He was someone whose interests were deep into sounds, not just chords. The two sides of his 1969 album Canaxis 5 are featured here, and set the tone of his solo career—which he would not take up again until he left Can in 1977. The expansive drone of "Boat-Woman-Song" is a hypnotic seventeen-minute piece built around the recordings of a traditional Vietnamese folk song. 1979's "Persian Love" would follow a similar path, but was colored in with a backbeat and melodic guitar work. That track's parent album, Movies, featured his biggest hit—the kind of silly, kind of amazing "Cool in the Pool."
Around this same time, Czukay and producer Conny Plank made a single as Les Vampyrettes, offering dark, proto-industrial soundscapes with pitched-down, often frightening German language utterances. The collaborations would come in waves now; next he worked with Japanese singer Phew and ex-bandmate Jaki Liebezeit on the 1981 album also called Phew. "Signal" is from that album, and its jarring, slightly-atonal-downtown-NYC aesthetic with great synths is one of the more revelatory tracks on this compilation. The dub experiments on the tracks from 1982's Full Circle also feel especially prescient.
What's really on display here is Czukay's maddening restlessness. In some ways, he is like Brian Eno: leaving one critically acclaimed art-rock band to create a new dimension of sounds informed by international music and technology. But Czukay is less studious and more playful—if equally fraught with consistency errors (especially as the late '80s dawned). 1987's "Hit Hit Flop Flop" is like an African hi-life song, but with warped angles and a chopped-up structure. His use of disparate genres—Chinese opera, hip-hop, reggae, musique concrète—to create one body of work is part of the appeal of listening to this box set. The innovations Czukay made with sampling and tape splicing are just part of the landscape now, but there is a new joy in revisiting these pieces and hearing them come alive again.