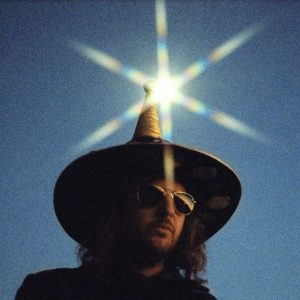 King Tuff 
The Other
SUB POP
7/10

Kyle Thomas is a musical polymath of sorts, whose nasally pipes and riff-oriented axe-wielding has given us some great, snotty music in the form of King Tuff, thud-rockers Witch, and the unheralded—but still great—indie pop of Happy Birthday. If there's a thread that runs through all of these, it's the absolute lack of subtlety and complete absorption in a genre—be it jangly garage rock or Camaro-friendly riff rock. With King Tuff records like their self-titled, Was Dead, and Black Moon Spell, Thomas explores the tropes of rock and roll with a genuine love and slight silliness; it's the sort of thing Ty Segall excels at, but Thomas always seemed a bit funnier in the role, as though smiling at the pure pop sounds he was creating, laying down odes to a headbanger, singing about rainbows, and making sure that the hooks stayed with you for days.
In the years since his last full-length, KT has given himself a bit of a rethink. Just who is the real King Tuff? Touring party monster? Rock and roll misfit? Generally, when artists go through this, they release an album under their birth name—but thankfully, this one keeps the King Tuff moniker and also keeps the reinvention reigned in (though the genres are still all over the map).

Kicking off with a free-floating synth backdrop and acoustic guitar, Thomas showcases his desire to dive into the unknown and willingness to explore "The Other" with a story-song about a mystery lake, a mystery car, and some other mysterious stuff. It's fine. The follower, "Raindrop Blue," is more of a glam-stomping foot forward—a big slice of greasy glitter funk that gets a nice groove thanks to Mikal Cronin's saxophone work and some glossy production. Starry-eyed ballads get the King Tuff touch on "Thru the Cracks" (one of several songs to feature Jenny Lewis on vocals). It's worth noting that friend and musical influence Ty Segall also plays drums throughout.

It's hard to say where fans of Was Dead's bubblegum punk-pop scuzzinesss will land after dropping the needle on the disco funk of "Psycho Star," but really…who cares? This feels more like an extension of the music Thomas has made previously rather than just another garage rock album churned out. It's not a blatant dance record—it's a kind of fuzzy, funky, cosmic party record. Lyrically, he has a single-mindedness that works for him, and though his psychedelic descriptions aren't going to win any Pulitzers, it's classic-rock-speak and it sounds like the dude is having a blast; so, whatever.