i. Appetites
When it rains in LA—not unheard of, but rare enough to remark upon—you either soak up the gloom or supply your own sunshine.
Kate Berlant and John Early are already laughing when they arrive at the Los Feliz restaurant Kismet. They've been side-by-side all day, but at a glance, onlookers might think they've just been reunited after years apart. While beleaguered Angelenos carry umbrellas to deal with this alien concept called "weather," Kate and John simply carry an ongoing conversation in media res, which they've done for many years and counting, fixing their attentions so completely that the outside world is rendered inconsequential. They might as well still be in New York. It might as well be raining frogs.
Alt-comedy geeks, stand-up fans, or chronic binge-watchers should recognize both halves of this duo on sight. Combined, their lists of guest spots read like a roll call of cult hits across cable and streaming: Transparent, Comedy Bang! Bang!, and the Tim and Eric universe for Kate; Broad City, Difficult People, and the Wet Hot American Summer universe for John.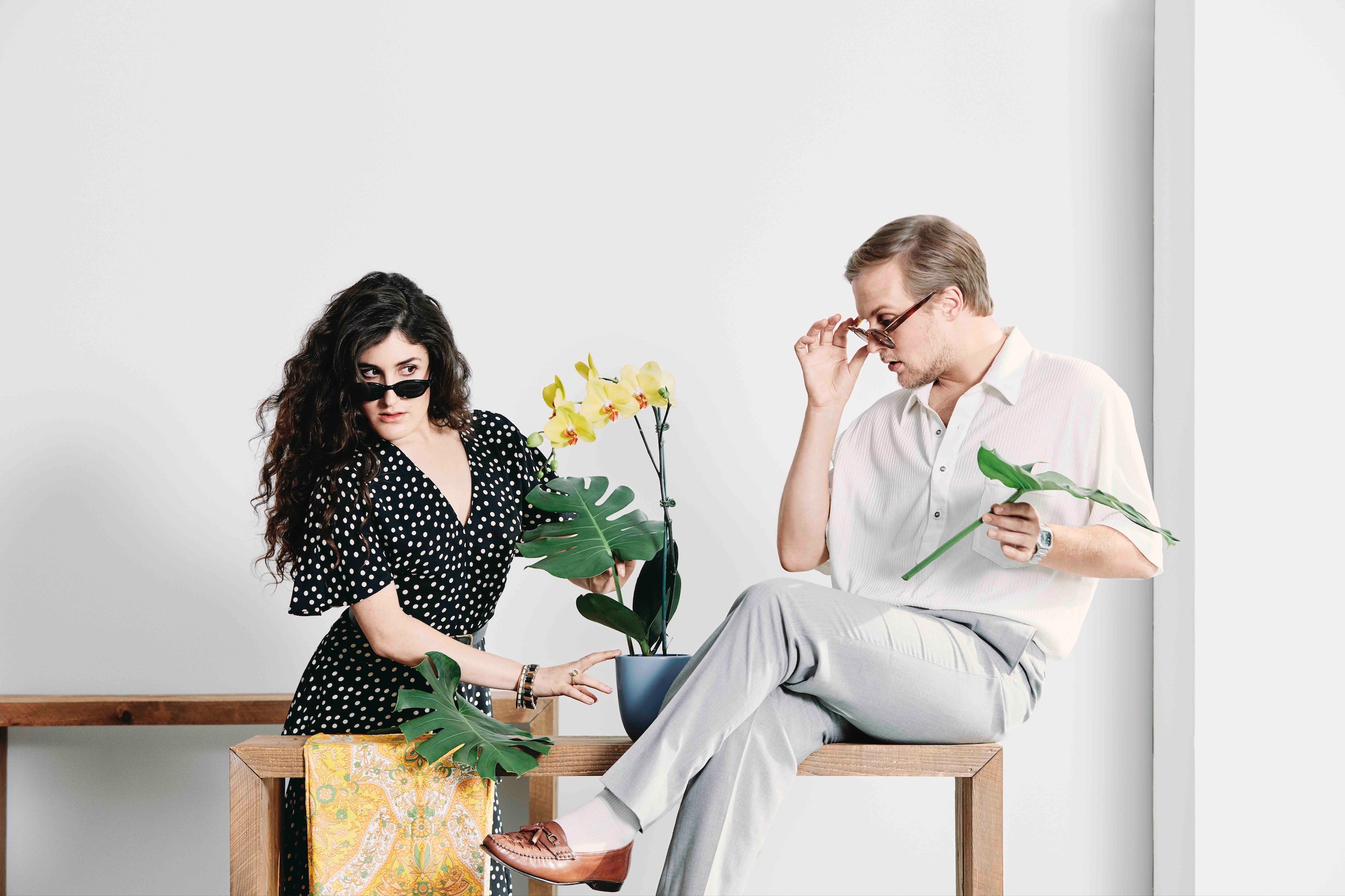 As separate stage presences, they're both forces to be reckoned with: Getting tickets to Kate's regular show at LA's UCB Theatre, Communikate, is getting harder every month, and John received acclaim for his work onstage at the New York theater Ars Nova, especially his one-man show John Early: Literally Me. (Look no further than the video he and Kate did for the show—ostensibly a promotion for him, but in practice an obsessive, shot-for-shot recreation of the audition scene from Showgirls—to get a sense of their unapologetic, unfiltered expressions of love.)
But it's the connection they share on-screen and onstage—where Kate and John become "Kate and John"—that's built a devoted cult fanbase over the years, starting with their online videos and remaining as their careers have gained momentum.
Together, they've created a combination that feels especially insightful, entertaining, and electric in the social media age: "Kate and John" externalize the internal monologue every neurotic tries to veil. They speak with brazen openness about anxieties, ego-driven fantasies, and petty jealousies, all in the tones of people who are striving to appear "fine" with everything. They straight-facedly articulate the hyperbole of the Internet and the exaggeration of nervousness to highlight these modern absurdities. Their creations are the consummate performers, taken to such extremes that the world is the stage and the stage itself is an afterthought.
Developing comic personas that are this heightened and intimate around playing "themselves" requires trust, vulnerability, and assurance—and that's where the real performances come in. "Kate and John" is the tightrope; Kate and John are each others' safety net.
The best introduction to their act may be their vastly underrated Tonight Show stand-up set. Appearing in "iconic outfits," as per John, they step onto the historic stage and experience an emotional roller-coaster they verbalize for each other and the audience: first self-congratulatory praise for one another, stretched out to surreal length, then recognition that they don't actually have any jokes, followed by constant reference to the remaining time, nervous apologies to their "communities," and finally running out the clock with wacky dancing. In its bold deconstruction of the "six minutes on The Tonight Show" sacred cow, it's some of the most daring comedy on an NBC set since Andy Kaufman on SNL.
"Talk about being grateful to have a friend there," Kate shakes her head. "It was so fun, but it was cinematically scary. You're behind that thick curtain, your heart is pounding. If I was alone…" She trails off. With John as her comedy partner, that's rarely a concern.
"The beauty of our collaboration is that we're also best friends," John begins. Menus are handed out and the topic is paused; they're coming from a meeting about their ongoing project, at once their passion and their heartbreaking white whale, but there's an even more pressing matter on the table.
"I am starvation," Kate announces. John echoes her; they've been going nonstop. But they've been going together.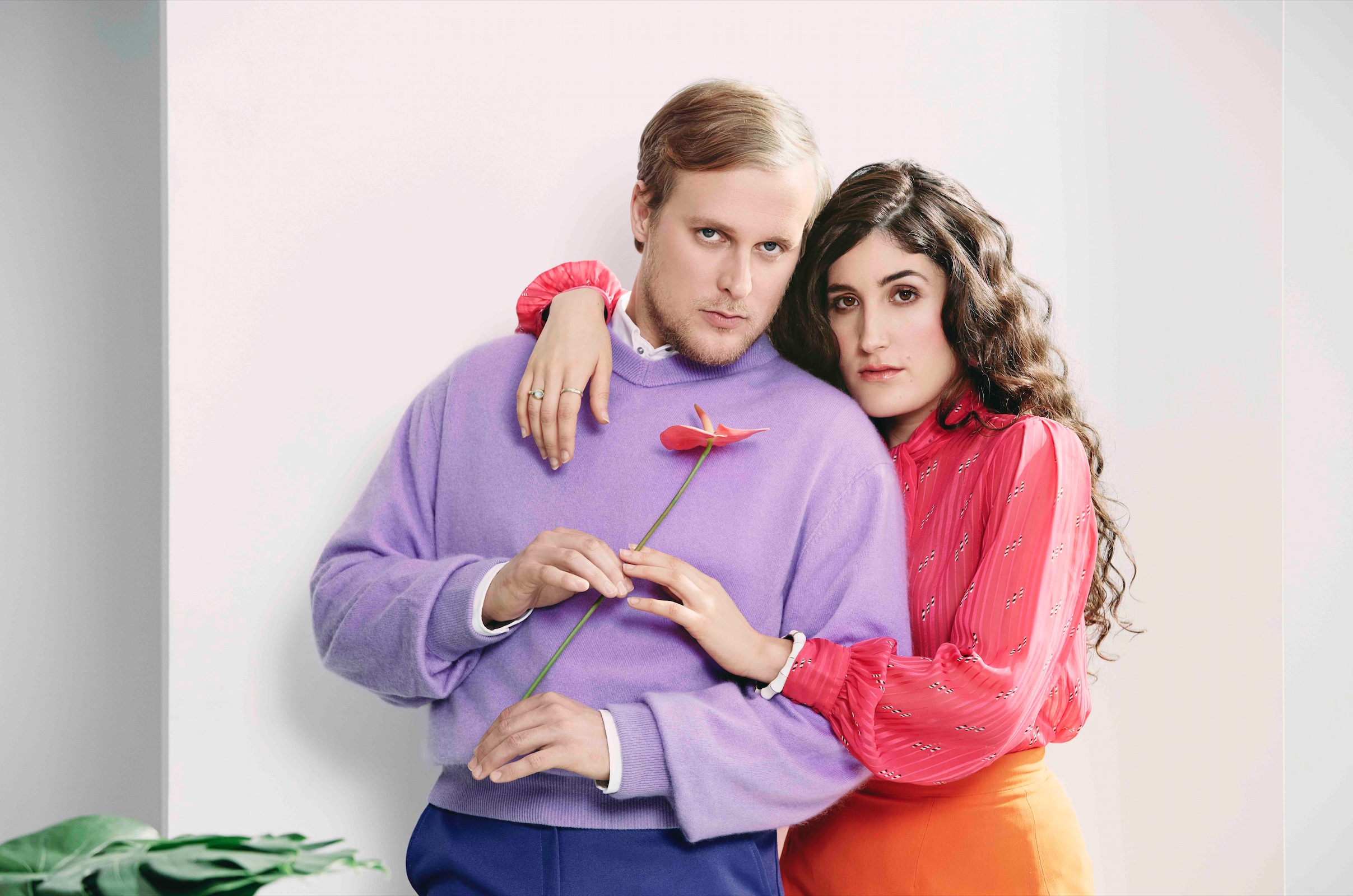 ii. Feeding Each Other
In celebration of Nowruz, the Iranian New Year, the Mediterranean/Middle Eastern restaurant created a spring-inspired meal starting with an appetizer platter of herbs and radishes served with Barbari bread and squash with walnuts and rose.
Kate and John are foodies who have charted a map of beloved eateries across town, marking their time breaking into the industry with meals alternating between celebration and consolation. They've come here so often that they have easy banter with the servers and chef—but still, they agonize over whether or not to send back the wine they ordered, laughing self-consciously as they scrutinize the "social contract" for loopholes.
"We met, and John spent every night at my house, practically, for two years. I truly would watch him leave my apartment out the window, like falling in love." — Kate
To see them retell and revel in the micro-dramas of the day is to get a secondhand high on their energy; every conversation a collaboration, every encounter an inspiration. "What John and I don't have is judgment for the other person," Kate says. "So there's no fear. I think it's normal for someone who isn't a performer to be a little put off or uncomfortable with compulsive performance. But it's inextricable from who we are and what we love to do."
As our server brings out the next course—turmeric soup with spring greens—Kate and John summon the courage. The moment of truth, a stage as intimidating as the Tonight Show set. "This is devastating," Kate cringes, "but I think this wine lost its bubbles."
"Kismet," translated from Turkish, means "destiny" or "fate." It's a fitting locale for two people you'd believe grew up together, but instead reached the exact same point from two vastly different walks of life, as if their paths were written with inevitability.
Kate grew up in Los Angeles, her mother a first-generation American from Spanish and Cuban immigrant parents in the Bay Area, her father an artist from Queens. In her episode of The Characters on Netflix, the real-life "Tony Berlant, Artist" makes an early appearance as an interview subject heralding the impact of self-obsessed art-world phenomenon "Denise St. Roy," played by Kate. When asked why she developed an interest in comedy, she says, "For my dad to pay attention to me," in the cadence of a joke but with the blunt speed of honesty.
"I grew up around a lot of loud personalities," she continues. "So I think just the fact that there were no other kids around made me feel like I wanted to be a competitor, too. My dad was always conscious of the art scene. I went to a lot of art openings growing up, and he'd always point out people attending in crazy outfits. He'd be like, 'Those people are never the artists.'" And thus, Kate's fascination with pretense and presentation was born.
John's fixation on society's false faces, meanwhile, developed two-thousand miles away. "I grew up in Tennessee with minister parents who were extremely liberal and kind," he explains. "They're the best." (Kate agrees.) "And Nashville was fine, but I grew up in a culture of gentility. The primary value, especially in churches, was a surface niceness and politeness. I ultimately found it to be very lukewarm and boring. So comedy was always a way for me to misbehave. And express my anger! Weird, primal anger from a gay person who didn't understand he was gay, growing up in a heteronormative world. Comedy gave me an outlet for that rage."
John embarked for New York to study theater at NYU's Tisch School of the Arts, and even though Kate attended NYU at the same time, they never once crossed paths. Their fateful meet-cute occurred, appropriately, at a performance. "I had always been told by mutual friends that we'd get along beautifully," John recalls. "And then I saw her perform at a show and I was in absolute shock." "At the beginning of our friendship, I watched John do stand-up—I filmed it on my phone, do you remember?" Kate asks him. "I was dying. The funniest, most perfect thing."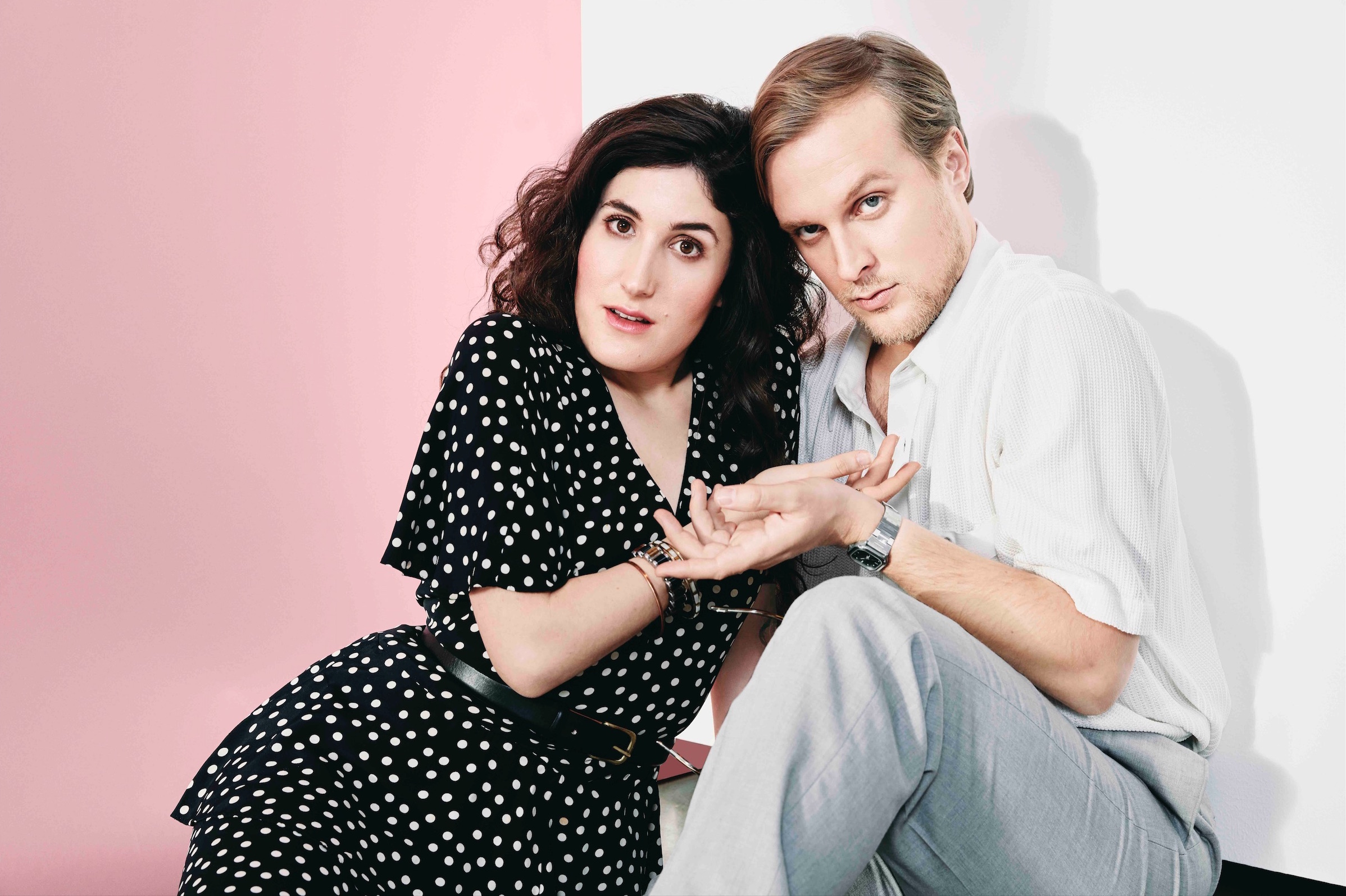 She goes on: "We really did have a shared language prior to ever knowing each other. It was a feeling of recognizing John as my friend instead of, 'Oh, we forged a friendship.' There was zero work or labor." "It was literally day one—we were just looking at each other in awe," John says, smiling. "We met, and John spent every night at my house, practically, for two years," she adds. "I truly would watch him leave my apartment out the window, like falling in love. It sounds cheesy—it is cheesy. But our friendship was romantic."
"There was no translation," John marvels. "There was no performer and audience. We would watch each other, appreciate each other. We change around each other—that's the beauty of it. When I'm making stuff on my own, or when I'm on someone's set, it's very ego-driven. That's all you have in that moment. But with a friend, I'm constantly getting new information. It's so much easier."
"We feed each other," Kate concludes, as the main course arrives.
iii. Full Plates
For a moment, a platter of rock cod with tamarind, crispy rice with favas and dill, and Mandarin yogurt becomes the center of the universe. The comfort food activates nostalgia in John and Kate as they recall the projects that kicked off their partnership—stream-of-consciousness video silliness like "Paris" and deadpan nonsense like "Banana Phone"—succeeding in amusing each other but also gaining thousands of fans along the way who found their tongue-in-cheek neuroses all too familiar.
Their reputation for poking fun at larger-than-life social dynamics gained them Netflix's attention, leading to John and Kate each getting their own episodes of the one-off showcase miniseries The Characters (and making appearances in each other's, naturally). "Thank god people found it. Netflix is so oversaturated now—that show wouldn't exist today," Kate says.
"On-screen, the gay male/straight woman dynamic is often kind of flat and caustic, and for us this has been such a healthy and productive friendship in our lives." — John
Their work's focus on uncomfortable artifice made for a logical overlap with another modern comedy duo: Tim and Eric, whose Abso Lutely Productions handled their Vimeo miniseries, 555, which is set in the bizarre margins of the entertainment ecosystem. In 555, Kate and John's carousel of hangers-on, Type-A weirdos, and desperate wannabes populate director Andy DeYoung's ominous compositions and Lynchian flourishes, and earned the five-part show a Gotham Independent Film Award nomination for Short Form Breakthrough Series.
Despite the "breakthrough" designation—and despite successfully balancing their rising profiles as actors with their own projects—Kate and John have been on a "rocky road" weaving around these projects in the years since they left New York for the sometimes-sunny LA landscape: the road toward their passion project, meant to embody their unique sensibilities and pay tribute to their bond simultaneously. They repeatedly refer to this project as "The Pilot"—a shorthand of significance between them, a way of saying "You-Know-What."
The working title for "The Pilot" is This Is Heaven. John and Kate play inseparable friends who support each other emotionally as they navigate the neuroses and expectations that go into planning a dinner party. It's visually striking, written with surgical precision, and performed with effortless charm, as fans might expect. It's also utterly unique in its defiant personality as a comedy. In short, the most exciting thing about This Is Heaven is that you've never seen anything quite like it…and the most frustrating thing for its two creators is that you still haven't seen it.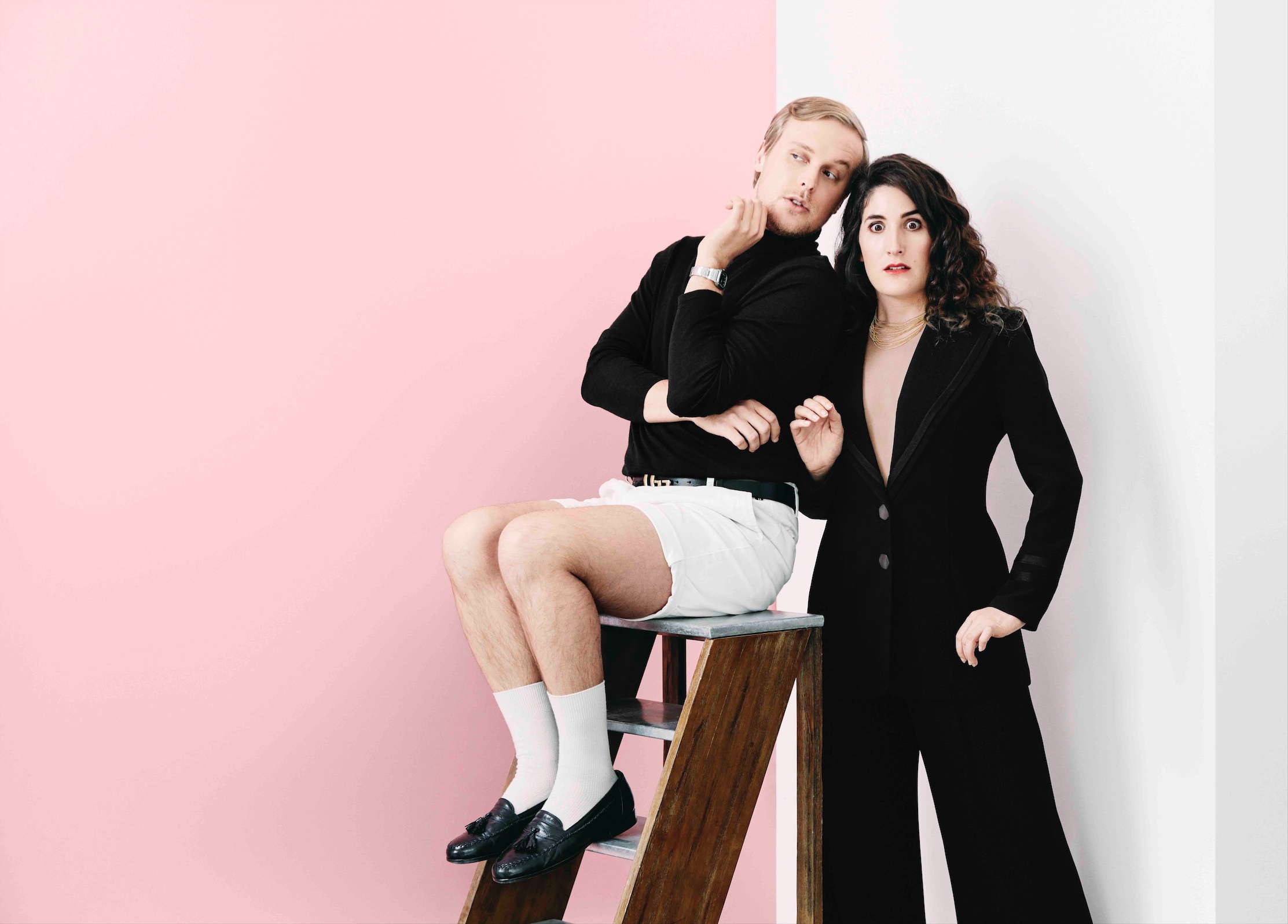 "It's been three years, and it has not seen the light of day," John sighs. "You invest a major amount of time with a company… It always takes at least a year. That's just the pace of these things. And then it's a 'no.'"
"Then you don't trust the 'no,'" Kate adds. "It'd be one thing if it was someone artistically close to you. But when it's a fifty-five-year-old white man who you could never even have a conversation with…" Even on sobering topics, she can still make John laugh.
John and Kate's social media presences, so integral to their rise, have also kept them navigating a rising tide of rage and negativity that erodes so much of the solid ground our real world depends on. "Because Kate and I are a male/female duo," John explains, "it's such an easy testing ground for misogyny. I do not get a tenth of what she gets online. We'll tweet literally the same video, or we'll have tweets that have the same political spirit, and the responses to Kate are so ugly."
If living well is the best revenge, then loving visibly is the best resistance. "Our show is our response," Kate says. "Our show, and the people we put in it." "We're definitely trying to strike this balance of inclusiveness and increasing visibility for people you don't see on TV, without it ever tipping into something didactic," John explains. "We just want to create a party where there's space for everyone."
On the topic of their friendship—as central to "The Pilot" as to their real lives—they have thoughts as deep as their feelings. "On-screen, the gay male/straight woman dynamic is often kind of flat and caustic, and for us this has been such a healthy and productive friendship in our lives," John says. "Culturally, we're obsessed with the idea that romantic love is seen as exclusive to heterosexual couples, or that that's the form of intimacy you should aspire to in your life."
"Like your friendships can't possibly give you the same fulfillment or encouragement or depth that a romantic partnership could," Kate continues. "But we've proven that wrong with our own friendship in our own lives. I literally described John as my soul mate in therapy three days ago."
"But that is the definition of queerness: finding intimacy and warmth and love…" John trails off with purpose, leaving his soul mate to complete his sentence.
"…where you're not supposed to," Kate grins.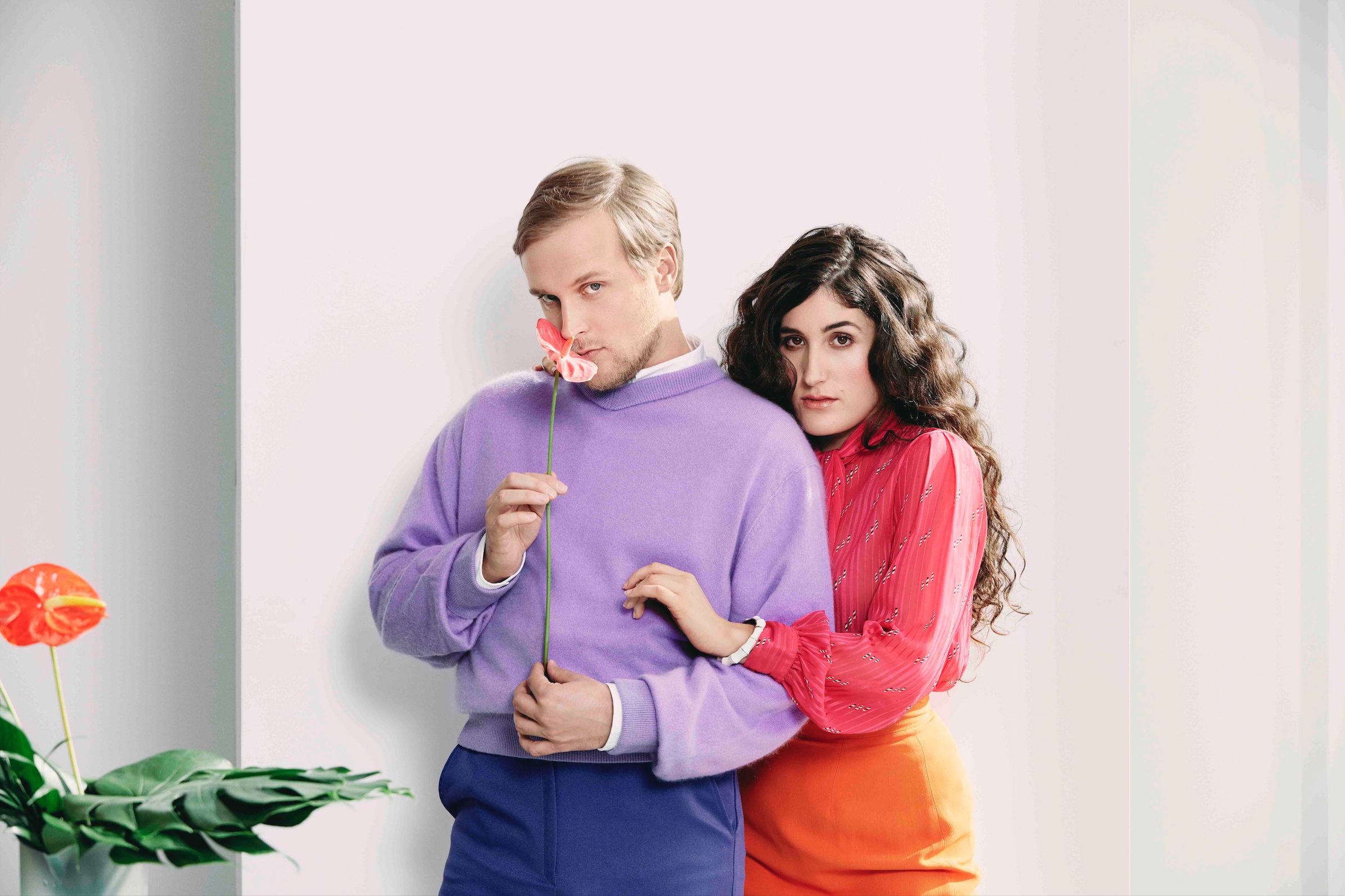 iv. Sweetness
Dessert is served: cucumber ice cream with rhubarb and candied fennel. Their hunger subsided, John and Kate take the time to savor each spoonful. Even as they relive the development hell behind This Is Heaven, discussing the heart behind it keeps spirits light and sweet.
"There's an evolution that's happening with us," John states. "When you're young, part of making yourself heard is through anger. But then you also realize you have this platform and you want to show love on-screen. We're ready now to show open-hearted stuff on-screen the way we do in real life."
As they work toward Heaven finding its home, they continue to pepper their schedule with things to look forward to: another short film with 555's DeYoung, plans for more stage shows together, and, of course, dinner reservations.
But for now, they say their farewells to the staff they've befriended. The self-made, self-declared vaudevillians have begun a new year and regained the strength to reenter the act of performance. Kate does a dance to make John laugh—he does, as gleefully as he would have the first time he saw her on a Brooklyn stage—and they walk off into the rain together to win over Hollywood.
One restaurant down, the rest of the town to go. FL
This article appears in FLOOD 8. You can download or purchase the magazine here.