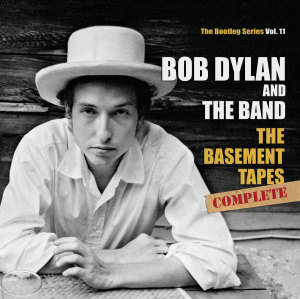 Bob Dylan and The Band
The Basement Tapes Raw: The Bootleg Series Vol. 11
COLUMBIA/LEGACY
8/10
During the time following his infamous 1966 motorcycle accident, Bob Dylan retreated to upstate New York along with his pals and backing group, The Band. What the friends collectively created in a fertile atmosphere was the blueprint for modern Americana music that's since been popularized by the likes of My Morning Jacket, Wilco, and Band of Horses, among others. While many were mystified as to what happened to the headstrong man on the heels of his iconic Blonde on Blonde, looking back fifty years, these lost tracks give a glimpse into a relaxed Dylan who was at peace outside of the spotlight. For many, the songs encompassing this release aren't new due to the numerous bootlegs that have floated around over the years, but the new collection's quality is a vast improvement over what's surfaced. The only question fans might ponder is whether or not this is truly the definitive batch of Basement Tapes that's been hidden in the vaults (and that includes the release of a set of the same name in the mid '70s). Questions aside, the revisited Basement Tapes will quench the thirst of Dylan loyalists who have long sought the entire 138 songs, and successfully highlights one of the most important musical collaborations.