Dan the Automator's been anxiously checking his watch for five minutes. DJ QBert, easily spottable in a bright orange flat-brimmed hat, is ducking behind his folding table, playing Words with Friends, probably not with Kool Keith, because Keith appears to be MIA. It's 5:10 p.m. at FLOODfest SXSW, and the trio, known collectively as Dr. Octagon, was set to begin ten minutes ago. Dan occasionally hypes the crowd in between quick ocular darts to the VIP area, where Keith also isn't. Keith seems to not be everywhere, as mercurial as his many alter egos, side projects, and characters—a vanished man swallowed whole by Austin, Texas.
QBert emerges from under his table—which is populated by a single turntable and a laptop, more than enough to captivate an audience with his superlative scratching skills—presumably having vanquished an opponent in his game. Dan gives him a shrug, and they begin playing the Dr. Octagon introduction. The track counts down from fifteen, which doesn't seem like enough time considering Keith's still nowhere to be found. After the track reaches the end of the countdown, Automator loops the sampled proclamation: "It's Dr. Octagon!" All of a sudden, out of thin air, Keith emerges in the VIP area before scurrying down the stairs and onto the stage, outfitted in a navy floral blazer and a Golden State Warriors beanie that hugs his entire head; not an ideal outfit for an eighty-degree day. Keith certainly doesn't seem to notice the heat, nor does he seem to care.
Once Keith hits the stage, he's genuinely thrilled to be there, feeding off a crowd that's been waiting for a new Dr. Octagon record featuring its original lineup since 1996. The project allows for Keith to access his alter ego of a time-traveling gynecologist who has one eye focused on the absurd, grotesque, and vulgar, and the other a thousand years in the future. This, of course, is the paradox that Keith, QBert, and Automator had to reckon with when they decided to get the band back together: How does the Dr. Octagon vision stay laser-focused on the year 3000 when, for one thing, modernity is so overwhelming, and for another, reinvigorating the project hinges on asking fans to remember Dr. Octagonecologyst, their debut from twenty-two years in the past? In other words, how do you avoid nostalgia when that's the only thing left?
"Between this and Deltron [3030], I've always lived my life around the year 3000," Dan the Automator explains through a chuckle after their set. "For me, I've never really felt like it made any sense to do records that sound like they're of the time." In this sense, Moosebumps: An Exploration into Modern Day Horripilation isn't a follow-up to Dr. Octagonecologyst—it's too far removed. Keith, Dan, and Q have been through too many things for this to be a direct reflection of that first album's style.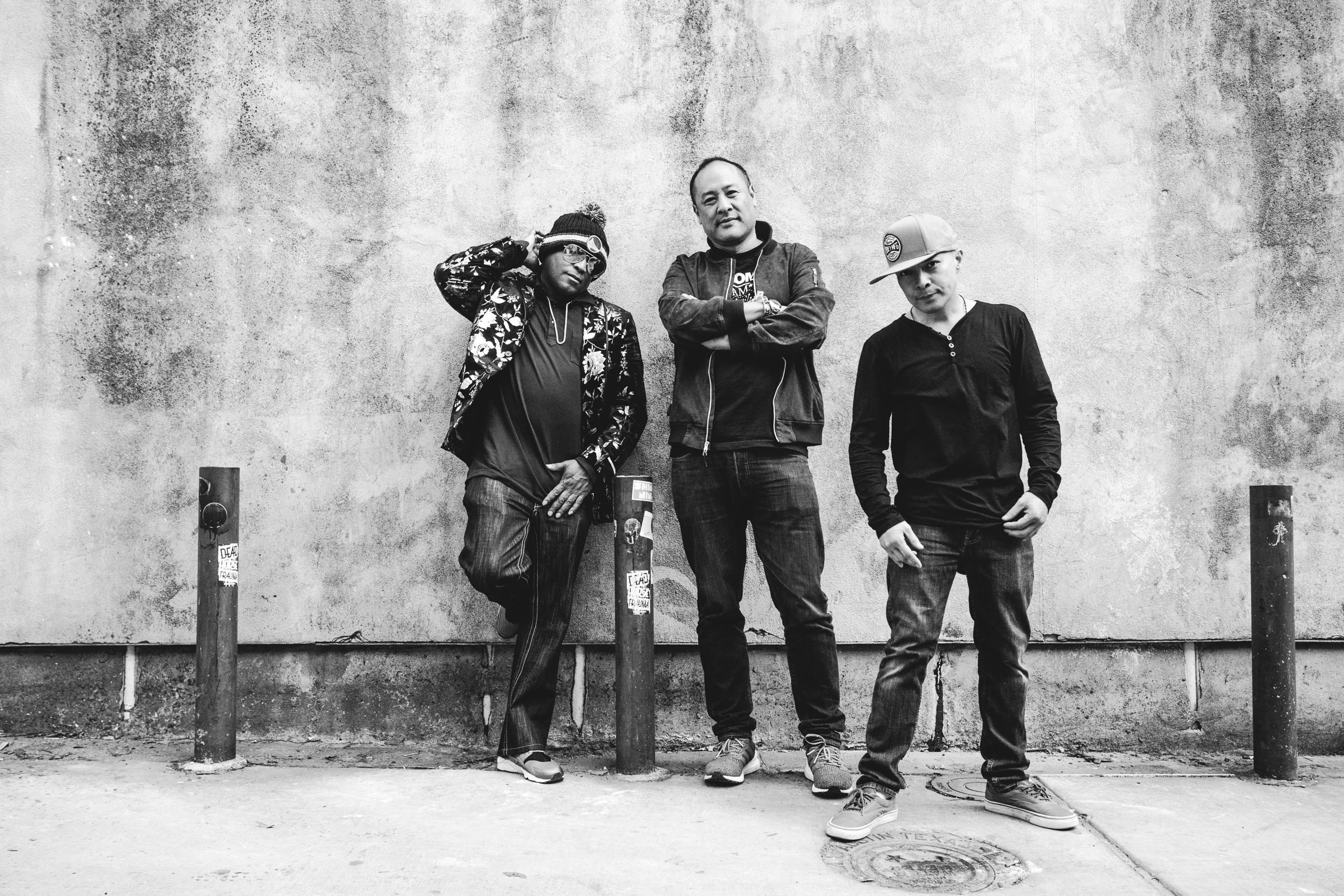 "Everything you do in life is gonna influence you," Dan explains. "Maybe a little, maybe a lot. Maybe modern day politics influences us a lot, maybe it doesn't. If you listen to this whole record, you wouldn't necessarily know anything going on in our regular lives that made the record be that way, but if our regular lives weren't that way, the record would be different, too. There's a lot more literal narration in there."
Keith draws his inspiration from events both real and imagined, then stretches them vertically and horizontally to fit his scope. "I'm a San Francisco guy, so me working on the record is the experience of Market Street, looking at the trolley cars," he says, Warriors beanie still pulled down. "San Francisco is a big inspiration for me. When you come outside at four in the morning and you see a seven-five transvestite walking down the street, it takes you right back." As he explains this lounged on a couch, basking in the sun, staring at both nothing and everything, it's impossible not to believe him.
"I guess it was a challenge to do a new record. The first album is still brand new because it went over forty million peoples' heads. That's the challenge." — Kool Keith
Keith has spent his career rapping as a surrealist, stretching the truth to such impossible degrees that it becomes its own kind of believable. He's among the first generation of rap weirdos; in a world now littered with face tattoos, bizarre alter egos (hello, Lil Boat), aliens, and wunderkinds, Keith's influence is only outsized and emphasized. "I just wanted to do a love record," Keith explains. His idea of love, however, is probably very different from anything you can concoct. "That's all I wanted to do. I guess it was a challenge to do a new record. The first album is still brand new because it went over forty million peoples' heads. That's the challenge."
And while it may take a squiggly line to connect Keith's definition of a love record to what actually appears on Moosebumps, it's a remarkably fresh update on the Dr. Octagon sound. Keith sounds engaged and excited, rapping ahead of the beat with a speed and ferocity he seldom taps into anymore. "Polka Dots" takes a dusty beat and fills it with string samples and perfectly placed QBert cuts, while Keith scoots all around the tempo: left, right, forward, and back. "Ladies want my cream on their coconut mounds / She talks so big like she could fit Godzilla in her mouth." This, one might suppose, is Kool Keith's idea of a love song.
Perhaps because he arrived late, or simply because he was feeling the love, Keith spent ten minutes after his SXSW set's scheduled ending chanting into the mic, shaking hands, egging the crowd on, and keeping his DJs onstage longer than they had anticipated. It becomes clear that Kool Keith wasn't late because he's a diva, or uninterested. He's just on another planet. He always has been, he always will be. FL
This article appears in FLOOD 8. You can download or purchase the magazine here.